Interested in visiting a wildlife destination that would enable you to get up close and personal with some of the biggest and most majestic animals on the planet? Then here are some of the best wildlife reserves you can choose from! These places have it all! From majestic lions and endangered tigers to majestic elephants, rhinos and even birds, these reserves offer the ultimate adventure for the wildlife enthusiast.
Witnessing the 'Big Five' in Madiwake, South Africa
There are plenty of places in South Africa where you can witness the so called 'Big Five' which happen to be the African elephant, rhinoceros, lion, Cape buffalo and leopard. But you will get to see them in all their glory here in the Madiwake Game Reserve which is located a 3 hour drive from Johannesburg in North Western province.
Expect to see plenty of these animals and many more on your guided tour which will usually have an expert ranger who would guide you to the best wildlife spotting areas. A day trip filled with plenty of wildlife adventures can end with a peaceful night of star gazing. And did we forget to mention that the area is malaria free?
Adventurous treks through the Amazon
The Amazon rainforest seems to stretch on and on and on! Considered to be the largest and densest rainforest in the world, the Amazon offers its visitors plenty of breathtaking adventures, most of which start at Manaus which happens to be the departure point for several of the tours that take you through this massive jungle.
Expect to rough it up in the wild by staying at eco lodges located on treetops. You can also meet several indigenous Amazonian tribes and catch glimpses of medicinal plants. But the best part of the adventure comes at night when you manage to spot several alligators roaming around freely in the wetlands. If that's not enough, then you would be happy to know that the region is also home to over 250 different species of reptiles and amphibians, not to forget mentioning over 2300 species of fish.
Endangered Orangutan Sightings in Borneo, Malaysia
Borneo Island in Malaysia acts as a rehabilitation reserve and is considered to be home to the largest population of orangutans in the world. With most of these gentle creatures endangered, the island acts as a sanctuary of sorts for them to survive in a natural habitat.
While on the island, you can visit the Orangutan Sanctuary to enjoy up close and personal glimpses of these beautiful creatures. You can also join hiking tours that would take you through several exotic jungle trails, enabling you to spot several exotic plants and animals in the process. Don't miss the pygmy elephants and the mischievous proboscis monkeys on your way.
Wildebeest Spotting in Lake Naivasha, Kenya
Located en route to the Masai Mara Game Reserve is the extremely popular Lake Naivasha which forms a part of the Great Rift Valley in Africa. Lake Naivasha is also considered to be one of the most beautiful lakes in the entire valley. But that's not what makes it so popular with tourists.
Every year, millions of wildebeest cross the Serengeti Plains in Tanzania to reach the Masai Mara Game Reserve. And Lake Naivasha happens to be one of the better places to get a bird's eye view of this spectacular migration which is considered to be a must watch for wildlife enthusiasts.
Spotting the Big Cats at the Periyar Tiger Reserve, India
India is home to the largest population of endangered tigers in the world. And one of the best places in the country to spot these majestic beasts happens to be the Periyar Tiger Reserve which is located in Kerala, the southernmost state of the country.
With an ecologically rich and diverse landscape, the Periyar Tiger Reserve offers its visitors up close and personal glimpses of tigers, wild elephants, boars, deer and bison. And in addition to hiking the widely acclaimed tiger trail, you can opt to go bamboo rafting to spot exotic flora, fauna, and more animals along the banks.
Whale Spotting on Vancouver Island, USA
One of the best places on earth to get as close to whales as possible is the Vancouver Island which is located near Canada. Tourists flock to this destination in hordes every March to watch these majestic marine mammals swim around in the waters surrounding the island.
The Long Beach located in Tofino belongs to the Pacific Rim National Park, and is considered the best place to embark on an adventurous boat ride for whale-watching. You can also spot plenty of playful dolphins in these waters. Regular kayaking tours would also enable you to spot other creatures like bald eagles and black bears near the coast.
Penguin Spotting in Peninsula Valdes, Argentina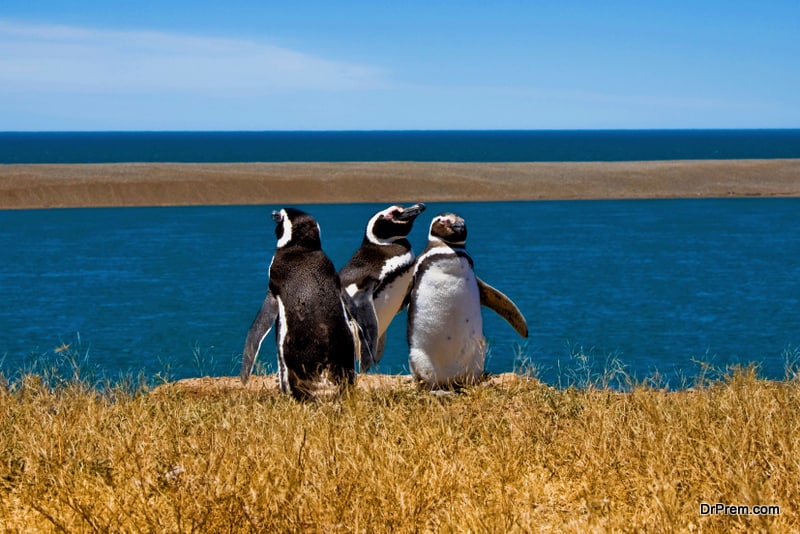 There's no need to visit a place like the Galapagos Islands or Antarctica to spot penguins. If you have a fascination for these flightless, but really perky birds, head off to the Peninsula Valdes in Argentina which is located right next to the port city of Puerto Madryn.
The narrow peninsula witnesses several marine wildlife sightings throughout the year, and is home to countless numbers of penguins. In fact, the Punta Tombo Wildlife Reserve which is located here is home to the largest population of Magellan penguins in the world.