Table Mountain National Park, Cape Town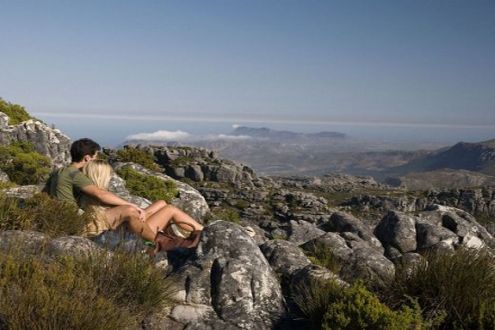 Table Mountain National park also known as the Cape Peninsula National Park, is located in Cape Town, South Africa. It was established 1988 with an aim to protect the natural environment of the Table Mountain Chain.
The preservation includes two areas viz. Table Mountain and Cape of Good Hope. The area of the park forms the part of the Cape Floristic Region and supports a high diversity of flowering plants. Varieties of plant found here are Protea, Erica, Asteraceae and Restio. The main vegetation cover includes Cape Granite Fynbos and Peninsula Sandstone Fynbos.
Some sections of the park are home to Afro temperate forests. The park lies in the center of the Cape Floral Kingdom that is a biodiversity hot spot. Several species of plants are threatened due to poaching activities. These species include the Hakea species, Acacia Cyclops and pines. The fauna found in the park includes caracal, rock hyrax and species of antelope such as Cape grysbok and Kilpspringer.
Larger predators also roamed these forests, examples being the Cape Lion, Leopard, hyena and black backed jackal were also spotted in the park, but are now extinct. The Chacma baboons inhabit the southern part of the park. The park is conserved by South African National Parks and is also designated as the Cape Floral Region World Heritage Site by UNESCO.
Image Source: SouthAfrica.Net