Skopje Park hotel review by Dr Prem Jagyasi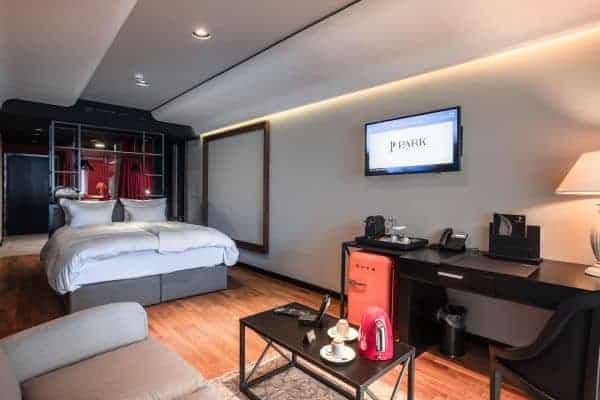 I take great pleasure in sharing my post travel experience especially about the places where I put up. I feel that the hotels, lodge or guest house wherever you stay contribute a lot in giving you a gratifying travel experience. Staying in Park Hotel Skopje provided such a great relishing ambience that left an experienced globe trotter like me amazed.
Image Source : ParkHotel.Mk
It was a brief stay in Skopje, a small destination town in Macedonia located amidst a picturesque landscape. Being a small destination less treaded by tourists, Skopje is yet to see a full blooming hotel business. Amidst this, Park Hotel is the shinning jewel.
I arrived at Park Hotel in Skopje just around noon. It was just a kilometer away from the city centre surrounded with lush woods. I was simply enchanted by the beautiful setting amid which this elegant hotel stood overwhelming me with its classic décor.
The hotel is built in a flamboyant style. The sun terrace overlooking the river Vardar is one of its most prominent features uniquely designed to draw the attention of guests. I was flatly in love with the wise use of space and the architectural excellence that was built into every block of stone, concrete and steel going into the construction of this splendid structure. To be frank, the presence of a hotel with state-of-the-art facilities in such an obscure location took me by surprise.
I was on a mission to conduct a workshop on tourism. It needs a special mention that without the active cooperation and support of the management and staff, the workshop could not be culminated to such a success.
The inherent designing of the hotel itself provided a suitable ambience to carry out such a workshop. Moreover, the exemplary service that I received from the well groomed hospitality staff is rarely to be found. They can beat any premier hotel chain in quality.
The Four Restaurant of Park Hotel deserves a special mention. I came to know that this is one of the top notch restaurants of the country. I can't help but admire the interior décor of the restaurant where walls painted with contemporary work of art would draw the appreciation of all. The artificial fire that has been created is in perfect tune with the restaurant's theme.
The handpicked chefs conjured up culinary marvels to the delight of guests. During my stay, I tried a number of Macedonian wines and meat delicacies and they were awesomely delicious. My workshop was attended by 70+ guests who were eminent personalities from different fields. The superb culinary delicacies entertained the guests to their satisfaction that showed up numerous words of appreciation. I have not the slightest hesitation in admitting that the food and service provided by the restaurant helped a lot in the smooth proceeding of my workshop.
Image Source : ParkHotel.Mk
The room where I was put up was gracefully furnished with all modern amenities that one usually gets in luxurious five starred hotels anywhere. But what amazed me is the unique color matching combination of the installed facilities.
The coffee machine, kettles and the in-room refrigerator were all of the same color! That enhanced the aesthetics of the room greatly.The breath-taking view of river Vardar was spectacular. Right from my room I could get an access to an unrestricted view of this beautiful river flowing by.
The reputation of a hotel depends a lot on the hospitality service and here I experienced one of the best comparable to any leading starred hotel across the globe. The hotel staff were always alert on their feet to serve you with care and professionalism combined in a wonderfully customer gratifying mix.
Whether you ask for room service or any support to facilitate your outdoor activities, they are always ready with their meticulous coordination and planning. The result is you enjoy your stay and site seeing without bothering for anything.
Located very near Kale Fortress which was hardly a 5 minutes drive, Park Hotel is a very reasonably priced hotel. This brand new property is complete with all amenities to answer the needs of a guest be it domestic or international. The intelligent combination of space and comfort with which this hotel is designed gives its customers the best value for every dime spent.