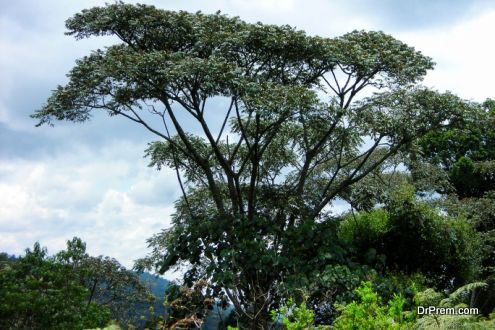 Nyungwe Rainforest that covers around 1000 square kilometers is nestled in the southwest of Rwanda. The forest is one of the largest mountainous rainforests on the entire continent. Moist fertile soil supports tall forests while dry crests provide habitat for shorter trees and thickets.
The forest has an extensive variety of animal species, making it a priority for conservation in Africa. Primates are the main center of attraction in the region with more than 13 species that include some habituated groups of chimpanzees and colobus monkeys that can be viewed on guided treks throughout the park. In addition to monkeys, the forest includes black-breasted and yellow-backed antelopes, leopards, servals and porcupines. Other primates include L'Hoest's monkey, owl-faced monkey, silver monkey and red-tailed monkey. You can see around 270 species of birds. Many walking trails are available throughout the forests that visitors can explore during guided tours. You can walk along the new 200 meter canopy walkway which offers spectacular views of the forest.
It is probably the best-preserved rainforest in the mountains throughout central Africa. One of the branches of the Nile sources also comes from the east side of the Nyungwe forest. With the biodiversity, Nyungwe is an important water source for Rwanda.