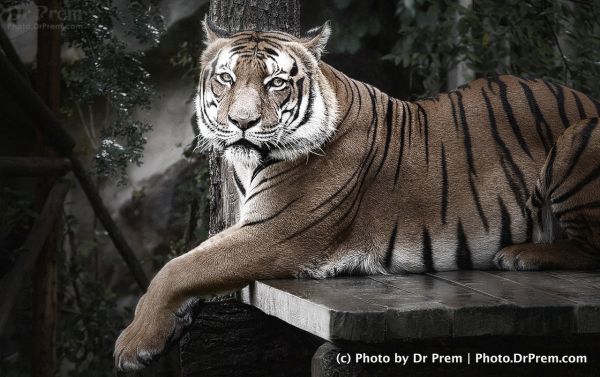 My visit to Prague zoo was an eye opener as it is a fabulous revelation of what an ideal zoo should be like. My concept of the zoo was confined to what is offered in Kolkata, Chennai and Vishakhapatnam and on a better and much modern scale the zoological park in Singapore. Zoo gardens in the US and in London are quite impressive I would say but the zoological park at the capital city of Czech   Republic is altogether a different affair, and I would go a step further and rate it as the best zoo in the world. 
Characteristics:
Source : Dr Prem's Travel Photography
It is a very large zoo in terms of area coverage running to an astronomical figure of stunning  58 hectares! The zoo is the home to 4200 animals belonging to around 650 species. Out of this, about 130 species of animals are listed endangered. This magnificent zoological park was set up back in 1931 with the sole objective of exploring the zoological world and furthering and funding advanced study of zoology. Artificial mountain ranges, dense forest covers, streams, springs and moats impart a very realistic image to Prague zoo. The animals are kept in enclosures and yet they have enough space and liberty for free movement.
Saving from extinction:
Source : Dr Prem's Travel Photography
Prague zoo is noted for its important role played in saving the Przewalski horses from extinction. It is the biggest breeder of this endangered species, and due to close monitoring and care the number of this species of animals is rising which is very encouraging news to the animal kingdom.
The zoological park is well landscaped and hardly could you view caged animals. They are left in natural habitats which are almost similar models of their original habitats back home. This is the fruit of untiring and brilliant efforts of landscape architects with the support and patronage of the park authorities. The animal vet clinics are well equipped with medicines, treatment gears and vet doctors. They radiate with health and are always bubbling with activity which clearly indicates the animals are well fed and well cared for considering their physical and psychological requirements as well.
A haven for Entomologists:
Source : Dr Prem's Travel Photography
There is an enormous and amazing collection of insects whose names are confined to an entomologist's lexicon. I was enthralled to find around a mammoth species from the aphid family resting on a piece of oak. I learned later that these awesome creatures can grow up to a size of clear eight millimeters and are often fondly called coffee beans. The length of the proboscis was almost double the length of the body. It is also known as giant oak aphid owing to its mammoth dimensions. The zookeepers breed these incredible creatures for their honeydew inside oak barks.
Myriad range of fauna and flora:
Source : Dr Prem's Travel Photography
Prague zoo is known for its vast collection of fauna and flora from different parts of the world. With the fauna, a slice of its natural habitat with familiar trees has also found shelter inside the park making the surroundings familiar to the animal concerned. This has a massive impact on animal psychology, which is reflected in their health, joviality and behavior. There are countless species of birds, reptiles, felines, fishes, herbivores and omnivores. Their snarls, grunts, hoots and twitters greet the guests with welcome vibes and the entire zoo comes alive with life and mirth.
The myriad cacophony of different species of storks could be heard from quite a distance. These are accompanied by the calls of the migratory birds as well. When we approached their nesting ground inside the marshy enclosures, their calls were so deafening that we had to shout at each other so that our words could be heard above the wild concert. The bird enclosure was a rare piece of delight.
Prague zoo is also famous for a unique incident. In 2015, four distinctive animal babies were born here. I met all four of them. The Silvery Gibbon originally belonging to North Eastern frontier states of India bordering Myanmar, a baby Tapir from South American descent, a descendant of the famous Aardvark female Kvida and the grandson of the famous fur seal Gatson!
The animals that drew our interest were countless in number including the Chinese Alligators, giant iguanas, cassowaries from Papua New Guinea, Red Pandas from Arunachal Pradesh, India, brown hyenas, cheetahs, Amur leopards, Siberian Tigers, aardvarks, white rhinoceros, komodo dragons, bongos, antelopes, ruffled lemurs , Orang Utans from Borneo and the lowland Gorillas from Western Africa. They are separated from visitors by moats, fences and glasses but never imprisoned in cages.
Being located in the spectacular environment of the Troja basin, Prague zoo is an instant hit with the visitors. It flooded my family and me with waves of ecstasy. The kids started running around once they entered the zoo premises. The feeling of boundless liberty practically rang in the air. Since the terrain inside the park has a diverse character, it was possible for us to tread through shady groves and open grasslands through dense woods and rocky ground. The natural landscape mingled brilliantly with artificial habitats, hats off to the landscape designer who conceived such an innovatively brilliant project.
Chair car ride – Adding more thrill:
Source : Dr Prem's Travel Photography
The chair car ride was a highly exciting adventure, especially for the kids. Chairs were securely fastened with the overhead cables, and once we occupied seats the cable car moved past a plethora of scenery down below including separation moats, animal enclosures, greenery and plains. It was a great fun and the kids were charged with intense pleasure. They laughed and giggled munching on chocolate doughnuts that we bought from a confectionary kiosk right below the point where we mounted the chair car and starts the ride.
Cooperative staff:
Source : Dr Prem's Travel Photography
The staffs inside the park were another piece of marvel. They were courteous, friendly and hospitable. Whenever I had trouble locating the route map to animal cages they almost rushed to my help. They were very knowledgeable and had a wide experience in animal behavior and their dealing with animals was very efficient as they could read animal moods well. They knew the map of the zoo like the back of their hand.
Excellent management:
Source : Dr Prem's Travel Photography
The zoo has an excellent record in dealing with visitors. They entire staffs are very friendly, helpful and informative. The zoo director manages each and every affair efficiently with a strong administrative flair. The zoo entrance fee is very reasonably priced. For an adult, it is 150 CZK and for children in the age group between 3yrs to 15'yrs it is 100 CZK, and for a family comprising of 2 adults and 2 kids it is 450 CZK. The visiting season is from March to September (incidentally I visited Prague in September).
Another big attraction of the Prague zoo is perhaps the children's area. It is a specially built enclosure where harmless animals are kept. The kids are allowed to enter the enclosure and play with various domesticated animals like rabbits, pigs, sheep, ponies, hens, geese and ducks. As usual our kids ran a riot no sooner they entered the enclosure. They were probably having the best time of their lives. No studies, no school and no one to shout after them, they went bananas over the accompaniment of cute and harmless animal youngsters. There was a slot machine just outside the animal enclosure from where they bought pack full of boiled peas which they later fed to hens and ducks. It was all great fun, and my visit to Prague zoo would leave a permanent mark of extreme bliss in our minds.