Many of us love spending a luxurious time at wonderful places as and when we get a break from our busy schedule and stressful lives. At such times, there starts a search for some great hotels and resorts away from the running city life. If you are also planning to go on travel and are looking for some unusual hotels to stay at, here is a list of some such uniquely luxurious hotels that are based on creative concepts and appeal many tourists round the year.
Poseidon Undersea Resort, Fiji
If you want to experience the ultimate luxury, check out this undersea structure on a private island in Fiji. Started operating in 2008, it is the world's first permanent pressurized resort under the sea. Offering almost every possible amenity, this undersea resort includes 22 rooms for guests. The windows that cover the wall and ceiling of every room are placed at 270 degrees. You can get a great undersea view from your room itself as fish will unimaginably be flying over your heads. A fleet of submarines can take you to the nearby reef and a private bungalow. The price for this luxury will obviously not be less. It takes around $30,000 for a couple to spend weeklong vacation in this special resort.
Oberoi Vanyavilas, Ranthambhore, India
Readers of 'Travel + Leisure' have rated Oberoi Vanyavilas as the best hotel in the world. This is undoubtedly due to its unique concept of tying up safari with the finest of luxuries. This high-end resort is located in a jungle outside a tiger preserve. You may get a private walled garden, as well as world-class butler service at elaborate tents during your stay at this resort.
The Peninsula Hotel, Hong Kong
This hotel is one of its kinds as far as luxury is concerned. You get spectacular views of the Hong Kong cityscape, as well as Victoria Harbor when you are staying at the Peninsula. Your rooms offer nothing less than marble bathrooms and plasma screens, while there are on-site spa facilities also available for you. Having tea in the Peninsula's lobby is a special experience that should be taken by all guests.
Le Sirenuse, Positano, Italy
When you drive down the Amalfi coast, you get to witness the inspiration of this place that is the Le Sirenuse hotel. It is the most famous hotel in Positano that offers marvelous views of the Italian coastal towns. Apart from such impressive views, its location in the terraced cliffs itself is quite stunning. You can just go down to the beach or port anytime you want to. This family-owned hotel additionally offers an inspiring dining menu. You may get to taste some unique flavors of this beautiful place.
Four Seasons George V, Paris
Though there is no dearth of fine hotels in this city, the Four Seasons George V hotel really stands out to make its mark. This classic place arrays a stunning work of mural art in the interiors. The view of the Eiffel Tower from this hotel is just perfect and the luxuries it offers are more than impressive. You will also find a state-of-the-art spa and pool in the Four Seasons George V hotel. There have been recent renovations here after this hotel was bought by the Saudi Prince Al-Waheed bin Talal. Doesn't the ownership make this hotel much more impressive? Of course, it does when a prince invites visitors to stay at his palace!
The Point Resort, Upstate New York
This Rockefeller Great camp is set on a lake. No doubt, it will make you feel like a Rockefeller. This rustic luxurious beauty is located in a hidden place, or you may say, a top-secret place in upstate New York. It is based nowhere near the dirt road and does not have any signs around. If you wish to stay at this resort, the only option is to do a confirmed reservation so you may get the directions to reach there. Those who have stayed at this place share that the rooms are really grand and are created in log cabins. There are stone fireplaces set up for your comfortable stay. You also get to experience the surrounding beauty from your private decks. So, find its whereabouts if you want a really unique exposure to the secret luxury.
Emirates Palace Hotel, Abu Dhabi, UAE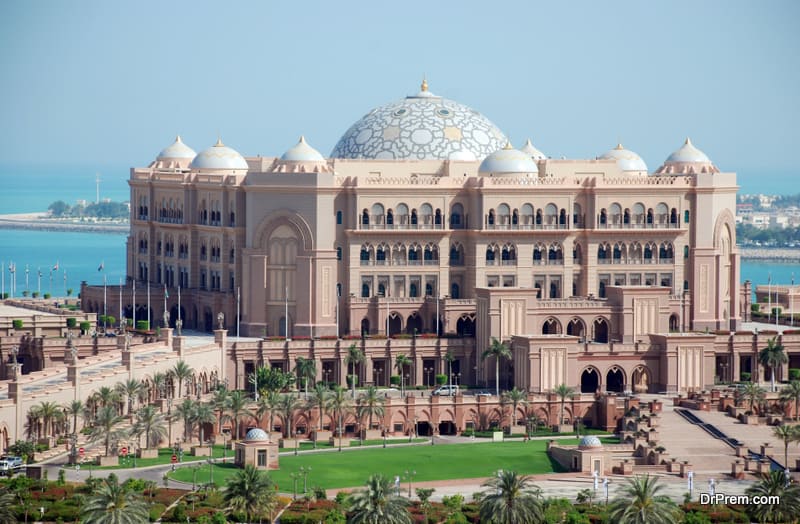 It is the second most expensive hotel that has been built to spit gold. Yes, this hotel has the world's first gold-dispensing ATM–could you ever believe a hotel offering you that kind of a luxury? Well, there are such amenities offered at this hotel that can really spin heads. The Emirates Palace Hotel has its own marina, as well as helipad. Obviously, this is required for its royal guests who land here in their own helicopters. Its location by the beachside is perfect and the hotel is also close to the city center. What more could you ask for!