Italy shopping attractions, Shopping Malls, Shopping Places – Top 10 fashionable and wonderful Places of Shopping in Italy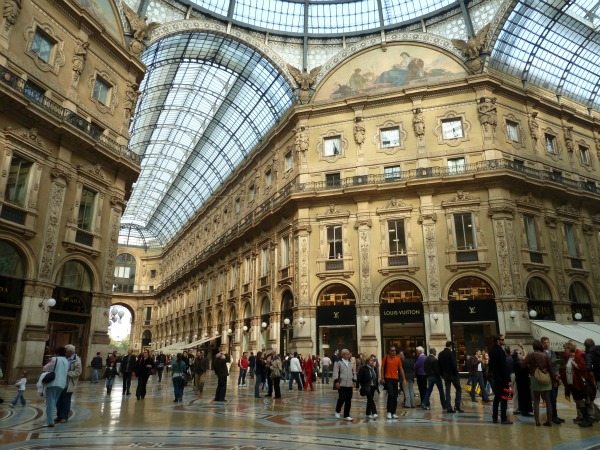 Italy is known to be very famous in shopping in the world because of it's style and quality. Prices of the products in Italy are generally fixed and discount is given only to the large purchase. Florence, Milan and Rome are known as famous fashion centre. Following are top 10 fashionable and wonderful places of Shopping in Italy.
  Santo Spirito Organic Market – It is an Organic market in Piazza Santo Spirito located in Florence. It is quite small with gorgeous ceramics, fresh organic food and hand-made stuff. This monthly market attracts artisans and farmers from around Tuscany, which devoted to produce fresh goods, hand-painted items, spices gathered from Chianti hillsides and many more.
  Pegna – It is a grocery and drug store located in Florence. It stores products like fine wines, cookies, jams, pasta, candies, candies, imported foods and a deli counter offers the best quality cheeses and cold cuts. The Italian specialties such as cheese, pasta, coffees, preserves and various other groceries are found in this mini-supermarket.
  San Lorenzo Market – It is a shop where you will find best leather and clothes. Its is a budget shop were you will get leather belts, leather wallets, leather handbags as well as sunglasses, stationary, secondhand clothes and various souvenirs such as plastic aprons and wooden Pinocchios.
  La Botteghina – It is an ordinary little shop reveals as one of the best shop of ceramics. It sells the specialized goods of the town Montelupo and Deruta which is entirely made by hand, particularly colorful gold and vermilions. The quality of work, prices are quite reasonable.
  Ashanti Galleria – It is a shop of handmade jewellery. The jewellery-shop-cum-art space is managed by the Jeweler Raffaelle Cinzio from 12 years. The Raffaelle's jewelry, handcrafted silver, bronze and gold is both exquisite and funky. It is located in Monti.
  Blue Goose – It is a small boutique located in Monti and is fabulous, well-priced but musty. It has beautiful collection of vintage women's clothing, jewelry, bags and shoes. A large amount of the items are designer labels.
  Le taple – It is a combination of art gallery and boutique characterized by handmade pieces of European designers and artists. The items in this shop are hand painted booties, stylish looking jewelry made from medical tubing and an ermine shrug is a stuffed animal ermine. It is situated at Via Panisperna.
  Silice – It is a best glass workshop in Rome located in Monti near the Colosseum. The bowls, glass vases, plates and ashtrays are superb with recent designs and the prices are first-rate. Studio Silice is situated at Via Urbana, Monti
  Galleria Vittorio Emanuele II – It is an expensive restaurant and store. The cream of the crop stores are Versace, Dolce and Gabbana, Roberto Cavalli, Prada, Valentino, etc. and other products such as fashion clothing hats, leather shoes and accessories, furniture and related articles, etc. can be bought from here. This building is a structure of 18th century.
  Via Montenapoleone – It is a well-designed and expensive street in Milan, Italy, famous in ready-made fashion and jewellery shops. It is regarded as the most important streets in fashion as Milan is recognized as a major fashion capital in the world. It has several world top fashion clothes well designed by the expert boutique from Milan.
This boot shaped country has received the reputation of the finest travel destination for shopping and it is not without a reason. Being the home of the fashion designer brands, this country will never disappoint you. From small stores to big boutiques, the fashion districts never let you go without getting something back home, and it fits into your wallets too.