Five must-see Hawaiian Big Island destinations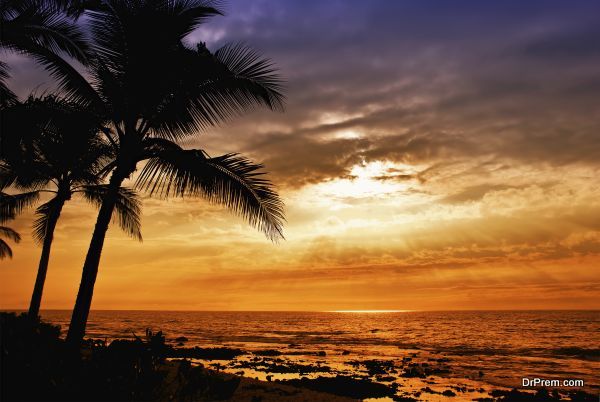 Named after the legendary Polynesian navigator who discovered it, the Hawaiian Big Island is one of the most amazing places on earth. The fresh floral air, the breathtaking natural beauty, black lava fields and rainforests of the island are distinct enough to entice any traveler. Let's have a glimpse of some of these places where you would enjoy the best.
1.  Kilauea Volcano:
One of the very few places in the world, here you could come face to face with an active volcano. The Kilauea is one of the world's most active volcanoes. This is a once a in a lifetime chance that will make your trip unlike any other. With the Nui Pokaho Adventure Tours, you can have guided hikes to this volcano.
2.  Manta Ray dive:
The calm and clear waters of the Kona coast make the Hawaii island a very special place the most special adventure being the manta ray diving. Gliding with a manta ray, merely inches away from you, is a truly unforgettable experience. The coast is also a great place for scuba divers and snorkeling.
3.  Kona Coffee Farm :
There are many coffee farms in Kona, which offer tours to the public. The Kona Coffee Living History Farm since 1913 is one such farm where you can thrive through the farm and learn their harvesting process that is done with great care and attention. Here you could learn Kona's history with the help of costumed interpreters through hands on activities.
4.  Waipio Valley:
The Waipio valley displays a breathtaking landscape and was once home to the Hawaiian kings. This place boasts its dramatic and tropical beauty. By taking an ATV Ride through the steep valley, you can have a spectacular view of the cascading waterfalls, taro fields and rivers that permeate the valley and explore the hidden wonders of the place.
5.  Big Island Helicopter Tour:
You can see the Big Island from above with the Blue Hawaiian Helicopter service, which provides you an outstanding view of the Island's lava flows, black sand beaches and green lush rainforests. A variety of tours is available which include a two-hour tour through which you can see the entire Big Island.
Summary:
From the panoramic look out from above to the molten magma flowing from the Kilauea, these places on the Hawaiian Island will provide you an unrivaled expression of Mother Nature that is easy to feel awed.