Dos and Don'ts to keep in mind when visiting a beach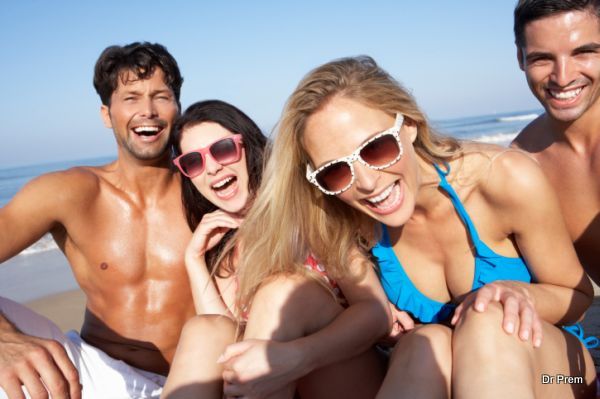 Visiting a beach can be the highlight of one's week. The visual impact of being on a beach provides a great break from the cityscape while bring in the sun refreshes one's mind and rejuvenates the body. But you need to remember the following dos and don'ts when visiting a beach.
Dos:
1. Carry enough food and water with you
If you plan on spending the whole day at the beach, a few sandwiches or a single packed lunch and a bottle of water would not be adequate to keep you fed and hydrated through the day. If the beach doesn't have any good eating joints nearby, you should bring a couple of packed meals with you.
2. Carry sunscreen with you
Even if you have gone to beach to get a nice tan, you need to bring sunscreen with you. Not using and refreshing your sunscreen every few hours when on the beach can leave you with sun burns. Continuing to not use sunscreen while going to the beach for prolonged periods of time can also damage your skin permanently, induce premature aging and even lead to skin cancer.
3. Bring flip flops
They say if you walk barefoot on the beach, you won't need a pedicure. However, the sand on the beach is also laden with broken seashells, small pointy rocks and buried beach wood all of which can easily prick through your feet and cause serious injury. A pair of flip flops is usually quite effective at providing adequate protection.
Don'ts:
1. Don't go swimming if it isn't a swimming beach
Most swimming beaches are marked with some sort of signage telling people how far they can safely go into the sea at a particular beach. However, the water on unmarked beaches, even if looks pristine and harmless can be very deceptive and you may find yourself over a sea shelf just a few meters into the water. A good rule of thumb before going swimming on a beach is to locate the life guard. If the beach doesn't have a life guard present, you should probably avoid going in the water.
2. Don't go topless/nude on a public beach
Going topless or nude on a public beach is not only an indicator of your utter disregard for public decency; it can also land you in jail for indecent exposure especially if the beach draws families and children.