Dos and don'ts of traveling through an arid country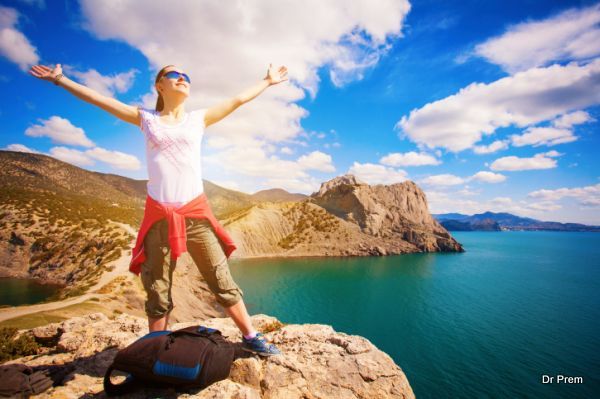 Traveling through a country that has a climate starkly different to what you are accustomed to can be very challenging indeed. Most travelers that have never traveled through an arid country often end up falling severely ill simply because they do not take the necessary precautions to protect them from the weather. Here are a few simply do's and don'ts that one needs to follow to stay safe during a trip through an arid country.
1. Loose fitting cotton clothes only
Travelers from temperate and humid climates are more accustomed to wearing skin baring clothes in mixed fabrics with elasticized elements and lots of metal and plastic bits. Wearing these during a trip through an arid country would be a big no-no. The synthetic elements in mixed fabrics tend to insulate body temperature while you need a more breathable fabric to keep your skin cool in such climates. Also, clothes that fit too closely to the skin can prevent the sweat from evaporating more effectively which could lead to heat strokes, dehydration and even rashes.
2. Covering up in layers is a good idea
Covering up to avoid the heat may seem a little antithetical to what most people from temperate climates are used to doing. However, in an arid country, these extra layers of clothing prevent the sweat on the skin from drying out too quickly as that could dehydrate the body. These layers also protect the skin from harsh sunrays and prevent the temperature of the body from rising up too much as that can be harmful to one's internal organs.
3. Don't venture out during peak sunlight hours
Tourists, especially those looking to get a good tan during their travels, often fail to realize just how hot and dry it can get in arid countries during peak sunlight hours. Even with the best kind of protection, the high UVA and UVB content of sunrays during this time can damage the skin and severely dehydrate the body and travelers should remember this fact before trying to make the most of their time in an arid country.
4. Mind the diet
A common diet misconception about traveling through arid countries is that you only need to remember to drink plenty of fluids. However, the fact remains that while hydration is important, remembering to eat healthy carbs, the right kinds of proteins, spices and even good fats and sweets is also necessary to prevent heat strokes, low blood sugar and stomach problems from setting in.