Best New York Tourist Hotspots – Best places, Tourist attractions, Travel spots to visit in NYC, USA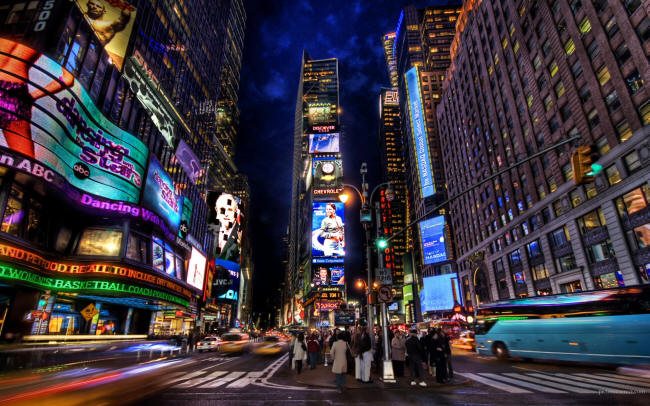 New York, a city that never sleeps! From morning till night it is bustling with traffic, people and tourists. And it is full of things to do. It is like Diagon Alley from Harry Potter where every corner you turn, you find surprises. World famous museum? Check. Shopping malls? Check. Opera houses? Check. Cheap buys? Totally. Street food? Everywhere. From raging nightclubs to beautiful parks, New York is one city that has got everything.
Here are the top 10 best places that you simply must visit in a joy ride along the streets of New York.
1.Central Park: central park is 'the' park that you simply can't resist. With a park cum museum cum concert hall, Central Park is the heart of Manhattan that witnesses millions of visitors each year. And not to forget it is central to many important landmarks.
---
2. Time Square: Time Square is literally a 5 block metaphor for New York City. It is always exciting, full of vibrant colors and different people and it is always jumping. It is recommended that you visit it after dark as then it seems to come back to a different life. With neon signs and over congested area, time square is simply irresistible.
---
 3. Rockefeller Centre: beautiful sculptures, a fishbowl view of NBC studio, enormous skating ring, stores and an excellent array of restaurant defines Rockefeller centre. The best time to visit is the winter time when the entire plaza is sparkling under a huge Christmas tree while you frolic around in skates.
---
4. SoHo: charm yourself in Houston Street by eclectic and affordable stores as well as its cast iron architectures. With stores selling the most renowned brands and delicious gourmet, it is also an easy route to Broadway.
---
5. St. Patrick's Cathedral: take a short cut from Rockefeller centre and you would never miss this towering cathedral. Whether it's for religious purpose or architectural pilgrimage, you simply cannot visit St. Patrick's cathedral and not be overwhelmed by the magnificence of this monument.
---
6. Bryant Park: walk east of Time Square and you will reach the most beautiful natural park of all times. This park has been there for more than 150 years and has been a witness to many things. From Manhattan professionals eating lunch to orchestras practicing, it has seen it all. Spend few hours in the green benches and you will simply be transformed to another world.
---
7. Grand Central Station: you can either shop till you drop or simply stand and breathe in the scenery Grand Central Station is more than just a train station. It is a part of New York City's historical finds and it is proud of what it shows. You can even visit it for a simple souvenir.
---
8. Broadway: you can't not come to New York and not see one show or another in Broadway. Each and every play or musical is crafted with master class hands and you can see the dedication and hard work that everyone puts into putting up the shows. It's a place where legends are born.
---
9.Brooklyn Bridge: one of the oldest suspension bridge in the country, it has a breath-taking view of the entire city and East River. Simply take a walk and feel yourself being lifted.
---
10. Metropolitan Opera House: the name says it all! The best Opera's in the world is performed here and you can expect a nerve rattling experience from the galleries. It is simply a feast for the eyes and ears.