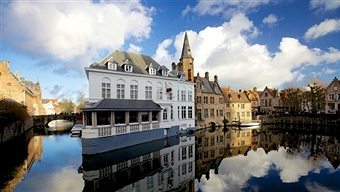 Belgium, officially known as the kingdom of Belgium is a state in western part of Europe. It is one of the founding members of the European Union and acts as a host to several international organizations that includes NATO and head quarters of European Union
Culturally, Belgium is a home to two main linguistic groups, the Dutch-speakers, mostly Flemish and the French-speakers with an additional small group of German speakers. Two of the largest regions of Belgium are the Dutch speaking Flanders in the north and French-speaking region of Wallonia.
Location
This state covers an area of 30,528 square kilometres and the estimated population is 10.8 million approximately. France, Germany, Luxembourg, and Netherlands surround Belgium and share its borders. There are three main geographical regions in Belgium – the coastal plain in north western part and the central plateau. These regions belong to Anglo-BelgiumBasin, the Ardennes uplands in the south eastern part of Hercynian orogenic belt. In the inland part of Belgium, lie a smooth and a slow rising beautiful landscape that is irrigated by several waterways with fertile valleys and north eastern sandy plain of the Campine.
Belgium has a very attractive wildlife. It has numerous wildlife reserves where there is an excellent collection of flora and fauna. One can also find different varieties of ducks such as Pochard, Gad wall and the Northen Shoveler. The wildlife reserves include The Blokkerdijk Nature Reserve and Kalmthoutse Heide which reed fringed lakes.
People
Belgium is a very friendly and peaceful state with no violence in any part of it.  It is well known for its quality Beer and dark chocolates, which is famous worldwide. People in this region are one of the most productive and hard working in the world. As per the German statistics of 1992, industrial production in Belgium was 20% higher than most of the other productive nations.
Events
From Belgium roller parade to art exhibitions, the calendar is full of vibrant and colorful events. People actively participate to make each event a success. One of such events is Skoda Jazz festival consisting of around 70 concerts held in 16 cities across Belgium.
Weather
Belgium is a small place as a country, quite similar to the Netherlands. The weather is little colder in winter and much warmer in summer than along the coast. The place experiences quite a lot of rain in the summer and there are frequent thunderstorms. The temperature being maritime with much precipitation in all seasons, average is lowest in the month of January at 3oc and highest in July at 18oc.
| | |
| --- | --- |
| General | |
| Language | Dutch, French, German |
| Time Zone | CET(UTC+1) summer CEST(UTC+2) |
| Dialing Code | 32 |
| Electricity | 230V, 50Hz |
| Major Cities | Brussels, Antwerp, Arlon, Waterloo |
| Currency | Euro |
| Clothing | Light to warm clothes throughout the year, supplemented by heavier wear for winter months, rainwear at any time. |
|  Health Related | |
| Mortality Rate | 10.5 deaths/ 1000 population |
| Life Expectancy | M 76/ F 79 |
| Patient: Physician Ratio | 220:1 |
| Hospitals JCI accredited | 1 |
| Recommended Infections | MMR, Tetanus-Diphtheria, Influenza |
| Possible Infections | Lyme disease, Q fever, Brucellosis |
|  Tourism Related | |
| Population | 10,827,519 |
| Global Competitiveness | 4.91 |
| Tourism Competitiveness | 4.9/7 |
| GDP/Capita | $43,794 |
| Health and Hygiene | 6.6/7 |
| Safety and Security | 6.0/7 |
| Air Transport Infrastructure | 4.3/7 |
| Tourism Infrastructure | 4.2/7 |
| Cultural Infrastructure | 5.9/7 |
| Visa Requirements | 40/133 |
| Reliability of Police Services | 28/133 |
| Physician Density | 4/133 |
| Hospital Beds | 32/133 |
| Quality of Air Transport Infrastructure | 15/133 |
| International Air Transport Network | 29/133 |
| Quality of Roads | 11/133 |
| Hotel Rooms | 44/133 |
| Tourism Openness | 47/133 |
| Attitude of Population Towards Foreign Visitors | 19/133 |