Be a part of the unique Summer Christmas celebrations in Australia this year!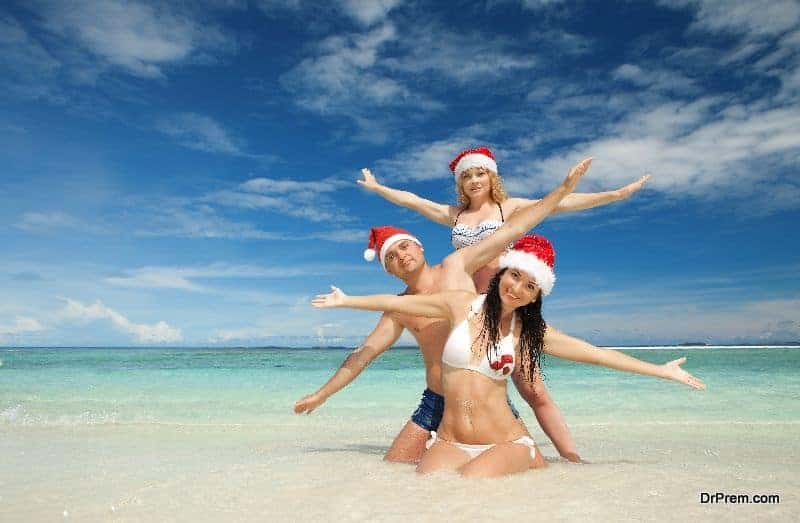 Christmas celebration in Australia is hot! When the world enjoys the December chill with Merry Christmas, for Australia it is a summer celebration. Visualizing Santa riding the reindeer-driven sleigh through the snow-clad valleys is common but those residing down under may wish to see the same Santa driven by a Kangaroo!
Though the festive spirit remains the same everywhere across the globe, in Australia it is something unique. December marks the onset of the country's holiday season with Christmas and Boxing Day being the top events.
Australian Christmas – Celebration of a different flavor and culture: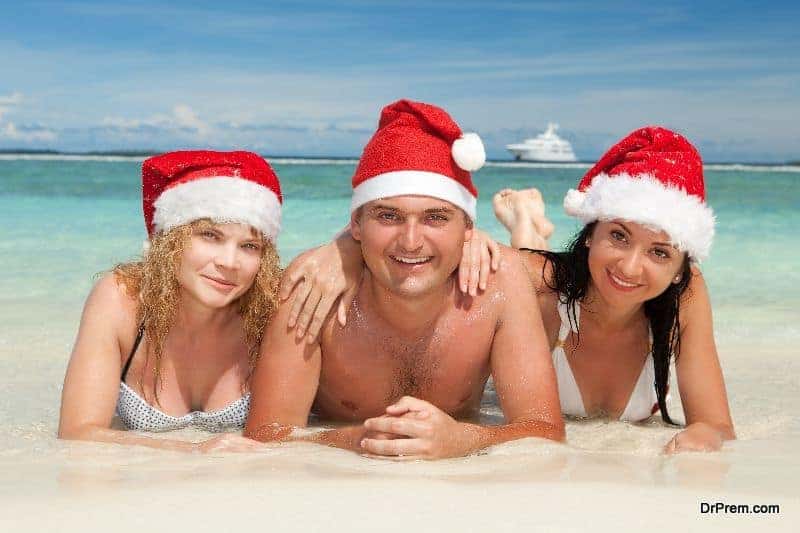 The country has been the melting pot of different cultures sheltering people from different ethnicities from England, Japan, America, Ireland, China and other European countries. Therefore, Christmas celebration deviates a lot from the traditional English style with more inclusions of local flavor.
Outdoor celebrations top the list with crowd thronging the beaches and getting immersed in merriment. This may sound pretty weird to those feasting on gingerbread house and eggnog in a cozy corner beside the fireplace.
It would be not out of place to state that Australians also carry the tradition of celebrating Christmas in July, the winter season. This is just to revive the winter mood associated with this celebration where turkey roast, plum cake, hot custard and fun trips to Australian snowfields constitute important features.
Decoration: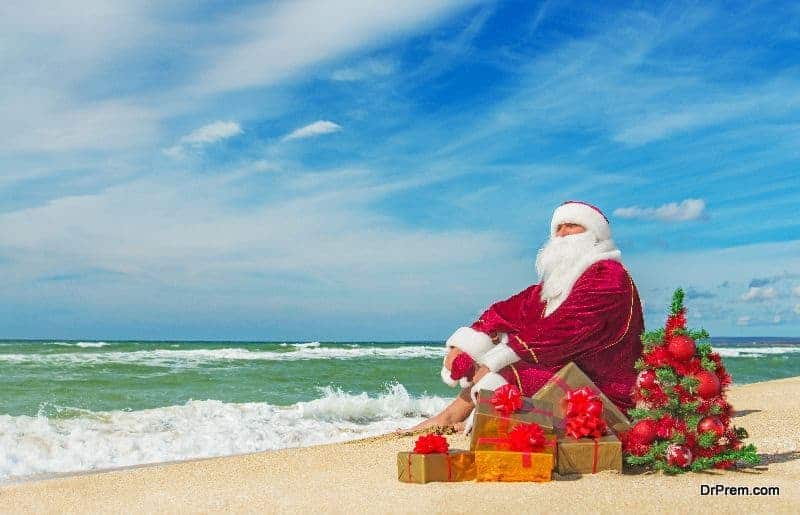 Offbeat decorations dominate Australian Christmas. Plants like Christmas Bells, Christmas Bush and Christmas Orchids are picked up but the cute wooden kangaroos and koalas hanging from these plants give an unusual decorative look.
Houses are brilliantly illuminated with twinkling fairy lights. People raise funds for charity through events and contests for the decoration purpose. They nurture a passion for illuminating their houses in unique ways. Scouring their neighborhood to view the variety of house illumination forms an important festive activity as well.
Food: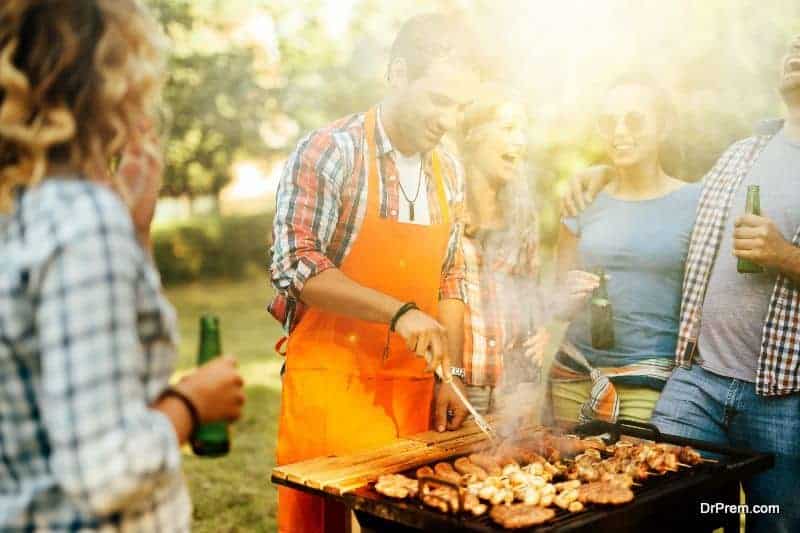 Deviation in Christmas delicacies is quite pronounced here. Dishes suitable to the weather conditions are preferred to traditional indoor Christmas dinner.
Cold meat, seafood, cold turkey with cranberry sauce, cold chicken, ham with apple sauce, Christmas dampers, ice cream pudding and the famous meringue based  dessert Pavlova are popular items finding their place in the Christmas menu.  All these delicacies are washed down with tasty Australian wines and ice-chilled beer.
Outdoor activities top the list: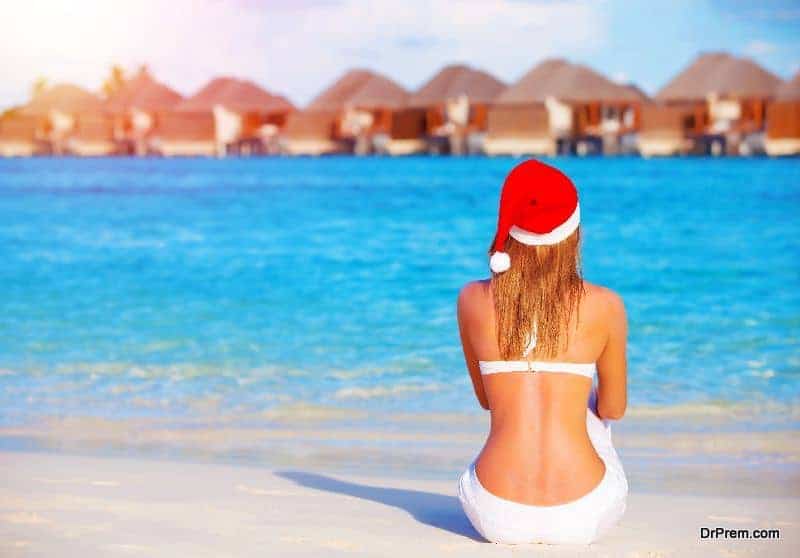 This season is perfect for outdoor activities and Aussies make the best of it during the Christmas. Enjoying a backyard barbeque is common and much liked by those willing to spend this festive day in house with family and close friends.
Cricket, beach picnic, swimming, camping, walking and spending hours by the cool sea waves are other activities that Aussies love to indulge in during this festive season.
Carols by candle light is a popular Australian tradition of celebrating Christmas since 1937. Instead of singing carols by candle light, crowds gather under the star lit sky and sing their favorite Christmas carols enjoying choicest food and beverage.
Beckoning beaches: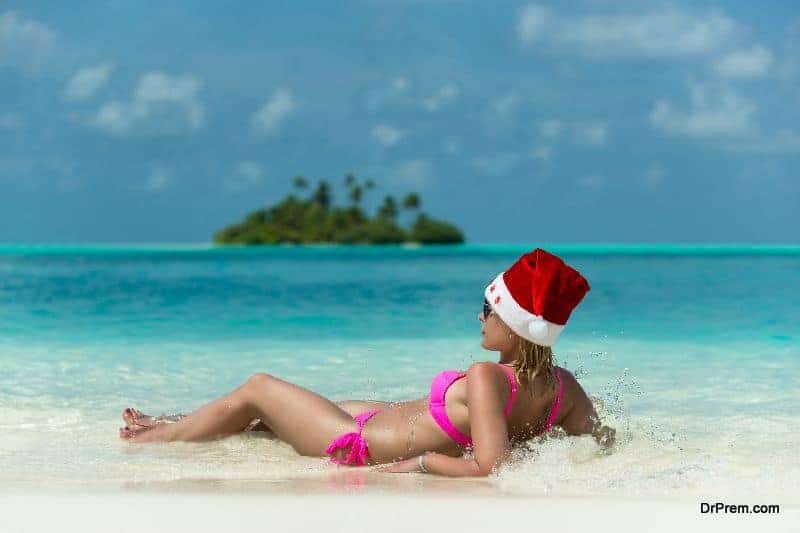 Beach activities heighten during this period. If you miss the most commonly observed snowman, you may get the Sandman on the beach. Bondi beach is one of the biggest crowd pullers seeing about 40,000 visitors on the Christmas day hosting picnic parties. You may be lucky to see Santa arriving in shorts or boarding a surfboard.
If you are looking to spend a quiet beach vacation this time, the following seaside spots would be ideal picks:
Albany WA – Approximately 5-hour drive from Perth. Well known for beautiful coastline, quality wines, natural landscape and historical attractions.
Robe, SA – Approximately 4-hour drive from Adelaide. Wonderful seaside and mouth-watering seafood are top attractions. The famous Limestone Coast along with caves, cliffs and plenty of natural beauty is loved by the visitors.
1770 QLD – 120 km from Bundaberg, QLD is a pretty seaside village with lovely beaches painting great sunset portraits.
Fraser Coast, QLD – Located 250 km North of Brisbane. Beautiful beaches with an array of marine life are top attractions. Whale watching is not to be missed. Ideal getaway for those looking for a tranquil vacation, bright sunshine and plenty of things to do in water.
Jervis Bay, NSW – A 3-hour drive from South of Sydney would take you to the world's whitest sand beach with an extensive marine life. Perhaps the most beautiful spot in Australia for adventurous Dolphin watching.
Bicheno, TAS – A 2.5-hour journey from Tasmania. One of the prime locations to watch the charming penguins. Wonderful beaches and gorgeous national parks are top attractions.
If you carry the notion that Christmas in sultry and hot conditions can never be enjoyable, then you surely need to head towards Down Under and experience the charm, a kind of its own.