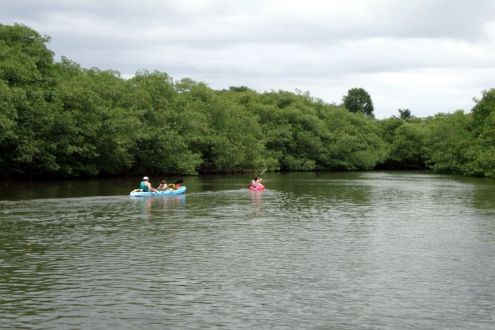 Bastimentos Island is located in the town of Bocas del Toro, Panama. The island is one of the largest in the country with an area of around 52 square kilometers. It is only a ten-minute boat ride from Isla Colon.
The northeastern side of the Island faces the Caribbean Sea. Five popular beaches namely Playa Larga, Wizard Beach, Red Frog Beach, Turtle Beach and North Beach are located on the western side of the island. The island is named after one of its small animal species i.e. red poisonous dart frog, which is mainly found in Bastimentos Island.
The place offers several private residences, hotels, restaurants etc. However, the main settlement near the island is the historic Indian town of Old Bank. Covered with dense forest and lush mangroves, Bastimentos Island features rich biodiversity.
Other attractions include beach hikes, nature walks, diving, snorkeling, Bocas surfing, deep-sea fishing, kayaking and so on. Tourist visiting the island have number of options to stay, which include Red Frog Beach Resort, Eclypse de Mar, Al Natural Resort, Bocas Bound Hostel, Tranquilo Bay and many more.
Image Source : Panoramio│Talavan