The Amusing Angry Bird Activity Parks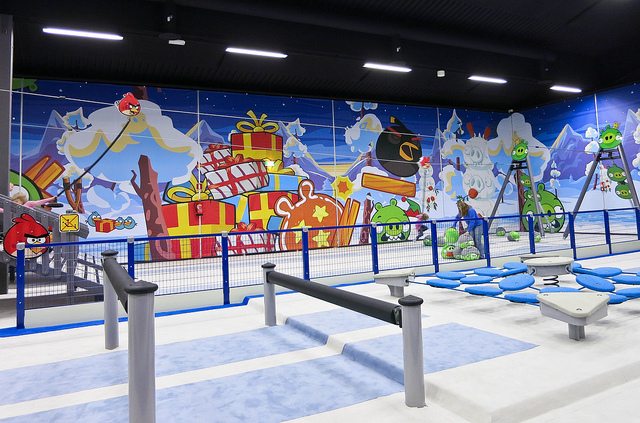 Angry Birds, one of the most famous mobile and video games, have started building activity parks at different places around the world. Their motto is to help the kids have fun with their favorite Angry Bird characters, while getting good amount of physical activity. The Angry Birds app has been created by a Finnish computer game developing company, the Rovio Entertainment.  The Angry Bird Activity parks have taken the world of children's entertainment to a new height by integrating the real world with the virtual world.  They have recently opened a brand new Angry Bird Activity park at Saariselka in Finland. Though the Angry Bird game app has been purchased by millions of adults, the park is definitely designed for kids. The journey of the Angry Bird Activity started from Sarkanniemi amusement park, where the first of the lot was opened, last year.
What's so special about the Angry Birds Activity Parks?
If you too are a fan of this addictive game, then you will surely love to visit one of the Angry Birds Activity parks. Your kids are sure to love the Angry Birds merchandise, like stuffed Angry Bird toys of a great variety, Angry Bird chewing gums, sodas, etc. A visit to the Saariselka Activity Park proves that the Finns are really enthusiastic and proud of this Finnish addiction. They are huge fans and devoted consumers of all things related to Angry Birds.
Though, it has been designed for kids but the kid in you is also inspired and encouraged to take part in the fun. The Angry Bird Activity theme parks offer a lot of exciting activities for kids of all ages. There are life-sized Angry Bird characters all around you, who will not only play and participate in the games but also ask you to move around and have more fun. There are long tunnels and slides and both parents and kids can feel free to enjoy them. It is a great place for hanging out with your kids, for an hour or two.
The Angry Bird themed Hall has many adventurous surprises for the visitors and the Pink Stella's Corner dedicated to little girls. To promote physical activities, games like parkour and snoflex jump have been included.
Why suddenly so many of them?
According to Peter Vesterbacka, the chief marketing officer of Rovio Entertainment, the reason behind building so many Angry Birds Activity theme parks is the rising numbers of obese children in the western countries. The idea is to make kids enjoy taking part in the physical activities. The amount of activity of an adult or a kid will get them some amazing rewards. The more active you are at an Angry Bird Activity park, the better are your chances of getting great rewards.