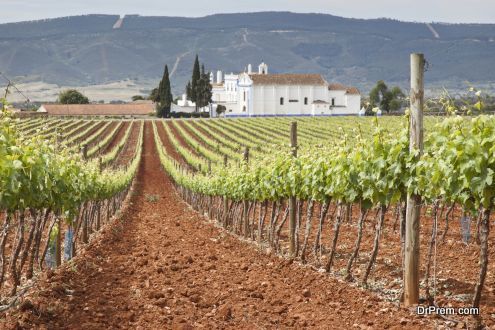 Alentejo is one of the largest wine regions of the country. The region is known for the production of world-class wines such as red wines and white wines. Various restaurants located in Alentejo offers delicious wines to their guests.
The fruity and rich taste and fragrance of the wine attract wine lovers to visit this amazing wine tourism destination. It is little difficult to produce white wine in the hot climate. But, visitors can still enjoy white wines here. You can explore the beautiful Alentejo, which is covered with hills and mountains. The vineyards are located in this region only and visitors can get there after a short drive or can go on foot.
The climate of the region is hot and the region is known as the hottest region in the continent. The different soil of the region plays an important role for the plantation of grape plants. The soil consists of pink marbles, schist, granite, water retaining clay, and limestone.
Visitors can also experience camping near the Sao Mamede Mountains and can enjoy finest wines of the region. Nights can be cooler so it is always advised to carry proper bedding items and clothes for the camping. The tour facility providers can also arrange things for visitors.