5 Sizzling trips to ignite the romantic fire in you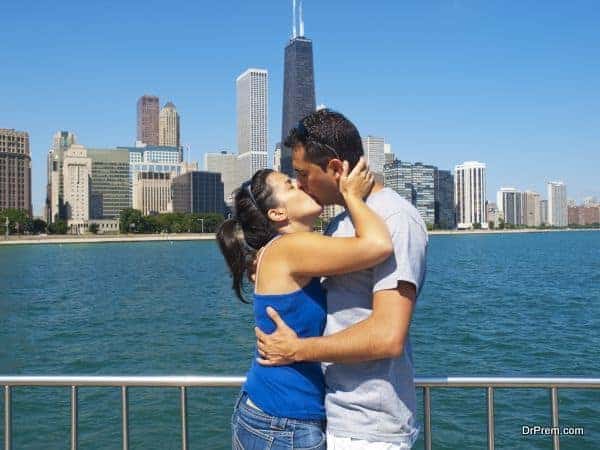 Romanticism is a preparatory ground for love blooming in you which is to be shared with your sweetheart. It is a fact that environment plays a significant role adding fuel to the fire of romanticism between the loving partners. Generally, it is observed the eternal elements of nature with all their beauty and glory act as a catalyst in kindling romance. The eternal sea, the cascading waterfalls and meandering rivers have a powerful impact on a romantic mind. Even the historical ruins and whispering ancient monuments and alleys inspire romanticism in couples and love birds.
Here we select 5 destinations that can ignite the romantic fire in you:
Vienna:
Vienna is a perfect place to rediscover your romanticism. The Sachertorte at Cafe Sacher is one place where you step onto the 19th Century red velvet, and the magnificent Chandeliers hung from the ceiling would work up a magic to inspire a romantic vibe. Gilt framed oil paintings on the wall create a dignified ambience. There is the signature chocolate cake and apricot jam to enhance the romantic atmosphere further culminating into the height of romance to the tune of a piano played by a gifted pianist. Next, you should explore the 18th Century summer palace of Prince Eugene of Savoy where you find the jaw dropping painting 'The Kiss' painted by an eminent artist Gustav Klimt. This highly captivating portrait patterned like a mosaic and gold brushed depicts lovers in a romantic embrace in a bed of roses.
Kent, England:
This Garden City of England would be a perfect destination for lovers having a romantic sojourn. Bestowed with long and charming sea shore, breath taking rustic landscapes and ancient English cities, Kent has seen foot prints of eminent historical personalities like Julius Caesar, Napoleon Bonaparte and William the Conqueror all having a great liking for this romantic destination. Concentration of awe inspiring castles and cathedrals would just put you in a romantic mood and you will be lost in a reverie with your paramour. The white cliffs of Dover and the famous Canterbury cathedral are indeed significant landmarks in Kent that would bring out the poet in you. A number of beautiful cottages and apartments would take care of your accommodation issue during your stay in Kent.
Chicago, USA:
Chicago is indeed a destination of great promise what lovers look for eagerly. Some of the amazing landmarks in Chicago not to be missed are the Millennium Park, Magnificent Mile and The Navy Pier. This is the city you are looking for an ethnic break with masterpiece architecture and arts and the fascinating lake, and all of these together could very well foster a romantic environment affecting you and your sweetheart in a wonderful closeness of mind and body. You may even take a short trip to the North Michigan avenue for some great shopping and have a drink together in the lounge of the Hancock at sunset and eventually wrap it up with a romantic candle light dinner.
London, England:
When you are thinking of exploring the romantic entity, no place could have been better than London charged with intense romance for example, the Kew gardens. Very few places on earth would surpass the romantic ambience created as you take your lover on a leisurely stroll through the Kew gardens. A sea of daffodils, a carpet of crocuses and a myriad of ubiquitous bluebells would always be there to greet both of you. A speedboat ferry across Thames, visit to the Royal Palace, Royal Castle and the London Eye would be an inseparable part of your romantic trip in this place.
Kolkata, India:
A den of lovebirds, Kolkata is a very much an attractive destination for lovers. Every street corners, lanes and alleys would be seen where lovers are keeping their pre-appointed rendezvous. Memorable romantic sojourn would be a horse cart ride around Victoria Memorial, visit to the Indian museum and a leisurely stroll around the velvet green grounds and fountain around Victoria, appreciating the world class art galleries, theatres and musical renditions, and of course a trip to north Kolkata's old architectural marvels and the legacy of the Nobel laureate Rabindranath Tagore, who recreated love and romance through immortal verses treasured highly even today.