10 Shopping Destinations in the Place of Style – France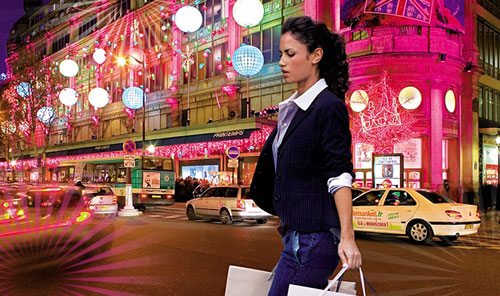 Shopping, next to visiting museums and monuments, seems to be one of the primary attractions of France. The French, especially Parisians, are well-known for their impeccable sense of fashion and style. It's not surprising that Paris remains the trendsetter when it comes to fashion and accessories. The streets of France are lined with a great many number of stalls which are bound to satisfy all sorts of fashion victims. Here are some of the best shopping destinations in France where you can get to label items while being relatively easy on the wallet.
Ten Best Places for Shopping in France:
The Faubourg Saint-Honoré District: This district is well-known to be the heart of Paris' fashion and style. It is part of the Louvre-Tuileries locality and quite close to the Opera Garnier and the Paris department stores block on Boulevard Haussman. The Faubourg Saint-Honoré district is teeming with classic and well-known designers such as 'Versace', 'Yves  Saint Laurent' and 'Hermes' as well as concept shops like Collette.

Boulevard Haussman: The Boulevard Haussman area houses various Paris departmental stores such as Printemps and Galeries Lafayette. These departmental stores are famous for their grandeur and for their top tier designer-wear collections for men and women as well as gourmet foods, jewellery, interior designing and other customer attractions.

Mistigriff: Mistigriff is a designer seconds outlet and offers some of the best and most renowned names in men's and women's fashion at a discount of 25% to 85%. It is a favourite of milliner Estelle Ramousse who enjoys bargaining for some of their beautiful head-dresses and one-off hats. This place should be on your checklist if you're looking to buy high quality goods without burning a hole in your wallet.

The Marais: A historically famous shopping area especially among lovers of the arts, the Marais quarter is well-known for its diverse sense of fashion and for its antiques and fine art. For antique lovers, the place to visit should be 'Place des Vosges'. For lovers of jewellery, check out 'Satellite' which is on Rue des Francs-Bourgeois. For exploring up-and-coming designers, check out 'Rue des Rosiers'.

Ding Fring: The deceptively shabby disguise of Ding Fring hides a diverse assortment of flawlessly dry-cleaned second-hand clothes. It's considered a hidden gold-mine, containing top quality brands such as Diesel, Dsquared, Daniel Hechter and Levi's. This is another more affordable alternative.

Avenue Montaigne and Avenue des Champs-Elysées: One of Paris' hottest fashion annexations, Avenue Montaigne is fast overtaking Saint Honoré in popularity, lining up the streets with designer brands such as Chanel and Dior. This place is best known for its designer outlets and fashionable chain stores.

Paris Flea Markets: The flea market at Saint-Ouen is the largest the city of Paris has to offer and goes as far back as the 19th century. The market contains some of the city's most essential shops and is well known for their antiques and other oddball items along with vintage shoes and clothing.

Saint-Germain-des-Prés: Saint-Germain-des-Prés was once well known to be thronging with famous intellectuals who frequented local coffee shops. It is now considered more chic and is frequented by upper class citizens. It houses the famous departmental outlet Le Bon Marché, the gourmet section of which is a prime attraction for foodies. It is also well known for its stock of several rare books and even home furnishings.

Les Halles and Rue de Rivoli: This has been a major shopping area since the 20th century and is well-known for the famous underground mall, 'Le Forum des Halles' which is teeming with global designer chain stores.

Viseart: Visart is well-renowned within the fashion world and in film circles for their quality cosmetics. The shop-runners are actual professionals who will help you pick the right items or give you a 45-minute makeover if you wish, for €45.

André: The branches of André boast an impressive collection of shoes made by luxury shoemakers as well as footwear within an affordable range. The chainstore invites many cutting edge designers each season to contribute to their shoes and handbags collection.