Puerto Rico Honeymoon Attractions, Honeymoon Places – Top 10 Honeymoon Destinations in Puerto Rico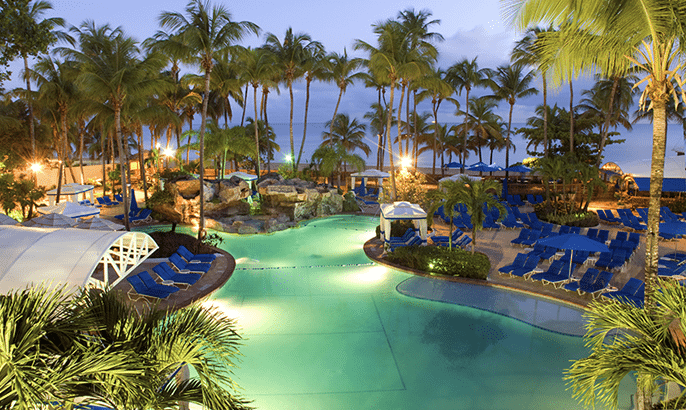 Gallery Inn
Stay at the Gallery Inn Puerto Rico. The Gallery Inn is slightly different than other old San Juan hotels. This hotel takes up residence in an old fifty-two room mansion.
There are twenty-two beautifully appointed rooms.
Each bed has a comfortable tempur-pedic bed. The quaint size and customized rooms in this hotel will make it a perfect romantic getaway.
Hotel El Convento
This beautiful hotel is full of its 300 years of history.
A luxury San Juan resort located in old San Juan is near some of the best things to do in Puerto Rico.
The Hotel El Convento pleases guests with its five star qualities.
This hotel has 58 luxurious rooms lined with marble and decorated beautifully.
Vieques Island
You may want to consider taking a trip to Vieques Island. This is the one of the most beautiful getaway spots, perfect for a Puerto Rico honeymoon.
Local ferries depart from San Juan daily, a perfect way to take a day trip to the picturesque beach.
Underwater Trip
While visiting any of the beautiful Puerto Rico beaches, try going underwater reef exploring. With crystal clear water, snorkeling in Puerto Rico is a great couple's activity.
Bacardi Rum Factory
Take a free tour on your Puerto Rico honeymoon at the Bacardi Rum Factory. Sample many different rum flavours while enjoying the outdoor bar at the end of the tour.
Guanica Dry Forest Reserve
The Guanica Dry Forest Reserve has been in operation since 1981 and is an UNESECO International Biosphere Reserve.
The reserve represents one of the most important dry forests on the globe.
A dry forest is made up of cactus, beach grapes, trees and exotic birds.
The Guanica Forest reserves about 9500 acres with over 700 varieties of plants.
Gilligan's Island
This island is also called Cayo Aurora by the locals. This is a nice spot if you want to get away and be someplace natural and quiet.
You can either take a ferry over to the island, or you can rent a kayak and make your way to Gilligan's Island.
If you kayak it will only take about twenty minutes.
Puerto Rico [all inclusive vacation packages]
If you would rather your honeymoon include many different activities planned in advance, try one of the Puerto Rico all inclusive vacation packages.
Couples can enjoy scuba diving, snorkeling, rappelling, fishing or many other activities by purchasing an all inclusive package.
Condado Plaza
The Condado Plaza is located right on the beach in San Juan, Puerto Rico.
You can wake up every morning with a beautiful view of the beach and ocean.
There are many things you can do during your stay, visiting the casino, parasailing, hiking, horseback riding as well as wind surfing. There is bound to be something for everyone to enjoy.
Casinos in Puerto Rico
Try a night in at one of the casinos in Puerto Rico.
Casinos are only allowed in hotels so finding one at your Puerto Rico resort should be easy.
---