Puerto Rico Attractions – Top 10 Tourist Spots, Travel Attractions, Holiday destinations to visit in Puerto Rico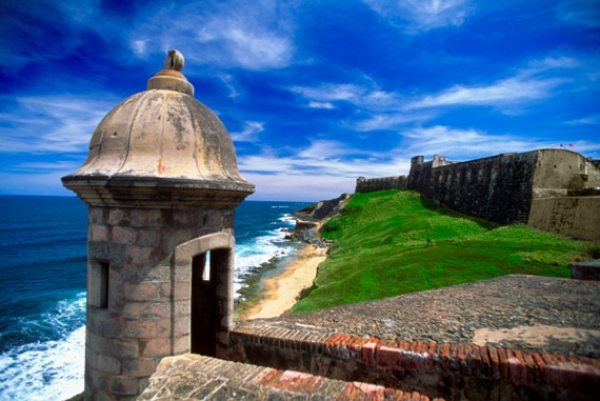 Puerto Rico which in Spanish means 'rich port' is an archipelago located west of United States Virgin Islands and British Virgin Islands and east of Dominic Republic in the north-eastern Caribbean, United States. There is a lot to see in these islands starting from ancient fortresses to beautiful rain forests. The island has multitudes of places to see and quite surely anyone, who has less information while visiting the island, can see it quite overwhelming and miss out the best places. The islands also offer some pristine beaches that are a must visit. Here we have the list of top 10 tourist attractions in Puerto Rico.
El Yungue or The Anvil: A beautiful tropical rain forest which brings you very close to nature with its abundant flora. About two hour drive from the capital city of San Juan, this mountainous terrain gives you a perfect break from the city's crowded affairs. Take a walk around the forest or hike along one of the many trails or just get drenched under the waterfall, this is the best place where you can be.
Culebrita: Though you need to take a water taxi or motor boat to get here, this isolated beach is super clean and that is its beauty. There is a lighthouse and the blue waters are perfect for snorkelling. There is the Culebrita Reef on the southern side and there is a turtle beach where you will get to see many different kinds of turtles.
The ViequesBiobay: Best to visit on a new moon day, this is one of the world's most bioluminescent bays. Go kayaking along the Mosquito Bay and you will see your oars glowing in the water. Fishes swim in the water as underwater lightening and this experience in the Vieques Island will be a memorable one.
Camuy Caves: Being the third largest underground cave system in the world, this place is perfect for adventure lovers for this is above 600 feet deep. There is an underground river and you can go for mud-sliding, free jumping or body-rafting. You can also visit the Arecibo radio telescope.
Castillo de San Felipe del Morro: This one of the most oldest and remarkable landmark of San Juan and consists of six citadels. You can still see canons which are facing towards the sea and a sentry box where you can learn how the soldiers lived and worked.
Casa Blanca: Also known as the White House, this is National Historical Monument and is a museum housing 16th-18th century antique objects. It is surrounded by beautiful gardens and is a famous tourist destination.
La Fortaleza: Located in San Juan, this is a World Heritage Site. This historical monument is visited by lots of tourist for its beautiful architecture.
The Ponce Museum of Art: It has a collection of over 850 exquisite paintings and 800 magnificent sculptures. Some of the famous artists whose works are featured here include Benjamin West, Diego Valasquez and many more.
Playa Flamenco: This horse-shoe shaped beach is famous for its picturesque white sands and the clearest water. Enjoy scuba diving and snorkelling in this beautiful beach of Puerto Rico.
Cathedral of Our Lady Guadalupe: Built in 1931 on the remains of an old chapel built by the colonists in 1660s, this cathedral is beautiful with its twin bell towers, white and blue decorations and single stained glass windows. This cathedral is located in Ponce.
You can enjoy beyond your expectations in this exotic Caribbean island and you would for sure admit this is the amazing beach in Caribbean sea.