Mount Aspiring National Park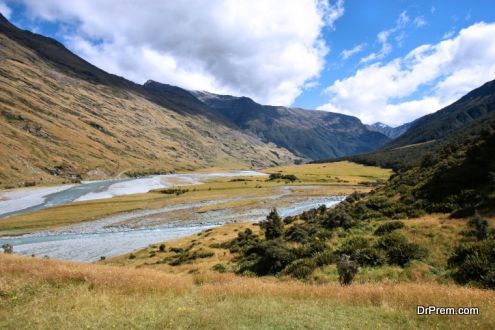 In the Southern Alps of the South Island of the country, the Mount Aspiring National Park forms the part of the Te Wahipounamu World Heritage Site. Established in 1964, the park holds large valleys, carved out by ancient glaciers and high mountain ranges. It covers an area around 355,543 hectares. The Mount Aspiring National Park is popular for tramping, walking, and mountaineering. Other peaks within the park include Mount Pollux and Mount Brewster.
The park houses different species of flora and fauna. You can see here various species of beech forests, each of which favors slightly different growing conditions.
You might find red beech in the frost-free region, and at higher altitudes, you will find silver or mountain beech forests. About 59 bird species are there inside the park, out of which 45 are native while remaining are exotic species. Further, the park has over 400 species of moths and butterflies.
Visitors can experience a walk of a lifetime on the Routeburn Track, which is a 32km track weaving through beech-forested valleys and alongside clear green rivers, alpine lakes and spectacular views from a mountain pass. The Routeburn Track is a well-maintained track to walk with family and friends, and it offers serviced huts as well as camping facilities.