Let your wild style go free in the Currumbin Wildlife sanctuary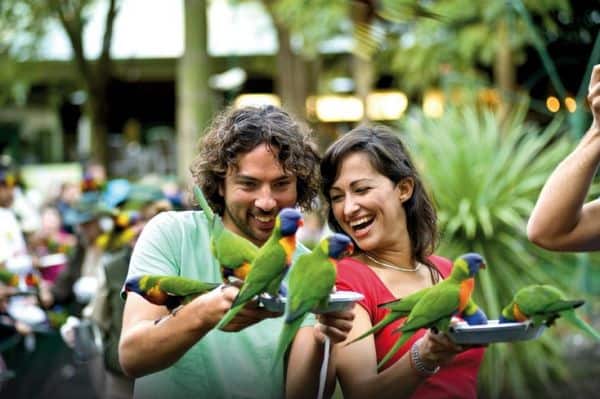 Alex Griffths opened this sanctuary in 1947 as Currumbin bird sanctuary, in order to stop the local lorikeet population from destroying his flower plantations. Today, the Currumbin wildlife sanctuary is one of the largest houses protecting the native Australian species. Currumbin wildlife sanctuary is located on the Gold Coast, Queensland, Austalia and is the largest host in feeding the huge flocks of free-flying wild Rainbow Lorikeets.
Its main Exhibits include Tasmanian Devils, a reptile house and the largest walk-through aviary in the southern hemisphere. In 1964, the sanctuary started operating miniature railways that has been an attraction ever since.
Currumbin wildlife sanctuary organizes numerous events that are attractions to its visitors. These events include dingo encounters, free flight bird shows and even feeding of the park's massive saltwater crocodile. Currumbin wildlife sanctuary has major, upgraded and serious work aspects and ethos. They provide utmost care in delivering effective services to this cause and include state-of-the-art veterinary and rehabilitation hospital where thousands of sick and injured animals are brought every day.
This sanctuary encourages visitors with relishing moments like cuddling  a koala, feeding a friendly kangaroo , experiencing the wild lorikeet feeding free-flight bird show, and Australian sheep shearing, witnessing Aboriginal presenters perform didgeridoo and dancer shows, and much more. This close to the wild streak activities helps you realize that there exists a world far beyond tyranny, competition and melancholy. It fills your heart with joyous fulfillment and contentment that helps you connect to the wildlife and nature and helps you find solace and peace that should be most valued.
Currumbin Wildlife Sanctuary is a 'not-for-profit' organization and reinvests all proceeds back into the noble Australian native wildlife and conservations programs. There is so much one can do in the sanctuary, like takethe adventure park high ropes course challenge, which takes an hour. Or take a Segway safari and gently glide though the lush surroundings of Currumbin Wildlife Sanctuary. This sanctuary is the rare opportunity to see and experience hundreds of Australian Native wildlife species at display.
It entrances you with its lush surroundings of natural coastal rainforest and eucalyptus filled environment. The main attraction however remains lorikeets. These are the prettiest and loudest of all and these and cluster around the visitors for twice-daily feeds. These birds are charming and beautiful to such an extent that calling them God's most timed creations would not be wrong.
These birds are a carefully mastered combination of emerald green, sapphire blue and sunset orange. Their most appealing quality is however that they are not at all shy rather they would perch on to your arms and head to eat. These graceful creatures win all hearts by their extrovert appeal and it was to the courtesy rainbow lorikeets that currumbin wildlife sanctuary began at all.
Currumbin wildlife sanctuary makes your trip here least worrisome for the facilities provided here are at best and helps you nurture experiences with a clear mindset. Few of the facilities so provided are:
Access with assistance for the disabled, bicycle rack, café, car park, catering, child activities, baby seat and equipment, coach parking, first aid equipment, guide, kiosk, lockers parents room, photographic services, picnic area, tour desks, walking tracks and many more. Here at Currumbin wildlife sanctuary, they aim to make your visit one of its best and worth all the fun. The list of activities done here is vast, varies in all aspects, and makes your day here a worthy one. The activities so offered are bird watching, shopping, train tide, animal viewing, bush walking, guided walks, hiking/trekking and wilderness walking.
Summary
Curriumbin wildlife sanctuary is presents a fun aspect to visiting a sanctuary. It makes your affair with nature and wildlife strong, irreplaceable and perpetual.