Garden Village, Lake Bled offering joyous experiences for nature lovers
If the Pilgrimage Church of the Assumption of Maria with its imposing bell tower and delicious kremna rezina in Lake Bled, Slovenia does not fill your traveling soul to the brim, then I would recommend a few days stay at Garden Village Resort to get that fulfilling taste.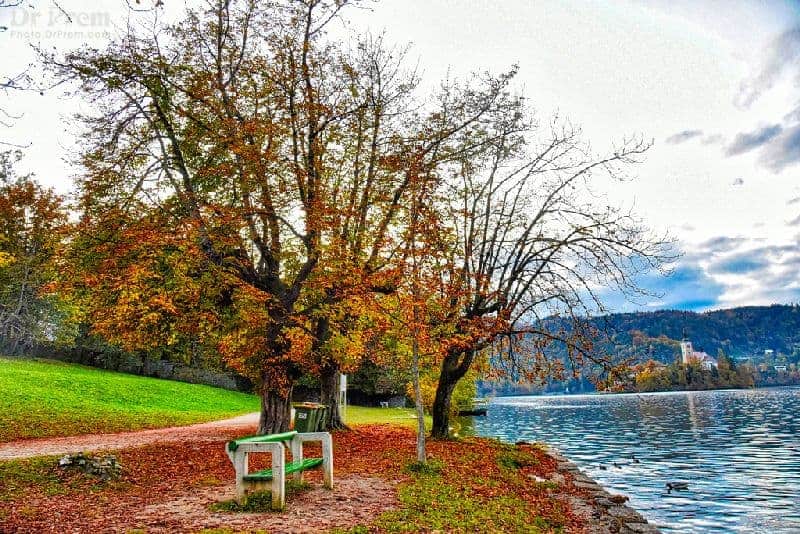 Source : photo.drprem.com
The beguiling charm of Lake Bled led me to a state of trance. Before I could get out of that, I found myself at the entrance of Garden Village Resort. Being an avid traveler, unique experiences have often enthralled me and I can admit without slightest hesitation that the uniqueness of Garden Village surpassed my expectation by several degrees.
It was a key – neatly designed from a wooden block handed over to me by the chirpy front-desk officer that caught my attention first. Well, It unlocked a series of joyful surprises that I could not keep count of.
This resort located on the south of Lake Bled in Mino settlement about 400 meters from the lake, is an amazing haven for tourists. Its pristine Alpine nature with an abundance of greenery and free space promise you a high level of coziness with all modern facilities answering your every need. This resort complex with a unique adventurous-romantic charm offers something very new in Slovenia.
The design has a state-of-the-art element in it. It is entirely an eco-friendly property built over a deserted gardening space where visitors with a strong penchant for connecting with nature could spend a healthy and relaxed vacation.
Accommodation: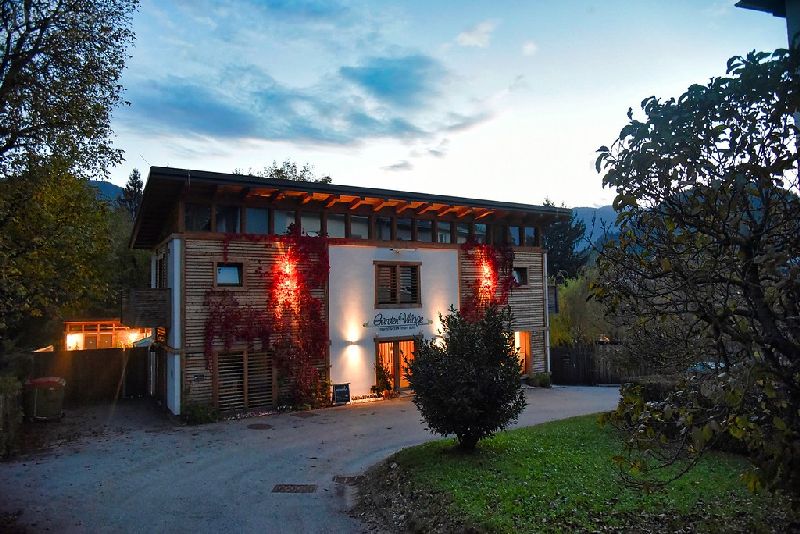 Source : photo.drprem.com
Uniqueness reigns in every aspect of accommodation be it a glamping tent, tree house, pier tent or a luxury apartment. But it is the tree houses and tents that draw the visitors' attention most.
How does it feel to stay in a room with tree trunks growing through it? How about entering your tent accommodation just by sliding the zip? Each and every feature leaves you amazed. To me, it was just like embarking on a fancied fairyland.
Tree house: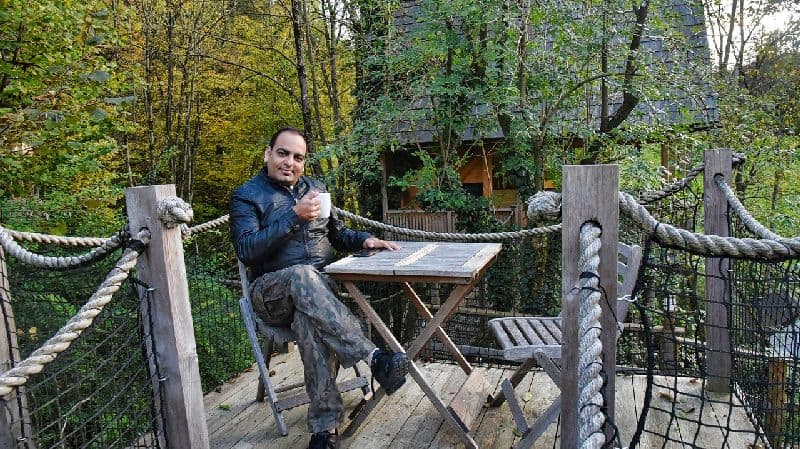 Source : photo.drprem.com
The tree lodges are awesome. Spending high up among trees with your children running up and down the ladder amid a tangle of boughs and foliages would gift you a spectacular experience.
You can choose to enjoy your morning coffee amidst the treetops or a romantic evening amidst utmost tranquility.  The honeymoon lodge is a special attraction of the tree lodges with a lifting- staircase ensuring your privacy while you spend quality time with your partner.
Pier tents: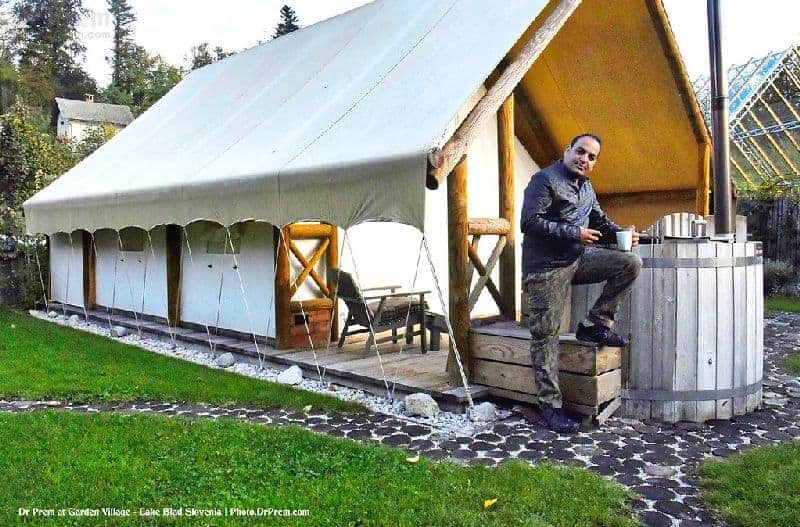 Source : photo.drprem.com
The pier tents put up on a dock offers a pampering accommodation for two amidst an adventurous ambience. Hanging bridges and the mild rattling of water from the ponds below leave the visitors fascinated. I could hardly any recent moment where I have felt nature so closely.
The pier tents are not without quality amenities. The double bed, mini-fridge and a chest to lock up your belongings are properly set for your convenient use. In summer, the thick natural canopy keeps you wrapped in a cooling comfort.
Glamping tents: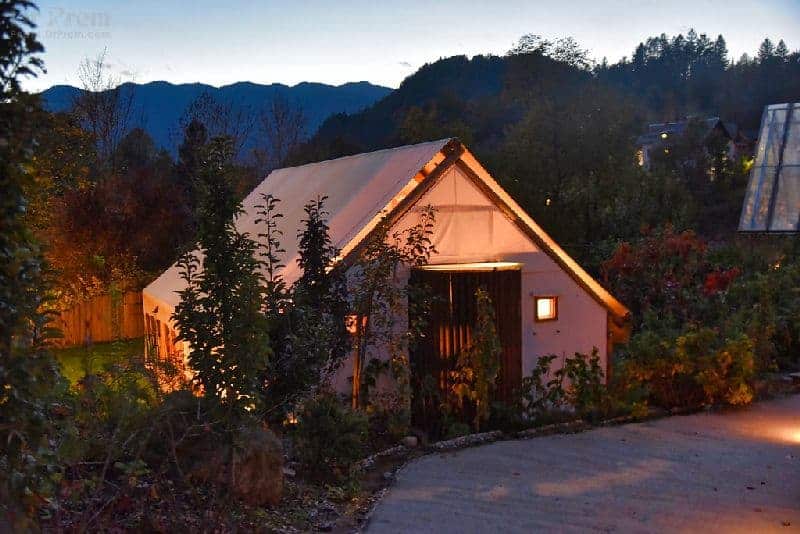 Source : photo.drprem.com
The luxuriously designed glamping tents gave me a different taste of vacationing quite similar to a camping experience. The air-conditioned well-furnished tents are put up in a well-tended garden where you find yourself surrounded by fresh garden produce tempting you to take a quick bite.
The tents allowing are provided with a double bed and two gallery beds suitable for kids, a spacious bathroom, a sofa, dining table, mini-fridge, TV. Outside the tent, you have a hot water filled wooden tub.
Luxury apartment:
Source : photo.drprem.com
A romantic ambience awaits you in the luxury apartment offering you and your partner a great relaxing feel! Pamper yourself with the massage bathtub in the living area. The cozy double bed, two gallery beds, a kitchenette, a mini-fridge, a dining table, TV, a spacious bathroom and a balcony would give you satisfying feel of living in your own space.
Restaurant: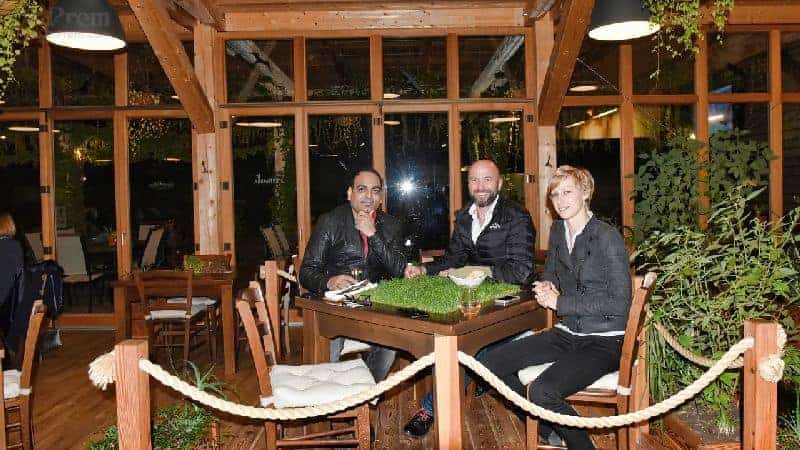 Source : photo.drprem.com
I would love to name it as the Green Restaurant. You get the smell of nature in its décor and in every dish prepared from fresh garden produce that taste awesome and are unmatched in quality.
Talking of décor of this "green" restaurant, you have special meadows spread over the table where your plates and glass fits elegantly matching the surrounding green ambience! The stream flowing gently amidst the restaurant tables offers another attraction enhancing your dining experience.
The outstanding breakfast buffet is unforgettable! Omelette and pancakes never appeared so tasty before not to mention about the excellent plate decoration adding more flavor to it.
The chefs out here seem to read the visitors' mind clearly as they swiftly lay the choicest dishes realizing none enjoys waiting on the breakfast table. Everything is presented with so much care that you are bound to feel special.
The restaurant menu though not an exhaustive list constitutes of selective dishes satisfying your palette along with taking care of your health. Needless to mention that whatever the garden produces go in the restaurant kitchen finally emerge with a splendid taste. Even jams served at breakfast are homemade ones!
And what more one can desire if the resort offers a pick-and-bite option? Yes. I took great pleasure in picking fresh fruits from the well tended garden and eat them instantly! So pure and natural. No pesticides. No preservatives. You are safe from all sorts of gastronomic upsets.
What else can you enjoy?
Source : photo.drprem.com
The Garden Village Resort will not leave you confined to its relaxed corners. You can participate in social interaction with other fellow guests in an open fireplace. Kids can enjoy amazing adventurous activities in the in-garden playground.
The garden itself is so fascinating! You can enjoy a great garden tour guided by the gardener Jan, a PhD in agronomy unraveling interesting aspects of gardening. His exceptional knowledge backed skills in gardening and ardent love for plants have led to this marvelous creation.
Water activities in this resort are quite mind-absorbing. Water comes from its natural borehole and a river from Lake Bled. Plunge in the stream and experience the natural massage waterfall under the lush trees. Indulge in Kneipp Therapy and reflex foot massage.
You can try you're your hand in fishing or spend time in feeding aquatic creatures. If you manage some great catch, you can try self cooking or get it done by the restaurant chefs who would happily keep your request.
It was a great opportunity for me to engage in wellness activities offered by this village resort. It was quite expected as Slovenia is a popular Green Destination in the world with a tradition of healthy tourism encouraging tourists in health preservation and restoration. The Finnish sauna, relaxing maassage and meditation in the tranquil pier towers are great to enhance your wellness.
And if you are looking for an outstanding celebration of your wedding, Garden Village Resort will fulfill that too! You and your partner will feel euphoric with the lovely carriage ride and exciting pletna cruise arranged by this resort.
Speaking of service and guest care, it is superb. Starting from the welcome drink and snacks to the thank you gift while leaving, hardly would you find anything to complain about. I would certainly look for a repeat visit on this fairyland paradise, may be very soon.