Famous Travel and tourism attractions of India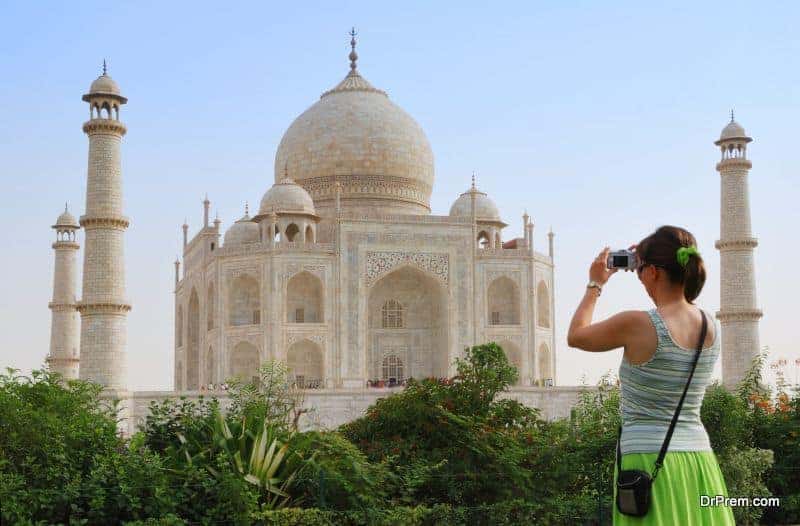 Indian is a rich traditional and cultural country contains much variation in landscape, religion and daily common life. There are numbers of beautiful natural and heritage sites are also present in this country. All these things make the country worldwide famous as a wonderful tourism destination. India is famous for all kind of tourism attractions like whether cultural tourism, religious tourism, adventure tourism, heritage tourism, beautiful natural sites tourism, beach tourism, hill station tourism and any other kind of tourism. The most famous three tourism destination of the country are following.
Himalaya Tourism
Great Himalaya is one of the most popular tourism destinations of the country. Himalaya is located at the top of the country and also famous as the Crown of India. Himalaya Mountain is vastly spread and touches at least twelve India states. Himalaya region contains numbers of most beautiful hill station of the world. Shimla, Mussoorie, Nainital, Ladakh Gulmarg, Darjeeling are the most beautiful and popular tourism destination under the Himalaya region. Himalaya Mountain is also very famous for trekking and other adventures tours across all over the world.
Rajasthan Tourism
Rajasthan is a rich cultural state and contains glorious past of the country. This state is also famous as the Land of Kings. Rajasthan contains numbers of unmatched magnificent forts, heritage sites, religious importance places, luxury hotels, beautiful lakes, gardens and huge expanded deserts. Jaipur, Udaipur, Jaisalmer, Ajmer, Pushkar, Jodhpur are the most famous cities among the tourists across all over the world. Local fairs and festivals celebrated throughout the year in different cities are also the major attractions of this state. Elephant Festival, Camel Festival, Desert Festival, Mewar Festival are the most popular festival of Rajasthan and celebrated with great spirit by local people and tourist together.
Kerala Tourism
Kerala is a worldwide famous tourism destination for its intact natural beauty. Kerala is also called as God's Own Country and also consider one of the ten paradises on earth by a famous travel magazine National Geographic Traveler of United Kingdom. Kerala is worldwide famous for its beautiful backwaters, romantic houseboats journeys, striking huge expanded beaches, Ayurvedic Therapies and Body Massage Centers. Munnar is most beautiful hill-station of Kerala and one of the most desired places in
India Travel.This hill-station is famous for fogy mountain peaks, huge expanded tea gardens and lush green forest. Alleppey is the most ideal place for enjoying backwaters and houseboat journeys. Here tourist can hire a houseboat for any numbers of days. Kovalam beach is another most famous tourism destination in Kerala. This beach is one of the most stunning beaches in all over the world.
Travel in India also offers various other striking destinations like Taj Mahal in Agra, Goa beaches, Mysore Palace in Karnataka, Ajanta and Ellora caves in Maharashtra and many more which makes India is a perfect tourism place on world map.
More free information about India Travel Tour to visit http://www.indiatraveltours.net/.