Brazil Restaurants to EAT – 10 Best Places for Food in Brazil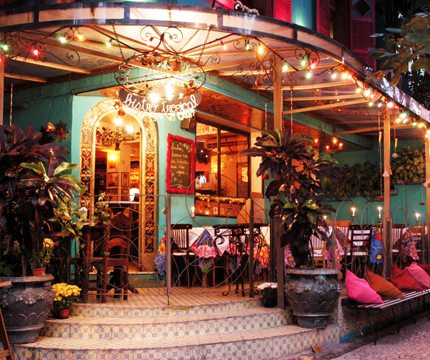 Brazil, as we know, is famous for its beautiful scenery, wildlife and cities. But no trip is complete without your stomach being filled satisfactorily. There are numerous restraints in Brazil, where you can have your food depending upon the place you are in.
Zaza Bistro Tropical: This restaurant is located in Rio de Janeiro. The house is fulfilled with art and is whimsically decorated. The dinner lounge is on throw pillows in the upstairs and the candles glow brightly long the walls. You may even eat at the tables located in the front.

Bacalhau do Tuga: This restaurant is located in Arraial Do Cabo. It was opened in 2009 and since then the Portuguese guy has been thriving. This restaurant is like a hole in the wall facing the beach. He mixes classic Portuguese recipes along with the local ones but the food is really tasty.

Cafecito: This restaurant is located in Rio de Janeiro. Located above street level by a few steps, this cafe is an open air one that brings in a mixture neighborhood regular as well as foreigners. Imported beers, cocktails and other drinks are available here.

Amir: Located in Rio de Janeiro, this is a middle-eastern restaurant. This is a totally different world filled with delicious aromas and well dressed waiters who are there to help you with any sort of problem. The buffet is available during the daytime while at nights menu takes care of all the favorites. At Friday nights there are belly dancers too.

Ristorante Fiorentina: This restaurant is an Italian one located in Manaus. The pasta, sangria, fresh meat and all the desserts are simply mouth-watering. This is a delicacy. The table cloth is red and white checked.

Mangai: This restaurant is located in Joao Pessoa. This regional buffet is spectacular and is worth stopping. There are plenty of dishes for vegetarians and almost everything is well labelled in English so that understanding the dish poses no problem. Eating the chocolate and the decadent caramelized cashews is a must.

Benkei: It is a Japanese special restaurant that is located in Rio de Janeiro. This is favourite spot for the feast after a day in the beach. The sushi buffet, the miso soup and also the wide range of sashimi and rolls are available her.

Pimenta Verde: This restaurant is located in Jericoacoara. This cafe has an artistic touch. It is a small one with few tables. The green peppercorn fillet and octopus provencal are awesome and divine.

Gero: This restaurant is located in Sao Paulo and is a part of the Fasano family. The dining room is brick lined that attracts a fashion loving and lively crowd. The Italian fare is executed brilliantly. The pasta is delicious.

Xicara da Silva: This restaurant is located in Belem. The restaurant prepares the best pasta and pizza of the city. The dining area is comfortable and artful. The dining area is located on a raised patio. The atmosphere is very much appealing.