6 Amazing hotels that used to be prisons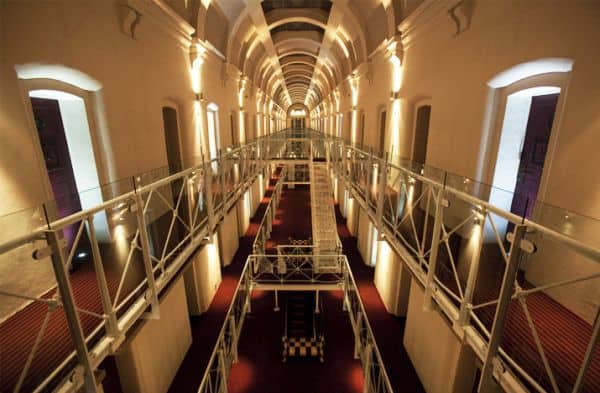 If you prefer the taste of something different in each of your travels, here is something that could give you a whole new experience altogether. Rather than staying at a normal hotel this time, check out these really cool prison turned hotels that can house you instead.
While some of these hotels retain the original prison environment, others go even as far as treating you like one. So prepare to rough it up in 6 of the coolest prison turned hotels in the world.
Alcatraz Hotel in Germany
Located in Kaiserslautern, the Alcatraz Hotel was a former prison that housed some of the most dangerous criminals in the area. In addition to retaining the prison atmosphere, the hotel treats you like a convict as well.
So be prepared to "enjoy" the full inmate experience complete with stripped pajamas, inmate made bed frames, barred windows, shared prison toilets and of course, the traditional prison breakfast consisting of pumpernickel and jam. If you don't prefer to rough it though, you can choose from some of the more comfortable prison cells turned rooms on the upper floors of the establishment.
Best Western Premier Hotel Katajanokka in Finland
Located in Helsinki, the Best Western Premier Hotel Katajanokka was home to over 40% of the prisoners on Finland. The pre-trial detention center and four winged county prison may have closed in 2002, but still retains its minimalist look in the form of a 75 square feet cells that can make you feel like sardines squeezed in a can.
The hotel also features a towering red brick wall that surrounds the establishment, airy landings and paved floors that let you experience the original prison experience without actually being a convict yourself.
Malmaison in UK
Image Source : Saltresortwear.Com
Situated in Oxford, the Malmaison Prison used to house the UK Oxford Prison before being converted into a heritage complex that now houses a luxury hotel and a shopping mall. The original jail cells have been converted into more comfortable guest rooms while the offices are located in the cells that houses the capital punishment inmates. Strangely, the prison is also host to a number of themed weddings the year through.
Four Seasons Sultanahmet in Turkey
Located in Istanbul, the Four Seasons Sultanahmet hotel was formerly a prison that used to house convicts. Although most of the prison has been renovated to make room for more comfortable guest rooms and amenities, some of the old details remain to this day. These include watchtower turned elevator shafts and an outdoor dining area which was previously an exercise yard for the inmates.
Mt. Gambier in Australia
This former prison in Australia is more of a budget accommodation that suits backpackers and cheapskates. Do not expect anything luxurious from the establishment that has done little to renovate the original prison.
Your stay will be in a small sized cell that will be bolted with a heavy, rusted door. Shared toilets are common here as well. The hotel however, does arrange some activities in the form of a local produce market as well as jam session on a monthly basis.
Liepaja in Latvia
Nothing comes as close to experiencing prison life than in the former prison hotel of Liepaja in Latvia. The hotel's claims that it is an unheated, unfriendly and uncomfortable place to stay in holds true, thanks to the very few renovations done to the former torture center. It also treats you like a prisoner, so don't be alarmed at the many threats, crying fellow inmates and warning gunfire that come your way while here.

Thinking of staying in a totally unusual hotel this time around? Move over from a standard hotel room to a prison cell in a prison turned hotel if you want to experience the life and hardships of a convict behind barbed fences and towering walls.