My Trip to Jeita Grotto, Jordan – A graphic revelation  – By Dr Prem Jagyasi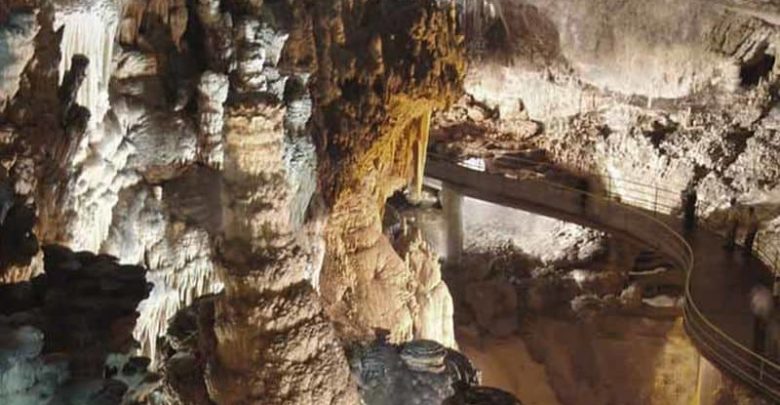 The penchant for experiencing something overwhelming rules my wanderlust spirit and my recent visit to the ensnaring caves in Jeita Grotto located 11 miles north of Beirut was as satisfying as expected. It was a cherry on the cake in the context of my colossal globetrotting experience. The mesmerizing double tiered caverns had every attraction a tourist spot should have. It was hardly a few minutes after my entry into the spellbinding run of lairs, wonder struck me head to foot quenching the fiery passion of a wanderlust in me.
Image Source : Dailystar.Com.lb
I was however not alone in my trip; two of my good friends CelineNvt and JulianFoure were with me as well. They had an adventurous spirit and an eye for exploring and appreciating the rarest of rare beauties of nature. Especially, their enthusiastic spirit and a deep love for natural wonders fascinated me.
I feel that this place can arguably be placed among the Seven Wonders of the World. Such is its mesmerizing power holding a traveler's attention as long as he strolls in its premises. Not until 1836, these caves shot into the global limelight when an American missionary William Thompson hit upon his legendary find.
He moved further a length of 50 meters through the cave before firing his gun that produced booming reverberations hit against the closed walls. This event was iconic and marked a significant discovery of this natural wonder. Who could have guessed that today the caves would rank as a topper in the list of newest discovered natural marvels? It is indeed a pride of Lebanon and nevertheless left us speechless amidst a pleasant surprise.
As the name suggests, ' Jeita ' originates from the name of the town in which the entrance to the cave is located. In Arabic, the word means ' roar ' or more appropriately the rumble of flowing water that runs deep underground with the labyrinth of grottos or caves overhead.
It is a system built of karstic limestone where two long running caves are interconnected with each other. It is equally important to note that this cave system is of profound social and economic importance of this country as a substantial revenue earner.
As we reached the place, slowly the astounding natural formations came into view. We were simply awestruck by the bewitching charm the rock formations had on us. Rocks which took ages to accumulate in heaps and have assumed its present shape cast a spell of enchantment.
Image Source : Yunus Emre Aydoğan І Flickr
There were looks of admiration in the eyes of my French travel mates and I was equally ensorcelled. The place was insanely beautiful with the engrossing caves set over a higher and a lower floor. It was worth a million dollar visit but to my reluctance, we were not allowed to take photographs inside. We had to switch off our mobile phones too. However, you got to abide by the regulations.
We explored both the upper and lower grottos' and it was darn cold inside. We made it inside the upper grotto on foot. We explored the caves along an 117 meters long concrete walkway. The trip was charged with thrill and a sense of dare of what surprise awaits us at every stage of our trip.
However, out of the 2130 meters long cave, we could only cover 750 meters. The rest of it is still virgin, unexplored and in fact not accessible to tourists. We were gob smacked by the stunning natural formations. Stalactites, stalagmites, columns, water catchments, mushrooms, draperies and curtains featuring a mix of weird and yet captivating display remained permanently photographed in my mind.
Three chambers exist in the upper grotto. The first one is the white chamber featuring the world's tallest stalactites shooting up to a height of 8.2 meters. The second one is the red chamber which was practically bleached red. The third chamber reached an impressive height of 120 meters, the tallest of all three. The upper grotto cave walk built up an incomparably zero cool travel experience of my lifetime.
Our lower grotto trek was even more exciting. In fact, the interest was magnified manifold by the awesome 500 meters electric boat ride along an underground black lake. As we approached the lower grotto, the rolling clatter of the subterranean eddies hit our senses. It was an amazing bit of noise that prepared us for the anticipated dare that lay in wait for us ahead.
Image Source : Jeitagrotto.Com
The air was cool and filled with the noise of the flowing river. The cruise was splendid and as our boat penetrated further deep into the cove, it was all quite. The absolute silence was overwhelming. The boat ride gradually completed coverage of a huge 20300 feet of lower grotto exposing its sheer jaw dropping size.
To add to our mind blowing experience, there were illuminations inside the caves in a gorgeous exhibit. Columns and natural rock formations were all lit up in brilliance throwing an exotic pattern of light and silhouettes all around us.
Named after the river which we sailed across, the caves were initially called the Grottos' of Nahr-al-Kalb. This information was fed to us by our cave guide who was resourceful and was fluent in English.
Incidentally, I learned that some of the scenes of one Indian Bollywood movie of 1977 were shot right over here. Couldn't help appreciating the director's choice of the locale! We further learnt that during winter, the lower grotto stays closed as the water level rises and the height becomes too precarious for tourists to explore. The temperature, however, remains unchanged at 61 degrees Fahrenheit throughout the year.
There were other interesting features helping the visitors make most of this exciting trip. I found a number of them enjoying a fun ride on the rope ways and train ride. A mini zoo and a number of souvenir selling outlets vending Lebanese mementos and locally crafted merchandise too caught the attention of the visitors.
We had our food at one of the Lebanese restaurants that mushroomed ubiquitous over the area. The food was authentic and excellent primarily centered on a basic lamb dish with a platter of veggie side dishes and desserts.
With the itinerary drawing to an end, we looked forward heading back home. I felt extremely joyous of the fact that my French companions were also flooded with the joy of the trip. I was lucky to have such like minded companions on this trip. As our vehicle sped along, the dusty trail and the legendary grottos' faded away from my vision but not from my mind. There, it has made a permanent place amidst other treasured collections of my entire travelling experience.