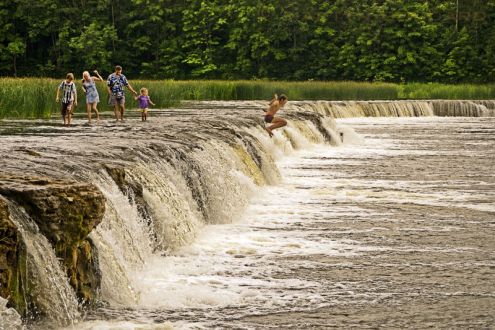 Kuldiga is a small district of Latvia, which is known as one of the best rural tourism destination. It is also known as the place of waterfalls as you can spot various beautiful waterfalls in the region. Visitors can visit the ancient town Kuldiga, which is located on the crossroads, the waterways of river Venta and river Daugava.
The historical centre of Kuldiga, the Venta waterfall, the old brick bridge, aleksupite waterfall, St. Catherine's Church, Liepajas street, and The Riezupe Sand Caves are the major attractions of the Kuldiga. Visitors can explore these things or places and can try to understand the culture, architecture, and history of the region and people. You can explore the old town and can discover various restaurants in the region that offer good food.
In the market, you can explore a workshop where colorful blankets and beautiful headscarves. Autumn and springs are the best seasons to visit the destination as you can spot many fish jumping try to get over the waterfall. As the place is located near the forest then it is an opportunity for people who love nature animals. They can spend quality time in the peaceful and delightful environment.
Visitors can make their accommodation arrangements in lodges, resorts, and village hotels located in the small town. The staff of the hotel is quite able to offer all tourism facilities that you will require during your trip.
Image Source: MartynGoddard