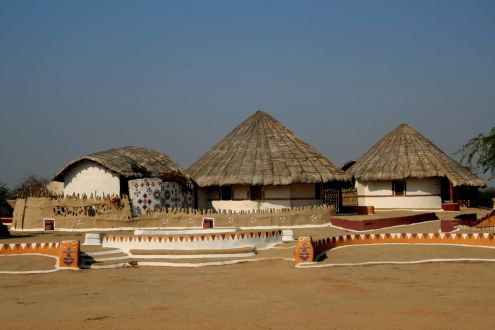 Hodka is a small and beautiful village located in the Kutch, in Gujarat state, India. It is a small village located in the desert near the LOC of Pakistan and India. You can reach there after a long drive from Kutch.
The village is a home to Muslim and Hindu people who live together in the village and welcomes visitors to stay here across the globe. It is believed that the village have been set up by the Halepotra clan who gave been immigrated from Sindh. People of the village are cattle breeders and it is believed that their ancestors originated from Saudi Arabia and reached here in the search of pastures for their cattle.
It is a wonderful place to visit and visitors can explore the colorful dress of the people. They can also try food of the region, which is made on fire. Mud houses and the strong cultural background of the village attract people most. They can live in these mud houses and can also book rooms in the resort situated in the village.
The village is known for its arts and crafts, which is really incredible. Outfits made from vibrant colors are eyecatching and you can buy them at affordable prices.
Image Source: Flickr