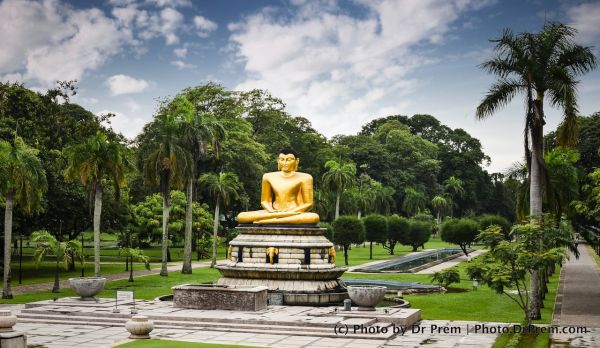 Sri Lanka can take pride in her gorgeous capital city Colombo that practically left me speechless while touring this beautiful land. Adorned  with splendidly designed shopping malls, busy and vibrant market places, a blend of modern high-rises' and nostalgic colonial buildings and resplendent nature at its height of charm, this city is a pulsating commercial hub and no doubt a popular tourist drawer.
Source :  Dr Prem's Travel Photography
The city had painstakingly restored some of the amazing structures till date that were constructed during the reign of the British. These reminiscences of a past era hold pure magic for me on my visit. Now, they shelter important Sri Lankan government bureaus and corporate offices. The city offers a cozy stay and I found a wide range of hotels to choose from one that offers a spectacular ocean front view falling in the category of star class like Galle face hotel and Taj Samudra to inexpensive but good ones offering an unrestricted view of the ocean blue. I checked into Taj Samudra and instantly fell in love with their hospitality.
Colombo deserves the distinctive honor of being bestowed the title of 'one of the best tourist attractions in South Asia ' and features some of the most arresting hot spots like the National Museum that appealed to me very much displaying a wealth of a rare collection of art and artifacts of huge historical and cultural significance. The magnetically appealing Galle Face Green is a five hectare urban park facing the magnificent ocean and stretching along its pristine coastline for half a kilometer. Initially, it started as a horse racing ground and a golf course. Now it occupies one of the most prestigious statuses for being a popular tourist spot in Colombo.
Located in the heart of the city, Beira Lake held loads of beauty for me to appreciate. Surrounded by a network of commercial houses built during the pre-colonial era, this lake is a gift of nature. During the Portuguese and British reign, the lake was used for transport where the water empties into the Indian Ocean. The light green water getting its hue from a prolonged deposit of algae mingles into a deeper shade in a mind boggling display of foamy current.
Source :  Dr Prem's Travel Photography
The lake provides an excellent eco shelter for certain species of fauna and flora. Pelicans, storks, water monitors and myriad of fish species have made this lake their dwelling habitat. The Urban development authority of Sri Lanka has initiated restoration project to upgrade the lake into a prime tourist attraction. Lake Beira waters are ideal for lazy boat rides. I experienced an unforgettable Swan boat ride. This would be ideal for couples inspiring a romantic atmosphere. Leisurely stroll in the evening along lake side was immensely refreshing for me rejuvenating a fresh dose of vigor.
The imposing Cargill and Miller's building and The Independence Square make Colombo a powerfully gripping destination for tourists like me who gets turned on by history.Next pleasant surprise was Beach Wadiya. I watched the divine sun set sitting amid tranquility with sand in between my toes. Sea food and hot Sri Lankan curry was great at restaurant Merissa. I wrapped up my trip with a visit to the exquisite Petta bazar having a pronounced Middle Eastern flavor which made my trip to Colombo a never –to- forget experience!
I was lucky enough to avail the splendid city tour of Colombo with my family in mid- September'15 and assign it as one of the most happening tour events in my life. It was thrilling and the kids were exposed to a fun filled thrilling adventure all the way down the southern tip of the sub continent. The special feature of Colombo city tour that captured my attention was the only open deck city sightseeing service organized efficiently by Sri Lanka tourism & Albert Silva holidays. The trip exposure offered is unparallel in quality and it provided a great opportunity for us, the tourists, with a fabulous vista of a beautiful city where the old and the new mingles wonderfully to conjure up a splendid sight-seeing ambience.
Source :  Dr Prem's Travel Photography
No sooner the kids made their position comfortable in the city ride bus than they chuckled with extreme mirth that brought a gratifying smile to my wife's face. A wife's feeling doesn't take much time to infect the emotions of her husband and soon we found staring at each other with glee written all over our faces.
Basically, three tour packages are run called the Glimpses of Colombo, the Heritage of Colombo and Colombo by night. We were very engrossed in the charm of the city and fascinated by the trip organizers we opted for Glimpses of Colombo.
The Glimpses of Colombo: The trip lasted for two and half hours starting at 4 pm in an open deck double-decker bus that took us first to the Colombo lighthouse maintained and functioned by Colombo port Authority. It stands on the waterfront along the marine drive and was built after the old Colombo lighthouse became inoperative.
We visited the old Colombo lighthouse as well. This structure is an awe inspiring neo-classical brick structure that once operated both as a lighthouse for beckoning ocean going vessels as well as a clock tower. Built on a fort on the edge of the ocean, it has become dysfunctional as a lighthouse but the clock still operates. The clock tower is, however, older than London's glorious Big Ben.
Source :  Dr Prem's Travel Photography
The ride took us next to prison cells of the last Sri Lankan king. Wickrama Rajashinghe's prison cells marks the culmination of Kandyan kingdom. This site was averagely impressive and the kids were frankly not excited much.Our next destination was Gale Face green. This was a big ocean front park covering five hectares of land. A leisurely stroll across the public promenade in the green park was rejuvenating. We saw World War II canons in Gale Face green and were tempted to touch this murderous artillery of warfare that had caused so much bloodshed.
After this, we covered the Colombo Harbor, York Street that exhibits the remains of British colonial architecture, the enchanting slave island area and the trip ended by visiting a legendary Kovil with a gorgeously carved Gopuram. The awesome lake Beira was our last spot of the itinerary. Amidst all these sight-seeing ventures, lovely interactions with the co-passengers added a great value as they too were adding certain lesser known historical facts much to our surprise.
Colombo by night:
Source :  Dr Prem's Travel Photography
The more I was seeing this city with an explorer's eye more I fell in love with it. It was intoxicating as the magic spell all around was overwhelming that led me to decide to explore its night life as well.First I thought it would not be proper to take the kids along. On a second thought, I felt we are not coming here frequently so there is nothing harmful in it to let them learn more of the planet they live in. My wife approved the idea, and the kids were equally enthusiastic.
Once I hit the streets, I found the number of traffic reduced dramatically. The half lit night streets had an enigmatic flavor that was hard to resist. The thrill was intense, and I realized in an instant it would have been a great mistake not to venture Colombo streets after nightfall.The clubs that flanked the streets on either side threw hazy light around forming a pattern of mystifying silhouette on the walls. I continued my stroll ahead with the family following my trail close behind. The kids giggled and chatted with each other as they continued through the walk and my better half was busy shouting instructions of street etiquettes which fell on their deaf ears for they were too busy exploring Colombo by night as well.
Source :  Dr Prem's Travel Photography
Most of the city was in a deep slumber, and a cab silently pulled up beside us. Learning of our intentions, the cab driver promised to give us a ride at the best rates. After a bit of bargaining, we walked almost midway through the price tussle and the cabbie finally agreed to the deal. A brief drive through the silent night reached us to Galle face green. During the day, this place was wonderful. After nightfall, it looked even better lit by a ghostly full moon overhead.
The vendors lit up lanterns and displayed their merchandise that ranged from small statues of Buddha, corrie shell jewelry, paintings on shells, toys and freshly fried sea fish from their continuous catch, kitchenware and heaps of articles of regular household use.From Galle Face Park, the cabbie drove us to the Independence square past old colonial moonlit buildings that stood in a row exhibiting nostalgic reminiscences from a different era.
Source :  Dr Prem's Travel Photography
Here at Independence square we found other night prowlers as well. Families who left their hotel rooms and resisted the temptation of a cozy night rest preferred to discover the even more tempting Sinhala nightlife on the streets of Colombo. Their decision was right as was ours. We next drove to Malay Street junction in Slave Island where aromas of great food kept hitting our waking moments. These are appetite boosters, and a look from my kids clearly indicated they strongly desired to have some grub now after a long walk followed by the cab ride.
After a sumptuous treat of burger and ice cream we called the night. The eyelids already started to feel heavy. It was 3 AM. We drove back to hotel. The experience was wonderful.