Your sex life is more important than you think. Especially when you are in the bedroom with your loved one. Bedroom is that private place where you can relax, be yourself and enjoy. However, if you are dating, married or in a live-in relationship, your bedroom is also a place where you really and truly get to know your partner. However, if you have been together for a long time, things are bound to get mundane and boring after a while. You can do a few things to add to the interest of both of you so that the mood stays alive. This way you can understand each other better and better as time goes by. It will take a little effort from both the ends but did getting kinky hurt anybody? Here's what you can do to spice things up –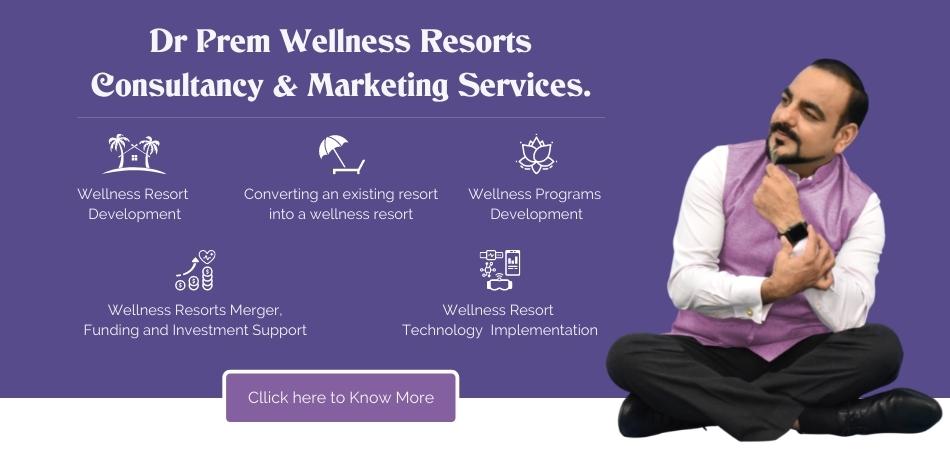 Watch Porn Together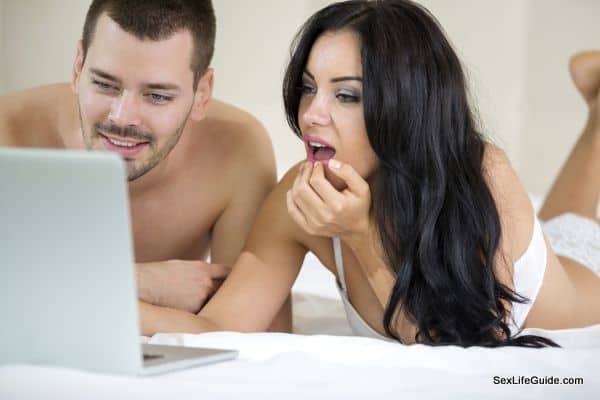 Yes, a lot of time, women despise that their partners want to watch porn over having sex with them. However, it would be a great idea to watch together. Who knows where this activity is going to lead the two of you? Thus, instead of fretting over it, why not watch it with him? You are bound to get more knowledge and for all you know, you might feel closer to your partner after this. So, go ahead and watch together.
Or read a good book to master the art of seduction. Take a few tips from this list of 10 must-read books for seducing women and floor your lady with some passionate love skills.
Indulge in Role Play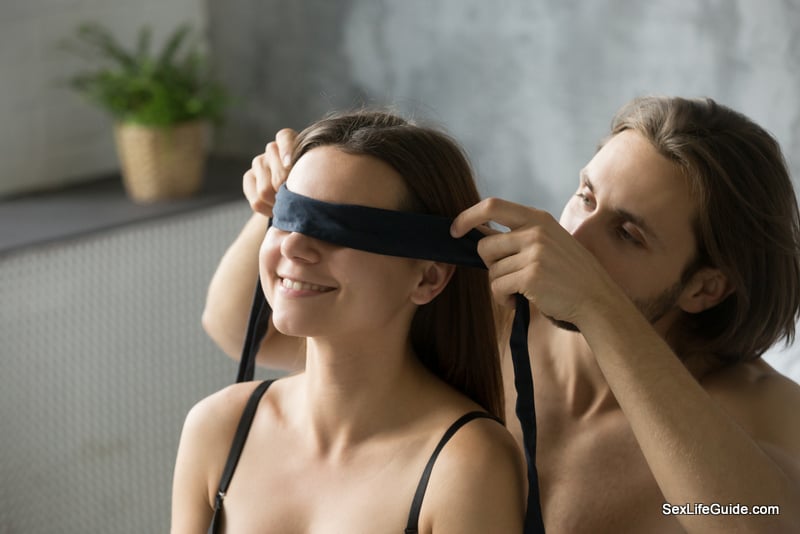 There are multitudes of role plays that you can enact with each other. From the student-teacher game to the slave-master game, you can bring any kind of action in your bedroom. You can also do the role play from one of your favorite porn movies and see how it goes.
It can help you bring out the deepest of your fantasies which otherwise you might be hesitant to act upon. Role-play allows you to disguise your usual self and transform into anybody you want. Make sure whatever you are doing is entirely safe or else, you are going to be inviting trouble. You can also role play from your favorite television series or from a movie that both of you like. For instance, a "Game of Thrones" role-play might take you a long way ahead in the relationship. Here is a list of some of the best role-play ideas to try in the bedroom with your partner.
Dress for Each Other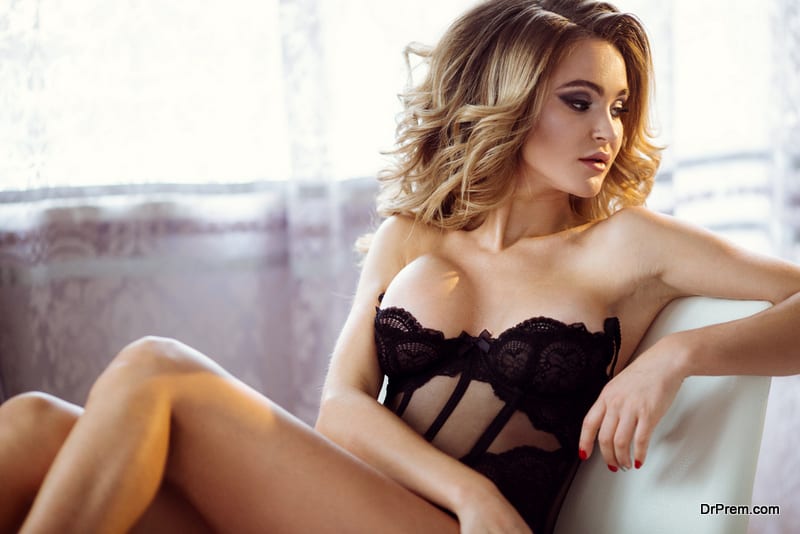 From dressing like your favorite model to doing a sexy Cleopatra, you can do all of it in bed. It all depends on how you like it. If you have a great body then show it off, so that he or she can take in the best of you. Mesmerize your partner with your moves. Do lap dances or a strip tease for him or her and you are going to have a gala time in the bedroom.
Specific ways of dressing also sometimes can be a highly arousing. Some hidden and some visible parts of your body can trigger excitement in your partner.
Brush up your third base skills: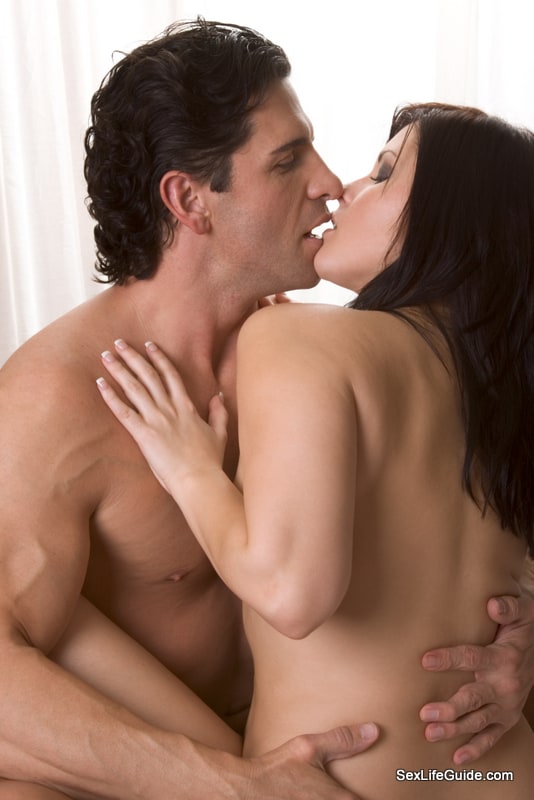 You may have given him oral a hundred times but you can still make him squirm with delight and surprise by honing up your third base skills. While going down on him don't mind circling or zigzagging your tongue through the small space between his penis and the anus. This is the hidden erogenous zone of a man, which is very sensitive. Use both, your hands and the mouth while giving a blow job. Men like it when a woman grips their penis firmly and presses it. Hold the shaft of the penis while sucking the upper half. Change the motion of the tongue every now and then but do not change the rhythm of action. Try brushing your teeth with strong mint-flavored toothpaste before giving the oral. For some, the coolness of mint will make the blowjob more intensely pleasurable for your man.
Striptease for him to spice up your bedroom act: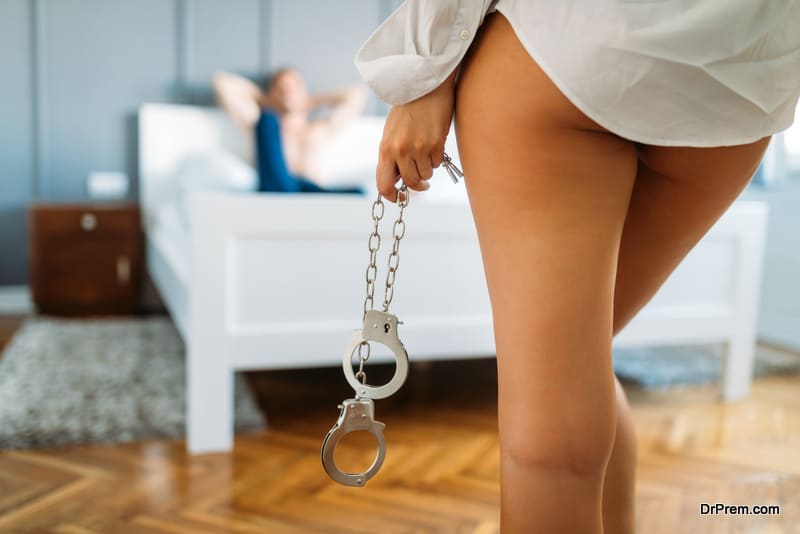 Dirty dancing or striptease, there is nothing that excites a man more than visual seduction. Dim the lights of your living room with sheer clothes and make more space available. Mix your favorite sexy songs in advance. Play the music and enter the room completely dressed. Dance around him and touch him here and there suggestively. Remove one piece of clothing after another as each song ends. If you feel a little bolder, you can also pick up lap dancing moves by watching videos. At the end of the dance, your man will be ready to do anything for touching you.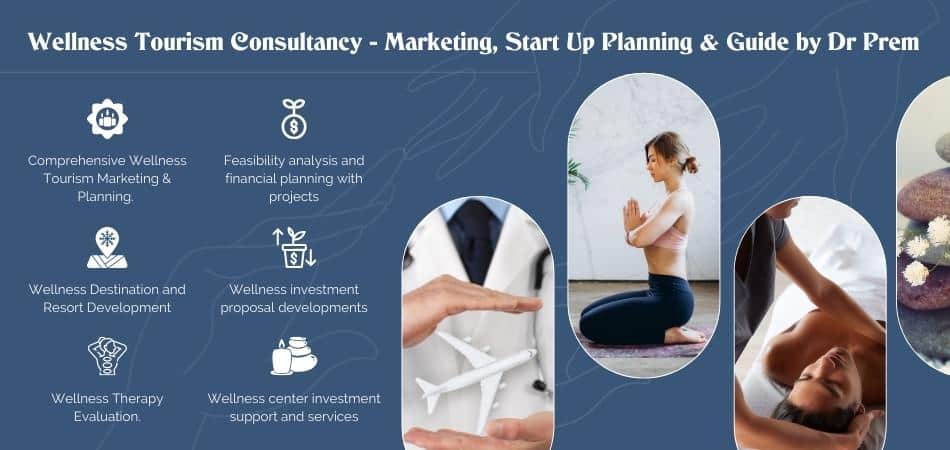 Twisted Tantric: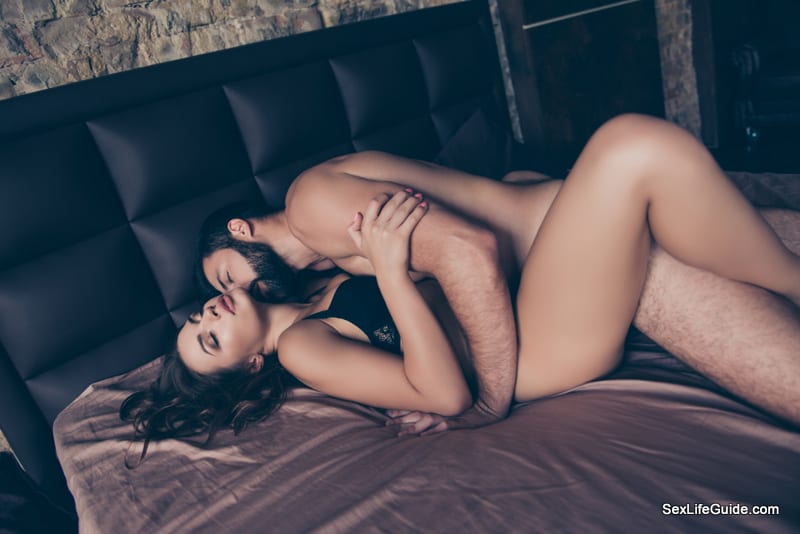 The best thing about Tantric sex is that it takes you through several stages of arousal but in every stage, you get to relish togetherness and intimacy. It does not just connect two bodies but also two souls. Start by asking your man to give you a bath. He will have to run the bath and lay you down in it. After washing your body thoroughly and drying you with a towel it will be his turn to get a bath. When both of you have freshened up go to the bedroom and leave the bathrobes on the floor. Sit facing each other with knees folded and start the exploration. Both of you cannot use hands. All the kissing and exploring has to be done with mouth and tongue. Keep intercourse as the last thing you do. Take things slow and build up the tension gradually.
Masturbate in front of him: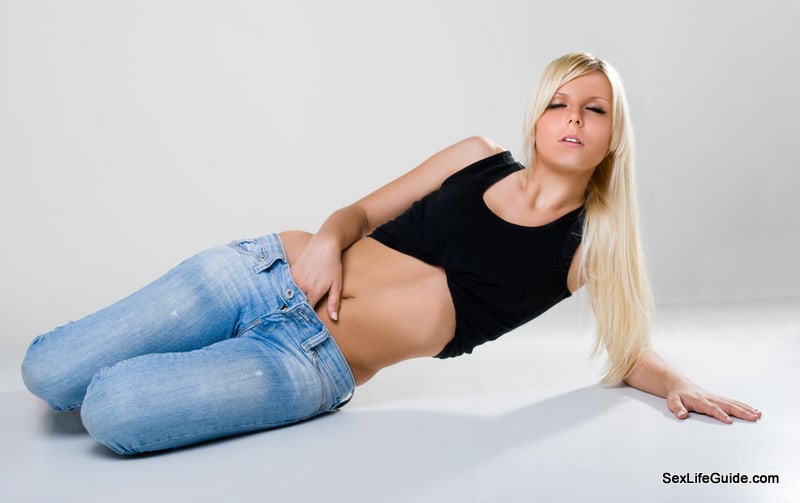 This is a sexy and empowering move to make your man go crazy with desire. Get Brazilian wax done in advance so the area around your vagina looks soft and smoother. Make him sit on a recliner a little away from the bed and then play with your own body. Touch yourself as you want him to touch you and don't stop yourself from moaning. Let him watch how you enjoy it alone so that he feels more eager to conquer and pleasure you like never before.
Shades of Grey: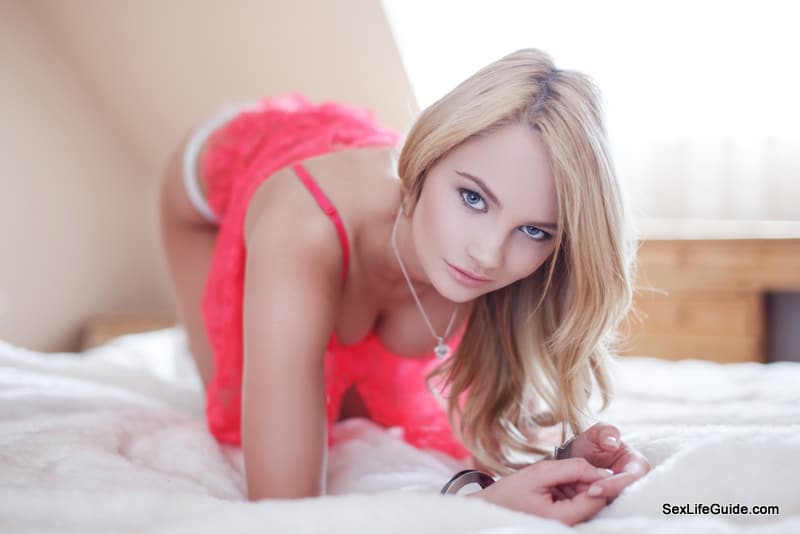 50 Shades of Grey has popularized BDSM and made it a mainstream sexual option. Many couples are already taking advantage of it so why should you stay behind? If you feel like you have such desires, unleash the bad girl in you and ask your man to take charge of things. Get dressed in sexy lingerie or a bustier and G-string combo. Your man will command you to perform certain erotic tasks. But you will have to stop as soon as he asks you to stop. If you fail to impress him he gets to punish you by laying you across his lap and spanking your back with his hands or a sleek whip. You can get your dominant or submissive side out. Do not go overboard with BDSM as it can hurt your relationship.
Consider food play: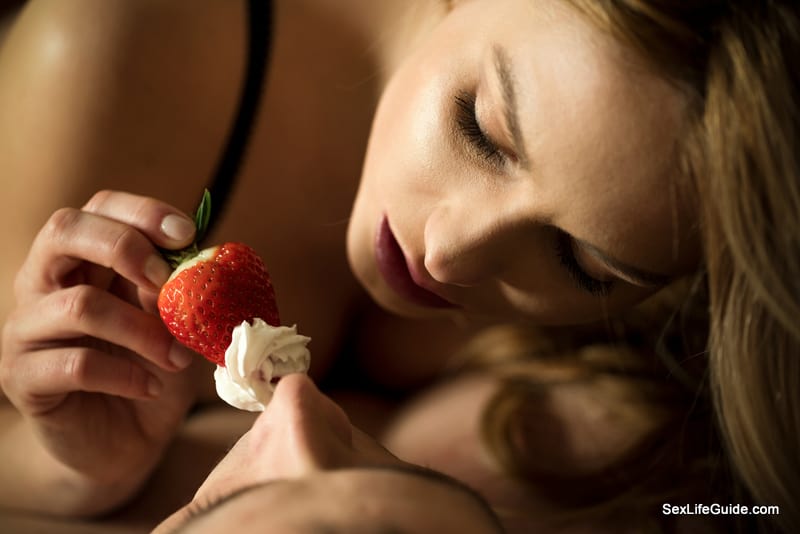 Your man will love it if you give him a blowjob. But if this makes you gag, which can happen, there are some tricks you can try that can be a win-win for both of you. Use whipping cream on erogenous zones like his neck, tip and eventually the entire penis. Just make sure you keep the whipping cream with you. As you proceed, keep applying and licking it.
You can use chocolate too. Apply molten chocolate on places like your lower lips and ask your man to lick it. There are several other alternatives like molten cheese, honey, chocolate syrup etc. that you can consider. Just make sure that none of you are allergic to the food items that you are using.
Remember, it can get messy, sticky but it is definitely worth it.
Dirty talk: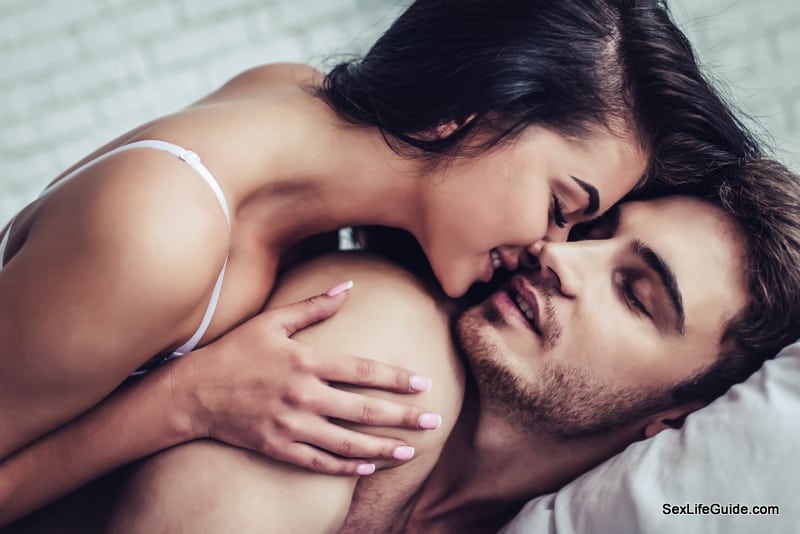 While in the mood, just start enunciating whatever you are thinking of doing with him. Encourage him to do the same. If he doesn't, don't force him but you continue to describe what you are about to do. Hearing fantasies of your partner can give all kinds of tingling and arousing sensations to your partner. Your partner will step into your imagination and this can heighten the level of lust in the process.
There is no better thing than unforgettable sex. It lingers in the mind and makes you want it even more. It can turn your monotonous sex life into an interesting world of fantasies once again. Bringing back the initial phase of attraction in with these tips can help your relationship become even stronger. Sex bonds the partners together, helps build trust in one another and ultimately brings in satisfaction and happiness in your life. So just go ahead, turn into the naughty, sexy princess or the seductive sorcerer in the bedroom for making your man or woman scream with pleasure and love you more.