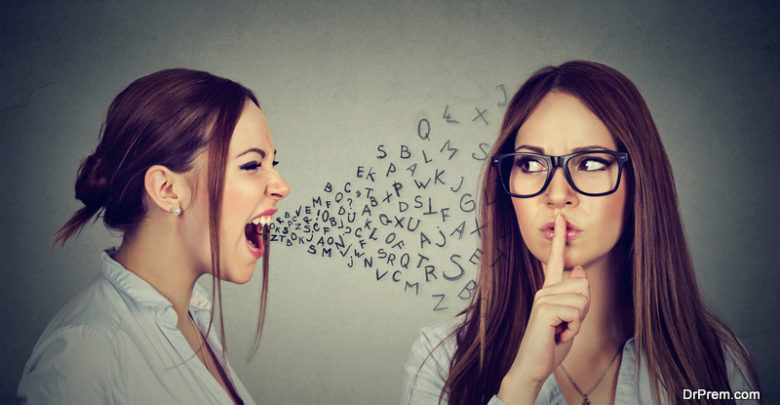 Bad roommates make life terrible. The mossorted to. There is no other way to handle a difficult situation rather than talking or switching to a different room. Compromises will not be of any help as facing a loud roomie and hampering one's peace of mind is not the right living option.
Satisfaction for Both Of You
Ask you roomie to be available for a discussion at some point of time. Discuss and communicate your inability to accept her/his loud music, speaking habits and behavior. Make him/her understand your point. Communication is the best platform to solve any kind of problem. As roomies you can ask each other to do certain chores in exchange of minimized noise in the room.
Certain level of compromise can be reached if both of you come to an accord.  You can set some ground rules like time schedules in order to make for a good living situation. This might include separate study times, different free times, variable out times for both of you (your loud roomie can be with him/herself when you are out and likewise). The ultimate goal is to communicate and set up a successful dialogue that ensures satisfactory living conditions.
How to Handle Noise
In order to get over the awkward living situation, you can easily opt for high concentration, listening to music and bearing it all with a grin and heightened patience. When you are unable to bear it all, try playing knock-knock on the wall to get your loud roomie's attention and indicate to keep it down.
You can take to polite ideas like discussing things over coffee or food that certain hours of the day were awful due to noise interruptions. This will help the loud person realize his or her fault. However, you might also opt to pay it dirty by turning yourself loud when your loud roomie is doing something at peace. Repeatedly performing these loud acts will perhaps make the person realize the fault.
Use earplugs if you want to save your ears. Do not hide the fact that you are wearing earplugs and neither should you make a big issue out of the fact. This step can help your roomie realize his/her problem and also not make you look bad.
Things to Know and Do When Living With a Loud Roomie
Get up and leave being stuck with a loud and noise roomie. Realize that there is no point in accepting. Accept the fact that it is just a passing phase and that living with a loud roomie is not a permanent option. There will be a time when all this will be gone and the disturbing living situation will no more exist.
Understanding one's upbringing, environment and childhood is important in deciphering the actual cause of loud behavior. Once it becomes known it can be worked upon to sort out the problems through communication.
Speaking out is important even if you are a person who loves it the way they are. A usual speech conveying your discomfort can actually prove handy in bringing down your loud roomie's loud living. If in the midst of loud music, ask him/her (in a loud voice) to turn it down so that both of you can talk. Polite and healthy discussions can be of great help. Soft and firm voice should make a deep impact on your loud roomie who might have had no one to tell him what to do and what not to in his possible troubled life.
Since you are to live with the loud person you must not make attempts to turn like him/her. You must be in your level and act according to your boundaries. Talk in a normal voice, do not annoy him by turning up your volume and perform your tricks with outmost care and intelligence as you are to live with your roomie and that too in peace.
Tips for Fast Action
Set rules for playing music like using headphones at certain points of time.
Stand your ground as both of you are the shared owners of the room.
Do not perform, talk or discuss things with anger as this will be of little help. Tense confrontations should be avoided if you are to live in terms of peaceful coexistence.
Stress on the fact that being quiet is important. Make your point with calm and quiet rigidity.
Unwanted noise can be broken by using unwanted noise masking units and sound sleep machines that come with various soothing sounds.
In order to successfully deal with a loud roomie one must be patient, communicative and calm.