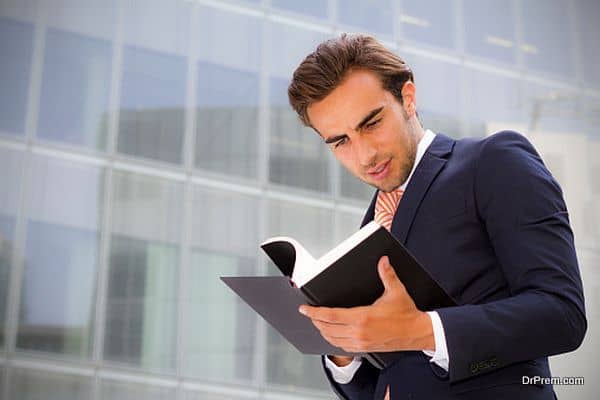 As a budding entrepreneur, I have come across many books that not only motivated me to start my business, but gave me specific steps to take to grow my business. After conducting a survey of other up and coming and established entrepreneurs, we have compiled a list of the top 5 books every entrepreneur must read in 2014.
If you haven't already, be sure to check out the classics such as Think and Grow Rich, The 7 Habits, and The 48 Laws of Power.
Top 5 Books For Entrepreneurs in 2014
1. The Millionaire Fastlane: Crack the Code to Wealth and Live Rich for a Lifetime
The book starts off by describing three different economic paths and most people follow one of these paths. The first path is the sidewalk where people are living from paycheck to paycheck. The second is what MJ DeMarco calls the slow lane – work hard for forty to fifty years, dutifully save 10% or more in your 401K and retire with a modest sum. However there are many dangers with the slow lane method. It depends on everything going right for those 40 – 50 years – not a good bet.
Then there is the fast lane. Here you are in control of your destiny, you work extremely hard for 5 to 10 years in a business which has the chance to make big money and once you build the business to size, you have a liquidation event, generally a sale.
2. The Lean Startup: How Today's Entrepreneurs Use Continuous Innovation to Create Radically Successful Businesses
In short, The Lean Startup model focuses on getting a minimum viable product to the market, then receiving customer feedback along the way to improve the product and pivot (take a new approach) if necessary. This, of course, is in contrast to the old way of doing business where a product is launched fully functional backed by extensive market research. This method can be successful, but it costs a lot of money, pivoting is difficult, and failure can harm the bottom line.
3. The 4-Hour Workweek: Escape 9-5, Live Anywhere, and Join the New Rich
This book is not a get rich scheme, although I can see how that impression is easily given, it's a book about how to rearrange your life in such as way as to give more time and energy to what is important and less time to what isn't. The author goes into details about an internet business strategy that can lead to wealth, and while it's true any business can lead to wealth, an internet based business can be set up in such a way as to lead to more free time to pursue other things besides making money.
4. The 22 Immutable Laws of Marketing
After 10 years, this book remains a classic work in the marketing field, and perhaps a must-read for anyone in business.
Don't expect an excruciating marketing treatise with elaborate case studies and What-If scenarios. Expect instead 22 capsules of business wisdom, or "laws" of common sense marketing with some brilliant examples from the real world to prove them. In this, the book excels and is to date the briefest and best argued work I have come across for any budding entrepreneur.
5. Start with Why: How Great Leaders Inspire Everyone to Take Action
Simon Sinek's Start With Why is a must read for any entrepreneur or leader struggling to create a long-term vision and guiding principles for their company or cause. The book will provide just the inspiration needed to get started in the right direction. You'll learn that the most important thing you can do as a leader is to figure out why your company or organization exists and why that should be meaningful to customers and others in society.
For other great book lists, check out our books section HERE.