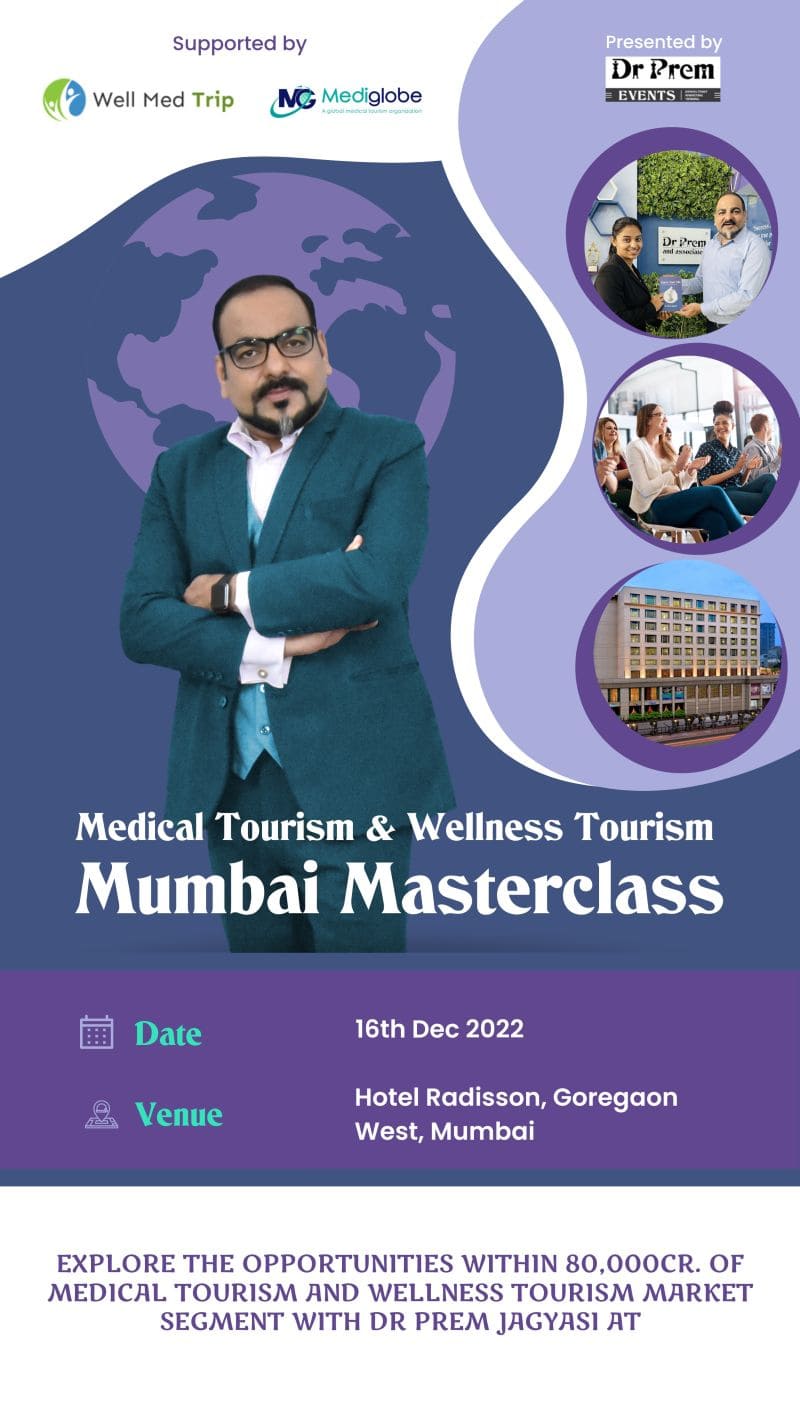 MEDICAL TOURISM AND WELLNESS TOURISM MASTERCLASS in Mumbai on 16th December 2022 | The Event is already supported by global industry stakeholders.
A globally acclaimed, award-winning strategic leader and speaker, Dr. Prem Jagyasi will be conducting a one-day workshop on Medical Tourism, Wellness Tourism, and Global Healthcare Marketing. Dr. Prem has delivered keynote speeches and workshops in over 65 countries. Below are key topics to be discussed in the Medical Tourism workshop.
Key topics
Medical Tourism and Wellness Tourism – Latest Terms, Trends, Opportunities, Niches, and Challenges.
Patient's journey in medical tourism
Key success strategies in medical and wellness tourism
Strategic brand building and positioning in Medical Tourism and Wellness Tourism
Understanding the role of AI in Medical and Wellness Tourism Business
Patient Acquisition in Medical Tourism
Legal, ethical & cultural issues in Medical Tourism and Wellness Tourism
Online Reputation in Medical Tourism
Medical Tourism Facilitator business and matchmaking services
Creating delightful Medical and Wellness Tourism Experiences
Comments:- 
Can't wait for such a knowledgeable event!
Like all of Dr Prem's previous masterclasses, it promises to be yet another super-successful Masterclass with international delegates and global industry stakeholders joining us there.
Looking forward to it.
An incredible chance to learn about this field!
Great opportunity to be part of this growing industry
This event sounds wonderful and enlightening!
Woww, Excited to be a part of such Insightful Event
Great
I missed this opportunity