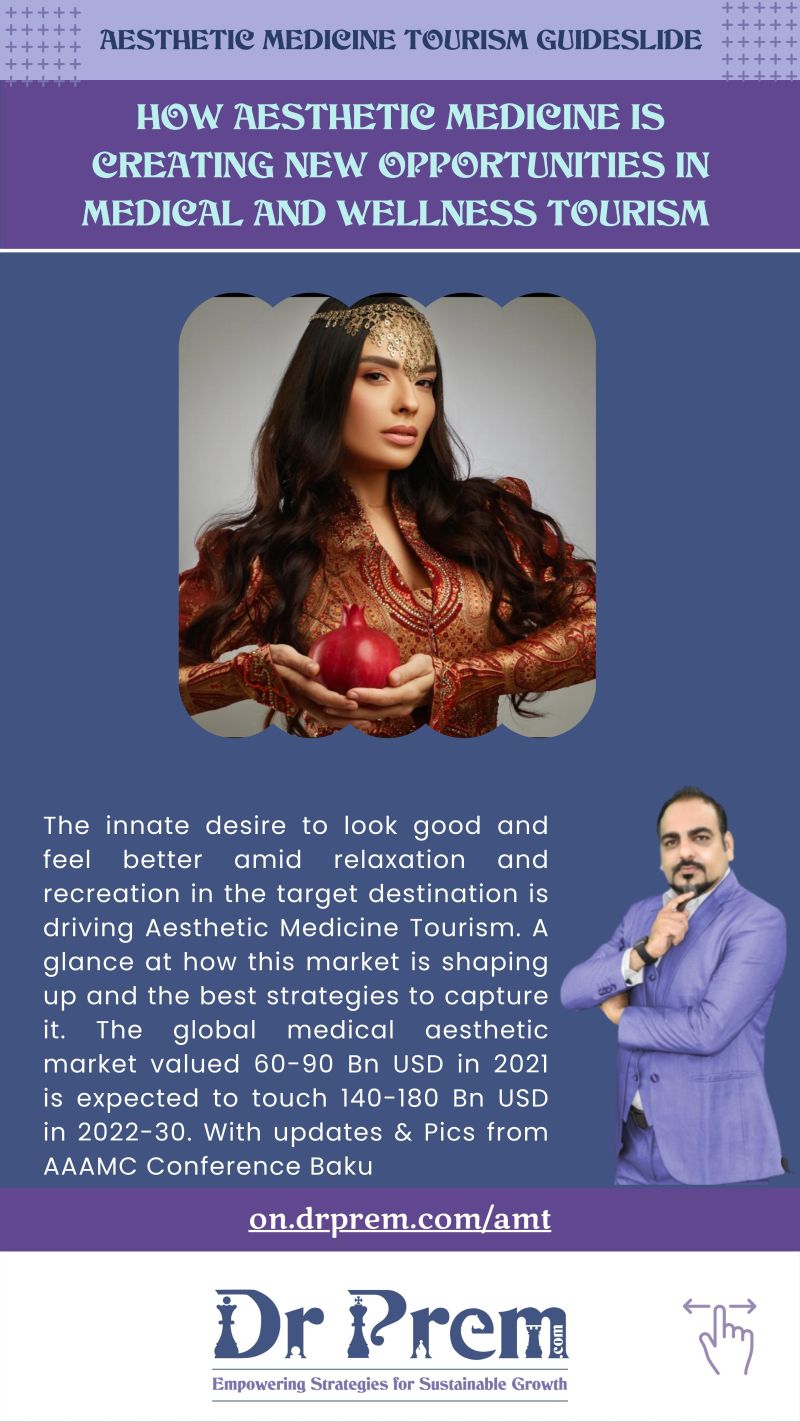 How aesthetic medicine is creating new opportunities in
medical and wellness tourism
Humans have the innate desire to look good and feel better. And what if that could be done amid relaxation and recreation in the target destination? Aesthetic medicine is revolutionizing the medical industry. People can retain their youth without surgery and enjoy a higher quality of life at the same time. This is driving Aesthetic Medicine Tourism. A glance at how this market is shaping up and what would be the best strategies to capture it.
The global medical aesthetic market valued 60-90 Bn USD in 2021 is expected to touch 140-180 Bn USD in 2022-30
The changing attitude towards wellness and beauty
Beauty is no longer only the feminine concern. Medical aesthetics have seen wider acceptance, creating new customer segments like men and millennials.
Minimally invasive procedures in males increased by 29% from 2000 to 2020 as per ASPS report.
The Zoom Boom trigger
Zoom cams revealed image defects and created videoconference anxiety in many. As many as 55% of survey respondents to Facial Plastic Surgery and Aesthetic Medicine journal reported increased anxiety about their facial appearance.
40.6% of participants who had not taken any cosmetic surgery plan to rectify their facial defects.
The aesthetic injectable market has exploded
Aesthetic injectables have grown by over 10% annually. It is poised to grow by 12% in the next 5 years driven by customers' increased purchasing power and global market penetration.
6.2 million Botulinum Toxin procedures were recorded in 2020 making it the most demanded aesthetic injectable procedure.
Top spenders in aesthetic medicine
People with average annual income more than $100,000 are the top buyers of aesthetic medicine. But 30-50 year olds with annual incomes between $50,000-$100,000 form a substantial segment.
Worldwide millionaire numbers have risen to 56.1 million while ultra- HNW individuals grew by 24% in the recent past.
Heal at ease
Most non-invasive or minimally invasive procedures need very little downtime if not none at all. The cost is also low but the outcomes are great.
Non-invasive procedures accounted for 53.7% of the aesthetic medicine market with $37.9 Bn revenue in 2022.
Baku hosts the 8th Azerbaijan Aesthetic and Anti-age Medicine Congress (AAAMC)
It was an impressive gathering of eminent global personalities in Aesthetic Medicine. The event highlighted the growing opportunities in aesthetic medicine tourism against the backdrop of growing medical and wellness tourism.
Baku is much favored for aesthetic medicine by celebrities.
Aesthetic Medical Wellness is more delightful
Aesthetic medicine is integrated into medical or wellness programs either in the pre-or post-treatment phase, creating delightful experiences.
Aesthetic medicine significantly impacts an individual's psychological and social well-being.
How to get Aesthetic Medicine customers?
Trust building, Personalized communication, Online reputation, Partnerships and referrals, and viable paid Ads are vital steps to getting aesthetic medicine patients.
95% of patients looking for a cosmetic treatment consult an online source, including social media.
Generate leads with AI
Lead generation is the topmost challenge of all marketers. Artificial intelligence can do wonders. Dr Prem.com generates 6500+ leads every month that are regularly shared with partners. Invest in the right tools.
80% of marketers think automation generates more leads and helps in more conversions.
Why Dr Prem's consultancy?
Dr Prem has helped 500+ international hospitals towards better growth. We have a robust partnership with 1500+ facilitators and providers to help in business networking and growth.
The customer closing rate through business networking is 40%.
Need more insights into aesthetic medicine tourism opportunities? Connect with us.
The zoom boom trigger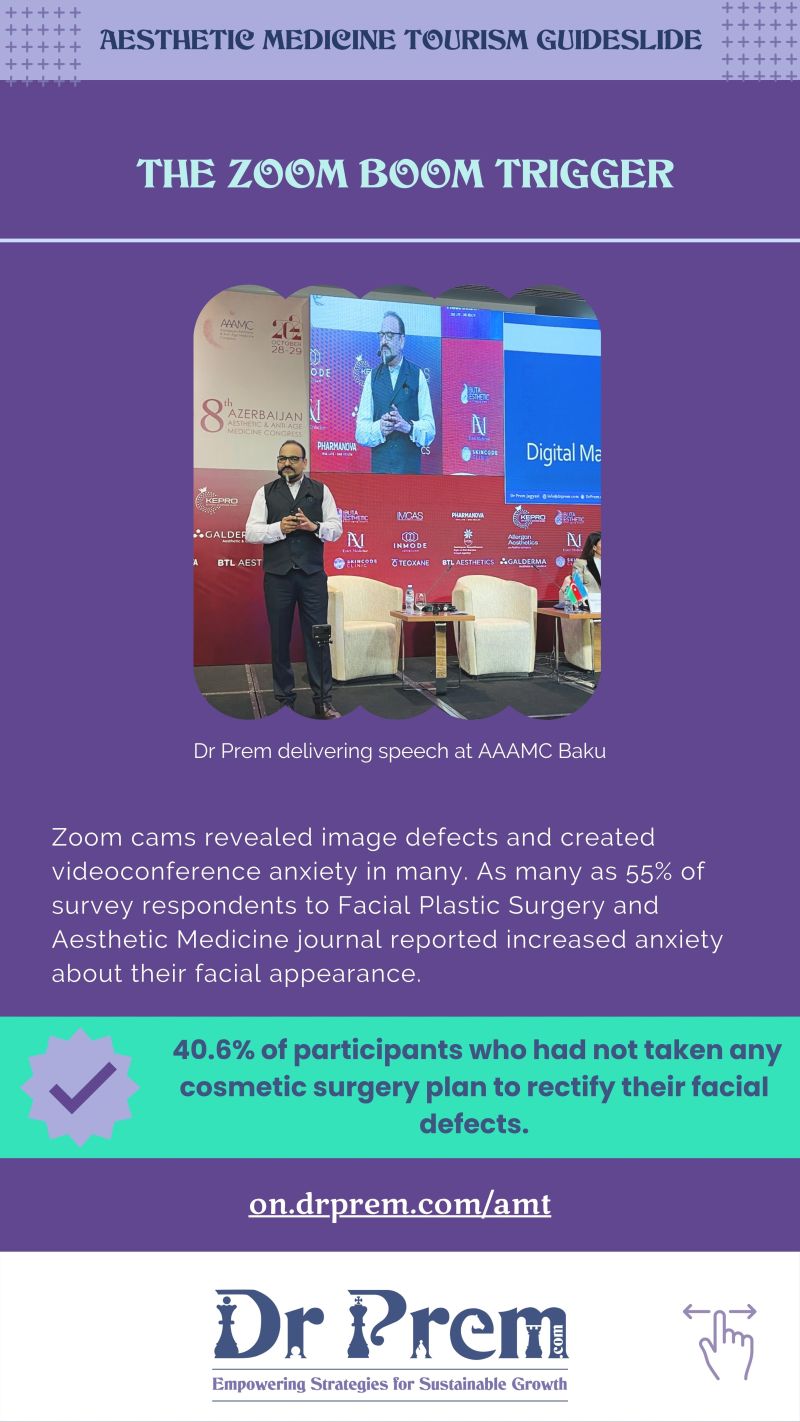 The changing attitude toward wellness and beauty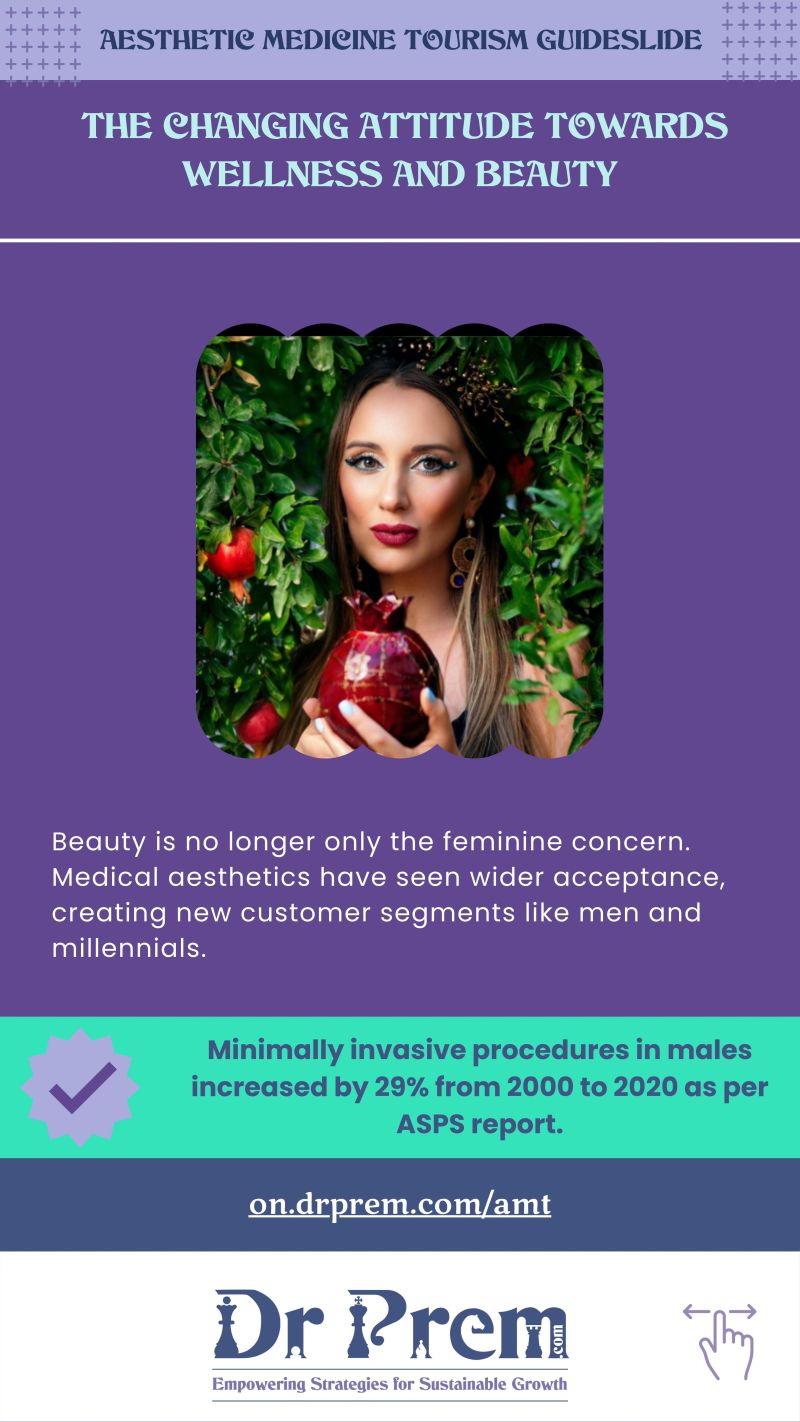 The aesthetic injectable market has exploded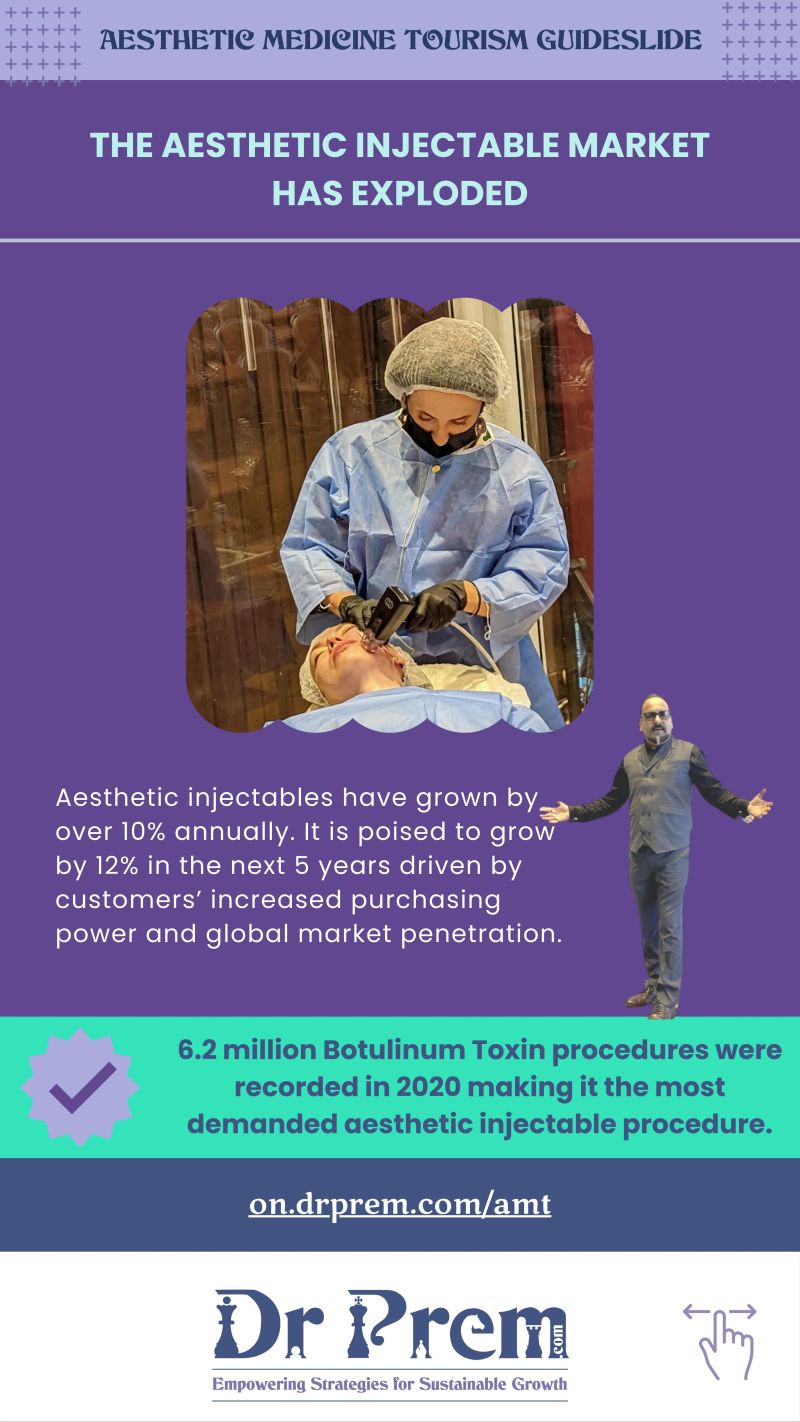 Top spenders in aesthetic medicine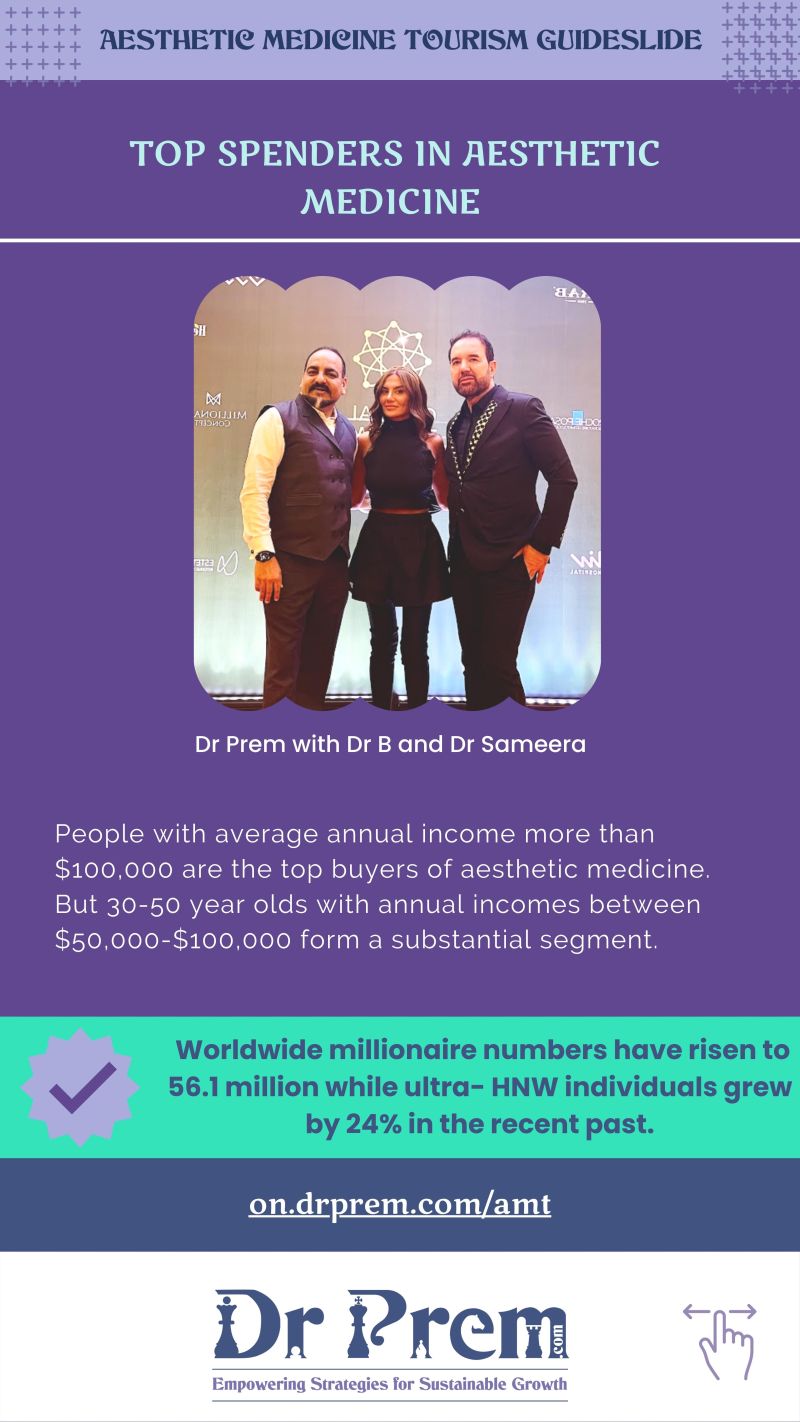 Heal at ease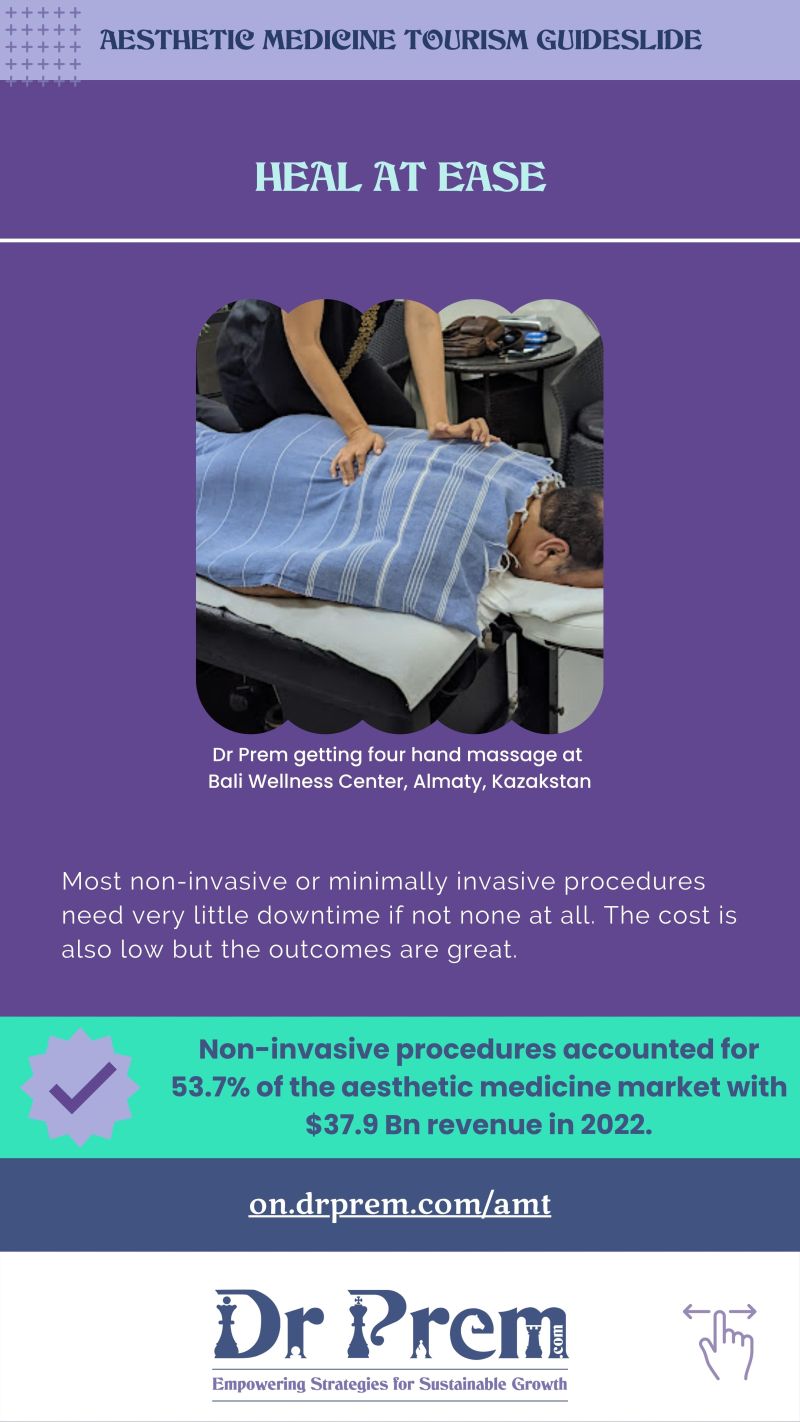 Aesthetic medical wellness is more delightful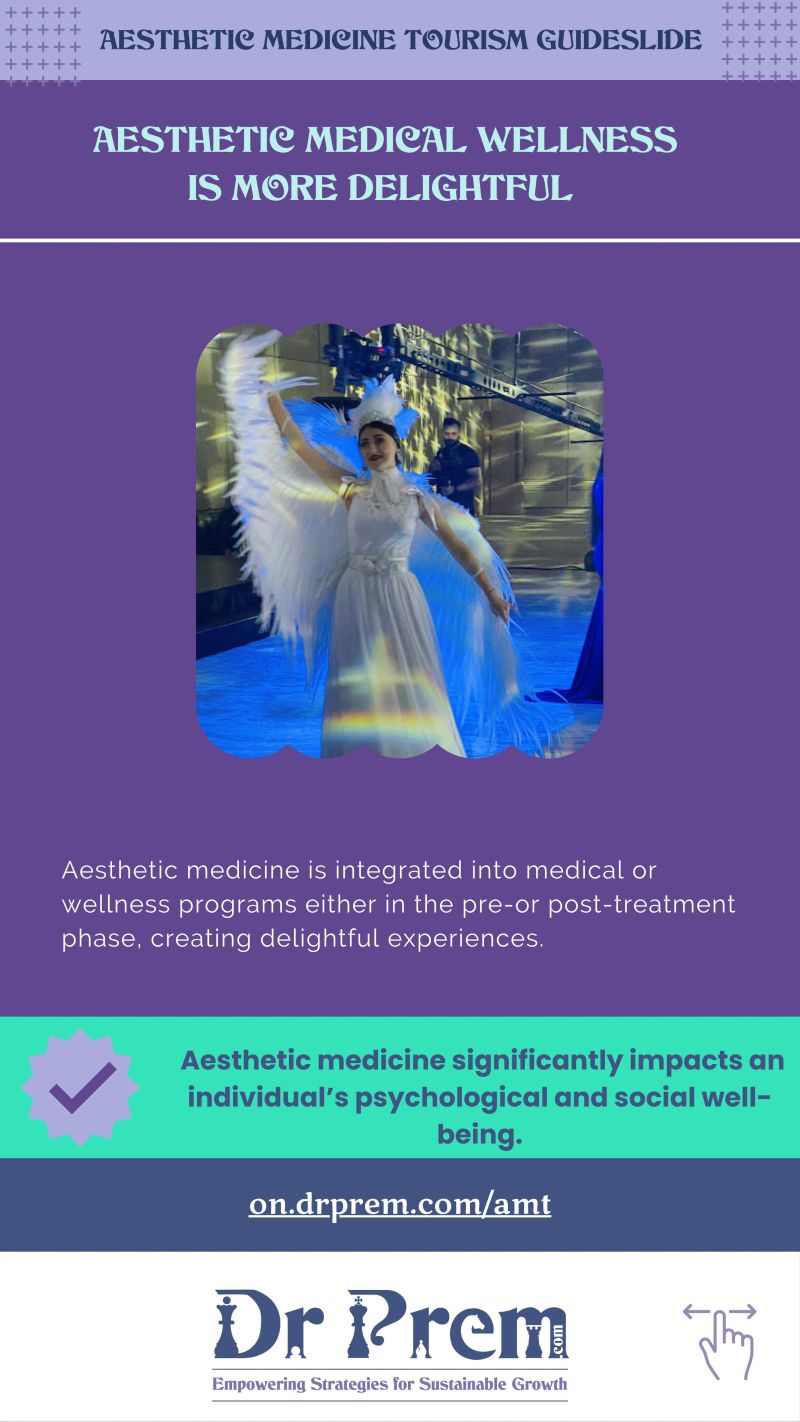 How to get aesthetic medicine customers?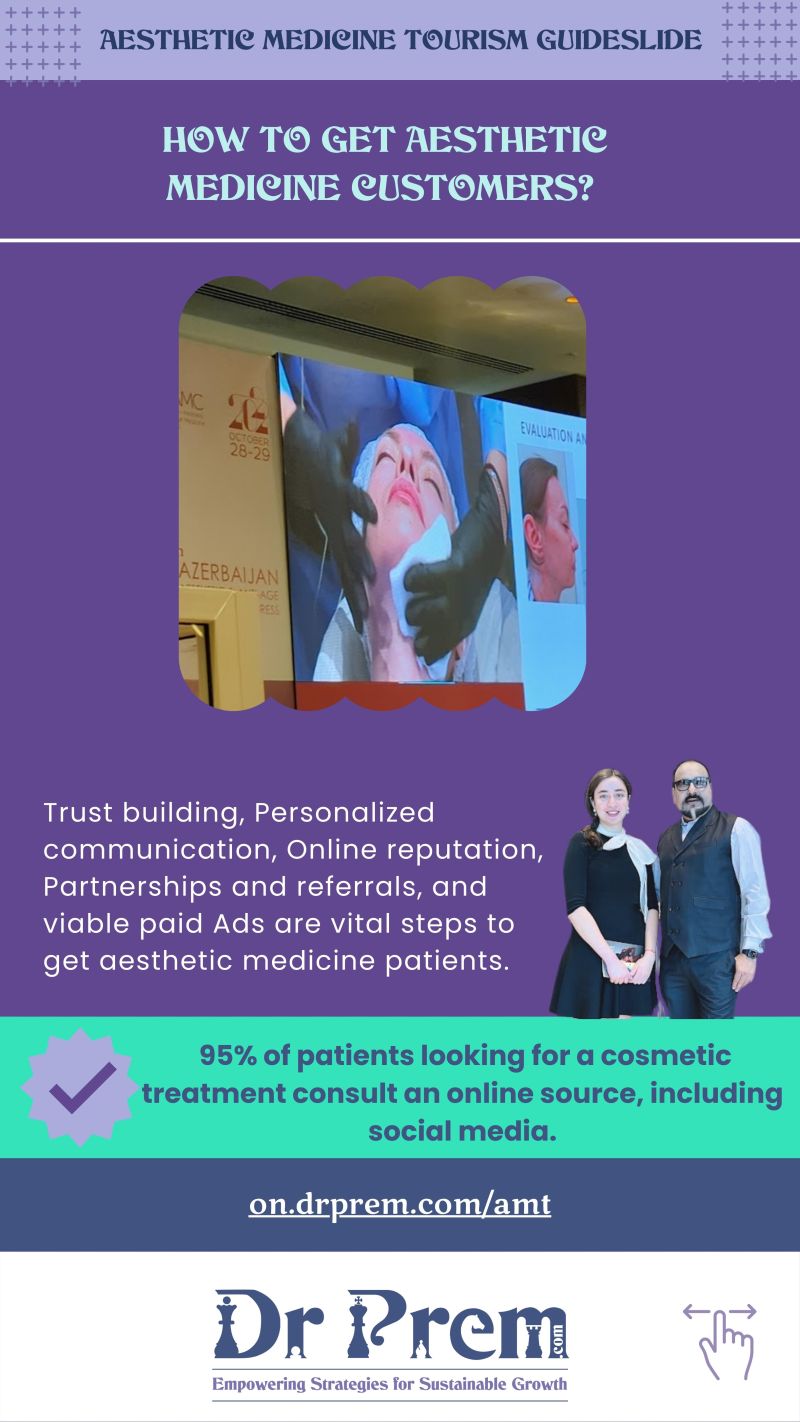 Generate leads with AI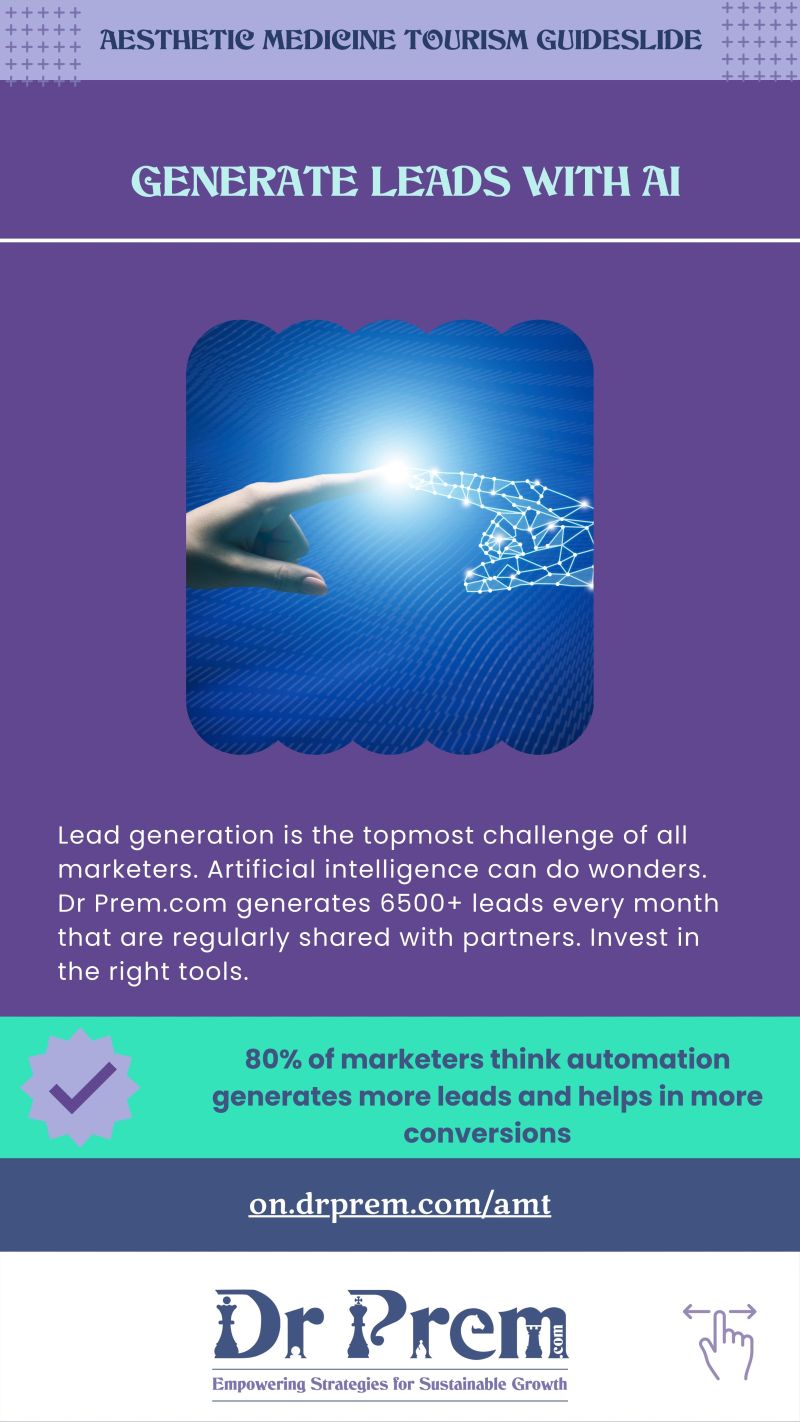 Baku hosts the 8th Azerbaijan aesthetic and anti-age
medicine congress (AAAMC)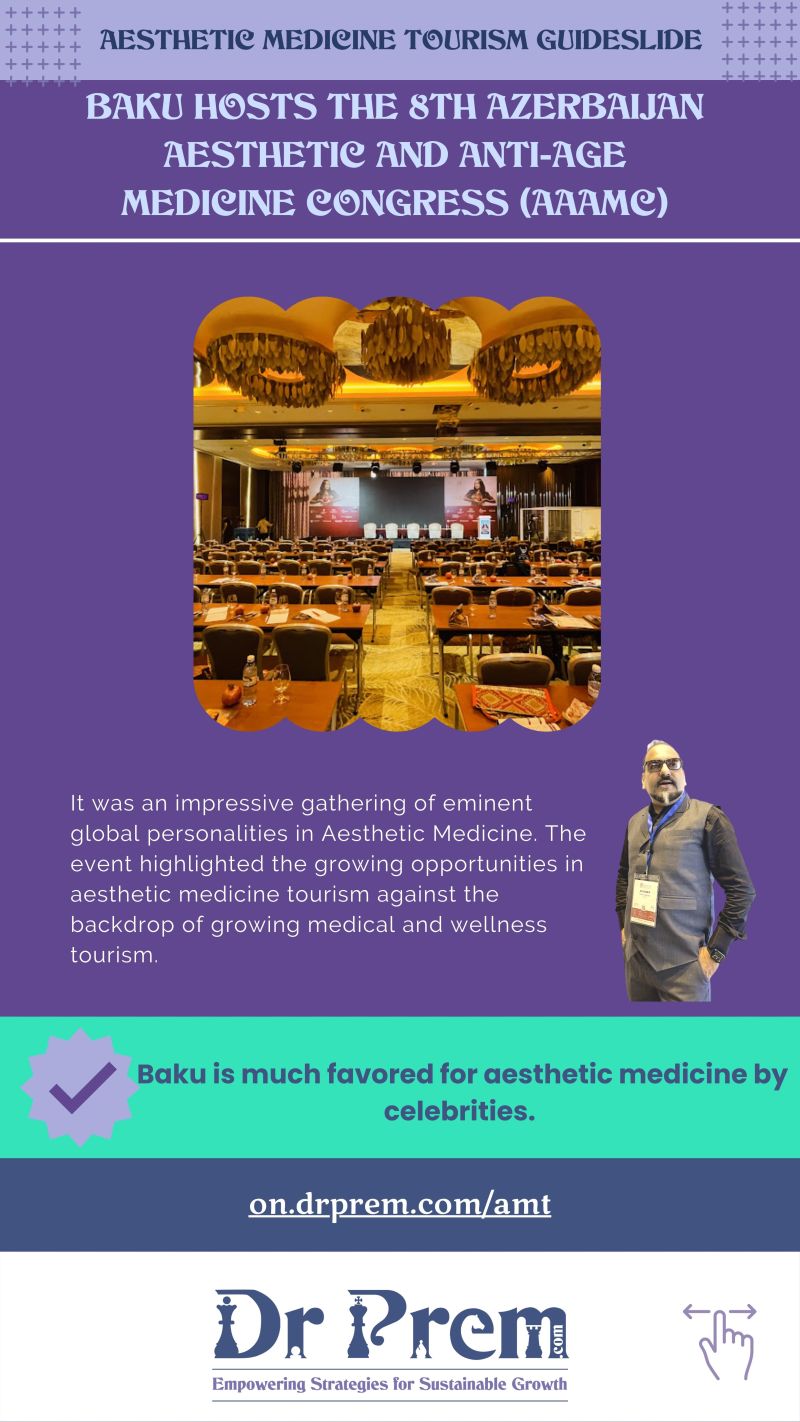 Why Dr. Prem's consultancy?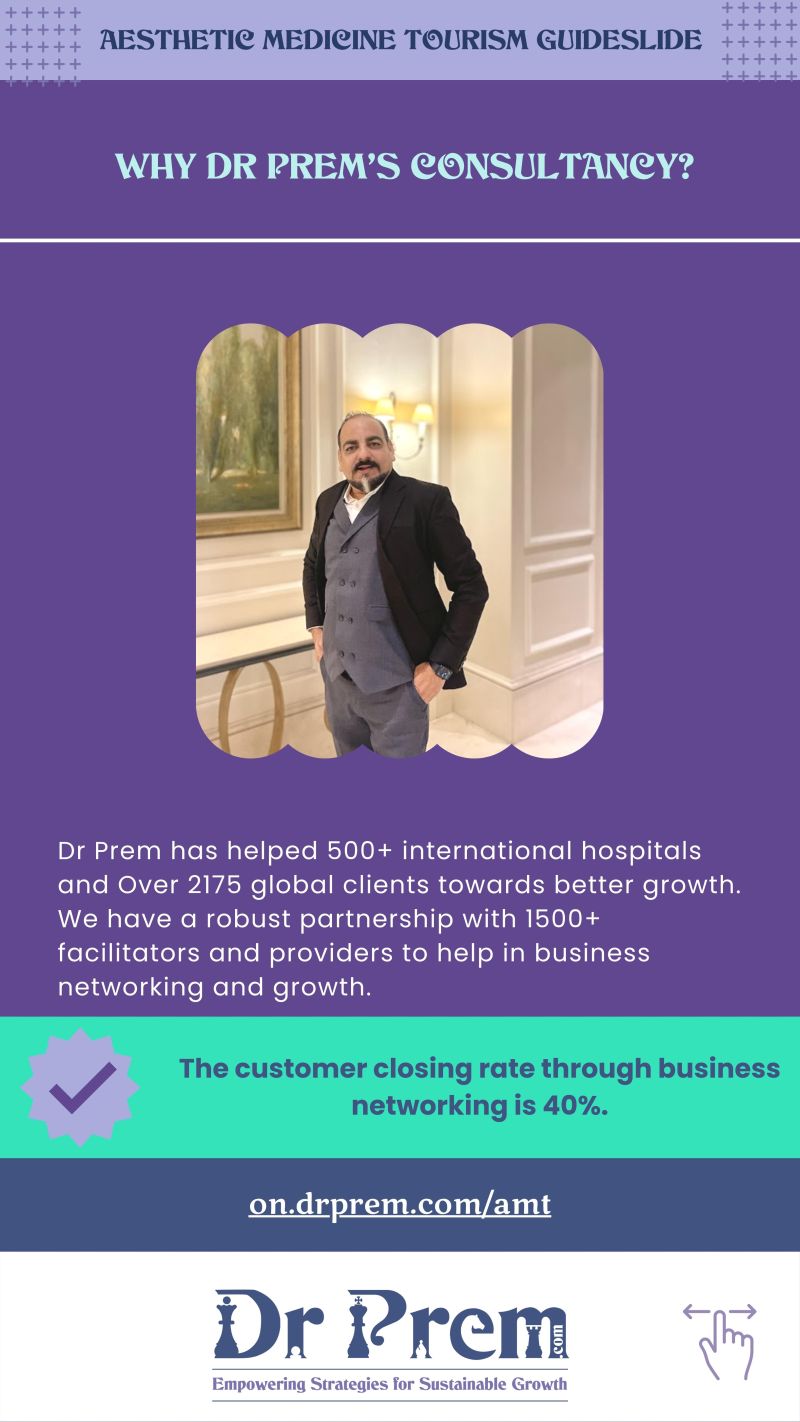 Need more insights into Aesthetic Medicine Tourism opportunities? Connect with us!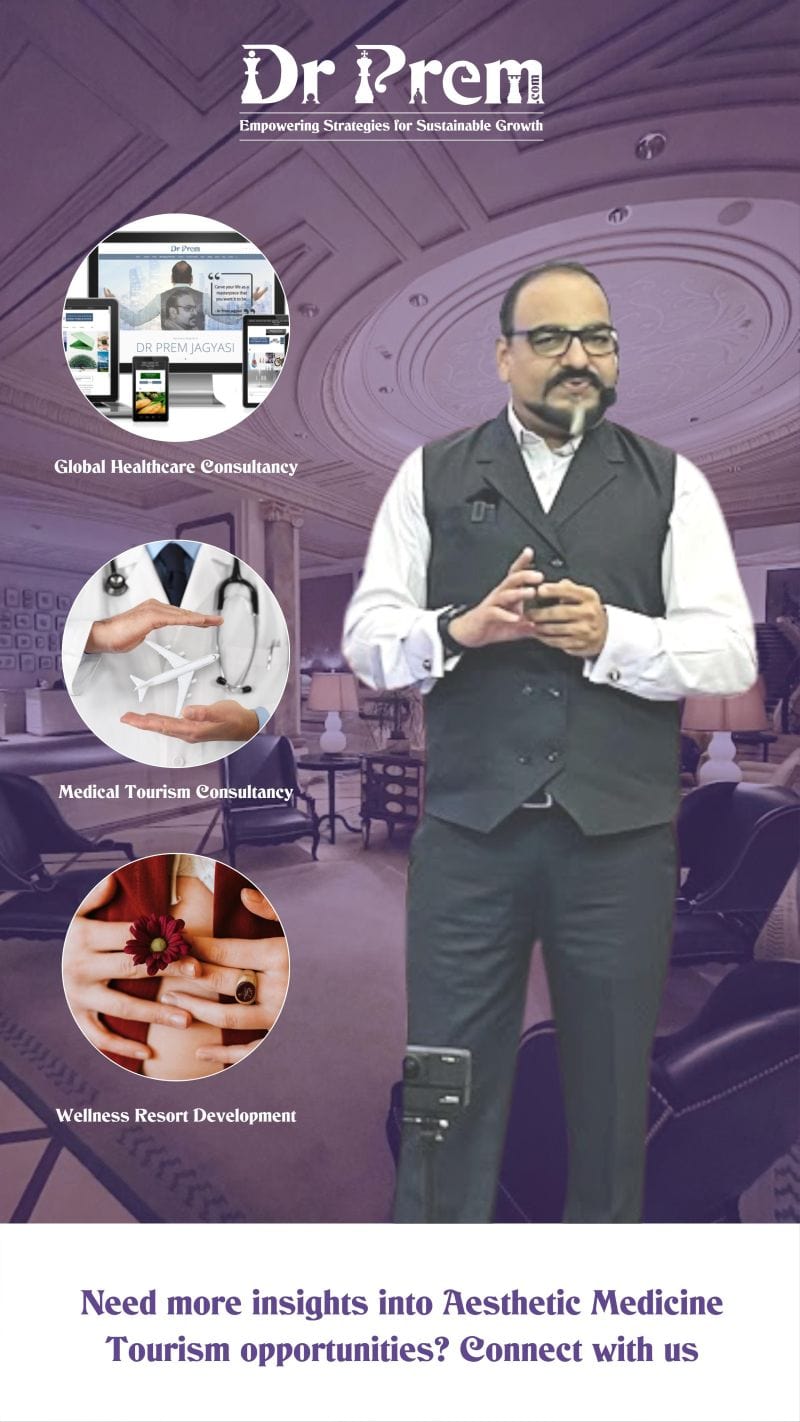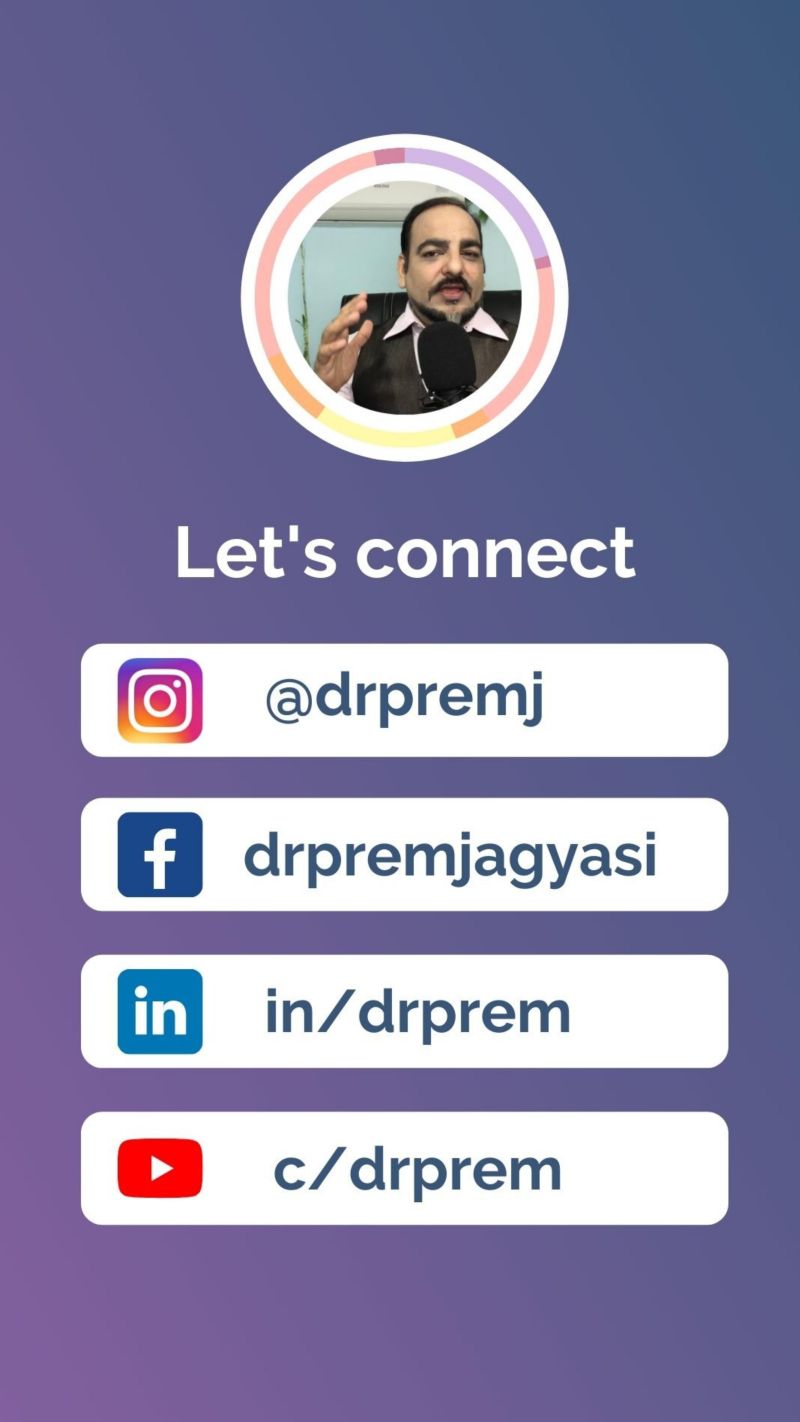 Comments:- 
I really like this guide slide, thank you for the useful information!
Aesthetic medicine will create a big impact on medical and wellness tourism. Aesthetic treatments are great to make you look good and feel good. Drives additional motivation for self wellbeing
Wonderful Insights of Conference and Trip
I really appreciate this post.
Thank you for the information!
Very Informative!
Insightful Guide. Informative