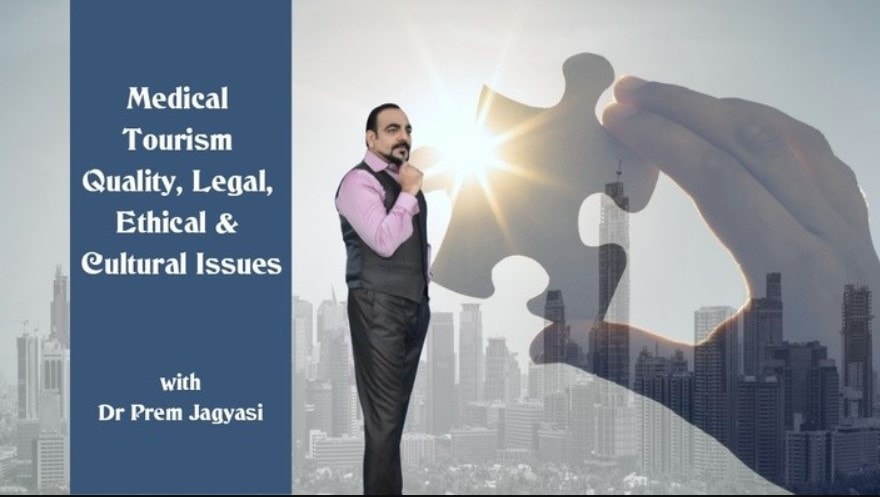 Do you know what makes the medical tourism journey of a patient highly satisfactory? It is not only the affordability or service quality but also other factors that remain unstated. Global medical tourists have different cultural values and ethical norms that seldom come to the forefront of medical tourism. The comprehensive guide on understanding the cultural, ethical and legal issues in medical tourism broadens the vision to look after the patient's overall needs better. It improves your perception of reading a medical tourist.
We have put up online course to help you under understand topic – Learn Medical Tourism Quality, Legal, Ethical & Cultural Issues | MasterClass with Dr Prem
Please read the full guide here
If you are a medical tourism facilitator, a hospital planning to start an international patient department or a startup company, you need to understand the patient's needs factoring in his/her socio-economic status and cultural background. Facilitators and hospitals with a better grasp of understanding these needs handle patients efficiently and emerge the winners.
Understanding patients from diverse cultures is a great learning phase. Deeper your understanding is better are your services. It can make a big difference. It should be a part of medical tourism business training. For medical tourists, a prior knowledge about various cultural, ethical and legal issues is always a big advantage.
Understanding Cultural Issues in Medical Tourism
The cultural issue in medical tourism is a two-way process where both the patient and the provider need to be aware of. Since patients are at the most vulnerable stage, it is expected the provider or facilitator to walk extra miles to help the patient overcome cultural issues. Elaborate discussions are presented in the guide touching all vital points.
When a patient approaches a facilitator or hospital, he/she normally enquires about the treatments, cost and other support services available. Even if the facilitator selects the best medical tourism hospital or facility without considering his/her cultural values, it may not fully serve the patient's purpose. The patient may face a lot of problems which can impact the treatment outcome. Facilitator companies and hospitals need to build cultural competency.
What are the cross cultural issues commonly faced by medical tourists?
For example, a patient from the Islamic background may have discreet cultural preferences and expect the same in the hospital or facility. They may have special food choices too. People with different cultural traits communicate differently; some may be abiding while some may question a lot. People follow varying etiquettes. Language barrier is another big issue. All these can add stress to the foreign patient. International departments of some facilities have in-house language experts or take the help of online language translators. The guide points out these sensitive aspects which need to be dealt with utmost care and caution.
How to develop a cultural understanding of patients in medical tourism?
Do you know cultural affinity plays a big role in the destination selection of medical travelers? This is because medical tourists prefer to avoid cultural shocks. They look for cultural similarities for added comfort expecting that they will be understood better. It has other benefits for the providers too. The guide elucidates how cultural understanding facilitates bonding between the patients and the provider detailing its long-term benefits.
Before developing cultural understanding, it is important to identify the probable areas of conflict. If you are a healthcare institution or a hospital, what strategies you should take to develop cultural understanding? The guide offers great suggestions.
Ethical issues
Is it always proper to seek such treatments that are either unavailable or legally banned in the home country? How medical tourism gives rise to ethical concerns? There are enough controversies regarding organ transplantation surgery, surrogacy, IVF, sex reassignment surgeries and unapproved stem cell treatments. Organ transplantation in developing countries often is a dubious practice where the source of the organs or tissues remains a big mystery. A mismatch in donor organs can put the patient's life at risk. How to check whether the provider/facilitator is following ethics?
Ethical violations are also seen in commercial surrogacy where hired surrogates are subjected to extreme forms of exploitation. Unapproved stem cell treatments offered by many clinics and facilities may not be compliant with the authoritative guidelines.
So what a potential medical tourist needs to check? The guide discusses various points where ethical concern is the highest. Another important procedure with high chances of violating ethics is the contract signing. A medical tourist with little or no knowledge of this matter can be easily duped. Due suggestions and advice are given in the guide to help in preventing the medical tourist from potential danger. It also sheds light on how to steer away from unethical organizations and providers.
Understanding legal issues in medical tourism
An extensive overview is presented helping medical tourists and facilitators to remain abreast of possible legal issues that might crop up. The role of medical tourism facilitators and providers is of immense importance in this matter. It is natural for a medical tourist to be unaware of the regulations and authorities of the destination country. What needs to be done in that case?
Insightful suggestions are offered regarding how to speak up for your patient rights as a medical tourist. Does a patient at all have any right to complain or place grievance while undergoing treatment in a foreign land? What does a patient need to know about this? In case of any unexpected post-treatment complication, what a patient can do? Many destination countries popular in medical tourism do not have strong medical malpractice laws. A medical tourist may be in dire straits. Guidelines of patient rights described by the American Medical Association are listed here. Going through this will give you a fair idea.
You get guidance on why you should insist on accredited medical facilities? Internationally accredited medical facilities worldwide maintain definite standards of medical practice adhering to ethics and legalities that protect the interests of medical tourists to a great extent.
Why is it important to speak up?
As a patient, do you need to speak up to the physicians or the provider seeking clarifications for every procedure associated with the treatment? Or you should do what is being asked to do? The rule of the thumb, more you speak up better is the clarity and smoother are the procedures during the treatment. You develop an understanding with the provider. The guide details you how to do it and what aspects do you need to keep in mind while speaking up.
What legal issues to consider while travelling for Medical tourism abroad?
These can be the toughest challenges in a foreign country. The guide elucidates various factors that need to be taken care of well ahead. You come to know the ways of protecting yourself from legal issues in medical tourism. Plus, there are additional tips on this that every medical tourist should know of.
Cultural, ethical and legal issues will be given more importance in the coming years as more patients start moving out of their home countries for better healthcare service. While there is no globally standardized regulation or authority to address these issues, it is up to the facilitators, hospitals and medical tourism companies to come up with the best support facilities. This guide stands by all as a trusted source of information.
Online Course –
Learn Medical Tourism Quality, Legal, Ethical & Cultural Issues | MasterClass with Dr Prem
Comments: