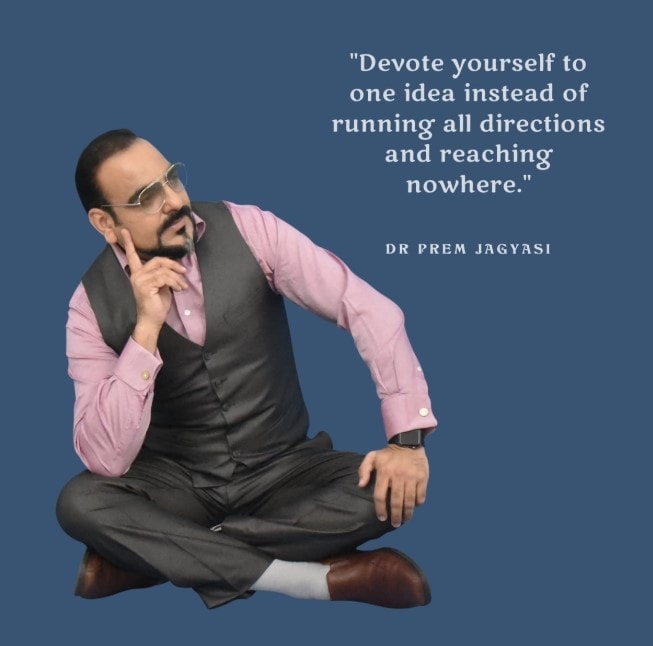 If you look at great people, they succeeded since they never allowed other ideas to shake their belief in the power of one idea, that they followed religiously.
We have the tendency to mistake various ideas that cross our minds with opportunities to realize our ambition. Among so many ideas, we fail to spot one that could actually cater to our dream of fulfilment in the material, intellectual and creative senses. The best way to remove such chaos and indecision is to train our mental faculties to focus on one idea at a time.
"Devote Yourself to One Idea instead of running all directions and reaching nowhere." – Dr Prem Jagyasi
So what's your one idea, discuss with me, let me help you carve your niche.
Comments:
Pearl Nancy – 
I want to make a civilization projects thats our environment will be safe and its helpful to more people
Nikita Panda – 
If you think your idea is original and non-obvious, consider filing a pattern the India which now provides much more protection for fashion designers and I would to be a designer engineering
Tapas Sahoo – 
If there is one thing that is constant, it is "change". And change is exactly the one thing that is constant when it comes to Idea .I have an Idea in cricket game and i love this
Manalisha Sahoo – 
Thank you sir giving me a chance to share my idea to , I have some thinking about corona viruses, how to stop this.I thought it will be possible