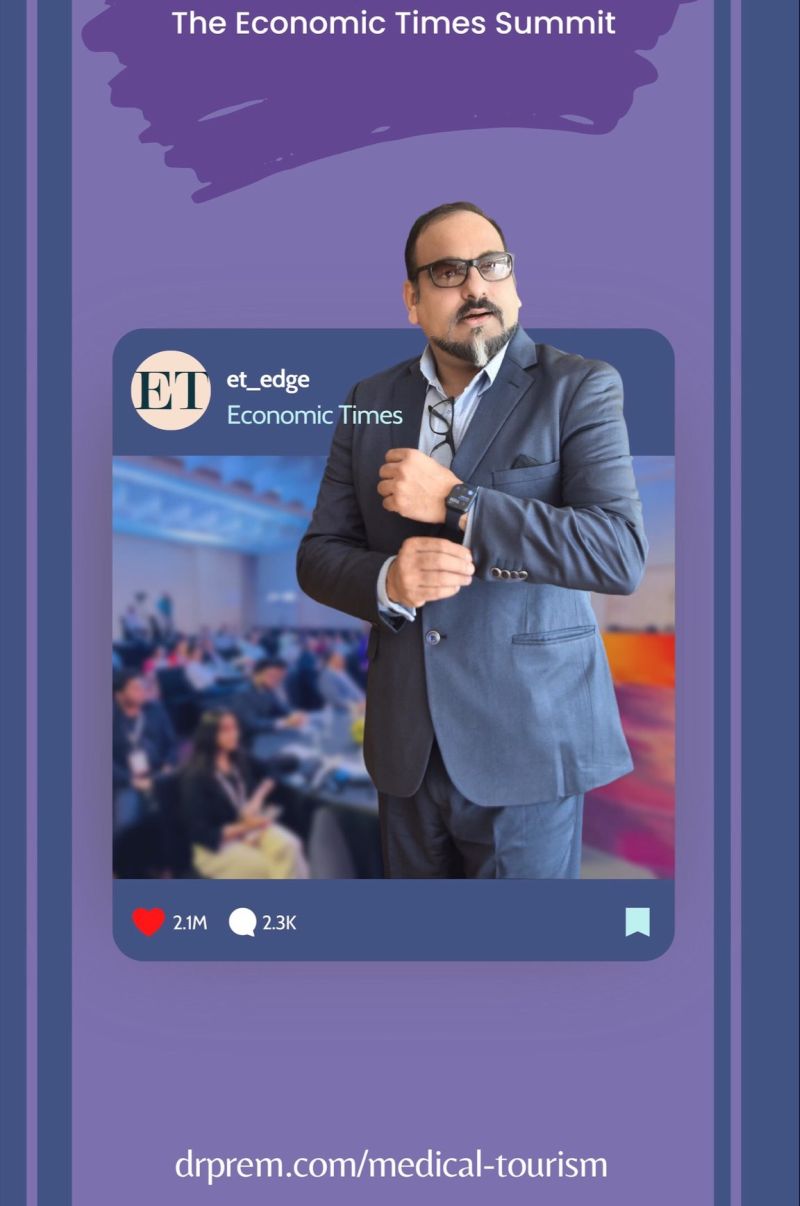 Recently, Dr Prem Jagyasi was invited to deliver a standalone speech on Medical Tourism Emerging Challenges and Prospects at Healthcare Management Summit 2022 hosted by Economic Times – Times of India. Top corporate heads of the global healthcare industry and government officials were also invited to grace this event of immense significance.
Global healthcare is at a critical juncture confronting lots of challenges with the growing healthcare resource crunch caused by the overwhelming disease burden. Where medical tourism fits in this scenario?
Dr Prem's speech highlighted key insights into the future of medical tourism, duly weighing its emerging prospects and challenges. He emphasized that the growth of medical tourism is inevitable given the shooting healthcare costs and its profound impact on accessibility and affordability.
Here are key points discussed during the presentation. We will share a guide slide next week about his presentation on Linkedin so keep a watch on the space.
•Need of Medical Tourism
•Inevitable growth of Medical Tourism
•Challenges and Complexity in Medical Tourism
•Understand Touchpoints and Support Services
•Key Strategies
•7Ps for Success in Medical Tourism
The event was successful in all respects as industry leaders shared their valuable opinions and knowledge focusing on every challenge of global healthcare. The aim is to create a viable ecosystem to make quality healthcare more accessible and affordable. This Healthcare Management Summit created a great networking opportunity for professionals and industry leaders who could spot many key areas that are less discussed but have hidden potential.
His presentation with valuable information and facts pointed out the emerging need for medical tourism in the coming years and forth. He nicely charted out the success strategies of medical tourism, explaining key points of consideration and complexities based on the current and emerging situations all over the world. His words were acknowledged with great applause.
Dr Prem personally interacted with many professionals and industry discussing the potential of medical tourism startups. Events like these always open new gateways of communication and opportunities that you can never think of. Global healthcare and medical tourism need more such events where feasible ideas and solutions are more likely to emerge. Connect with Dr Prem for more information about the potential medical tourism, wellness tourism, and global healthcare.
#economictimes #medicaltourism #healthcare #healthcaremanagement #conferencespeaker #conference
#summit #wellnesstourism
Comments
Alex C
I'd like to study more in-depth the points made because they seem intriguing.
Poppie Ray
Always Delighted to hear from Dr Prem