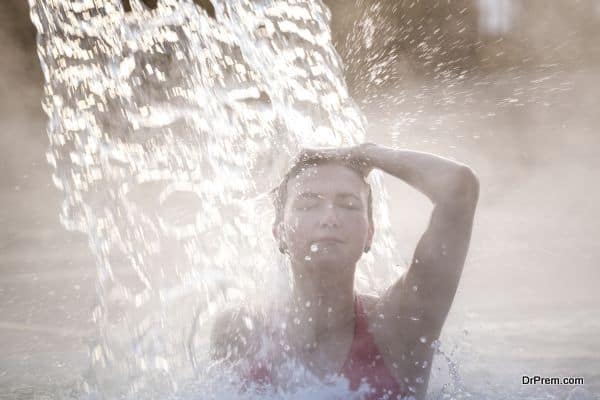 Thermal bath is a body of warm water having rejuvenating properties. The Spas are the classic examples of thermal bath with minerals and other herbal mixes added in water at a specific temperature. Thermal baths have immense healing properties and are widely practiced in specific regions of the globe where there is an abundance of hot springs. Besides, modern spas also have facilities for mineral water baths and cold baths.History: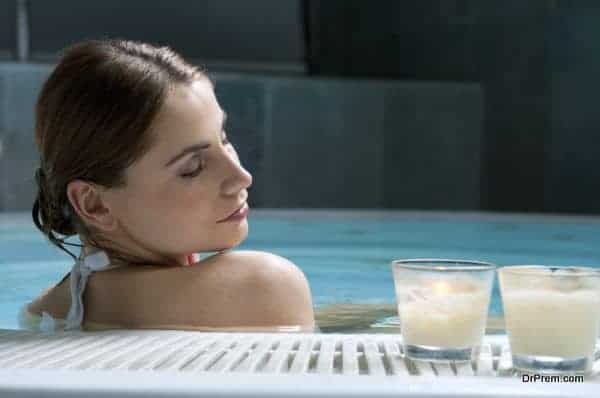 Since time immemorial, man had been fascinated by the magical properties of water. Not only water cleans up your body externally and internally, it is believed to rejuvenate the tired muscles after having a relaxing bath at the end of a tiring day.
Ancient Romans and Greeks realized the immense benefits drawn from bathing in hot springs. Wounded soldiers were miraculously cured through this hot spring bathing. The history of thermal bath can be traced back to the Roman Empire which featured a number of Thermae and Balneae throughout the city of Rome. These were the ancient thermal baths. Thermae were larger in size and contained imperial baths where people had a good time enjoying in warm water.
It was a place for socialization as well. Some of these magnificent buildings that housed Thermae often had adjacent Villas, town houses and citadels. Balneae were small scale thermal baths with the same facilities as in Thermaes. The city had a large number of these public baths which came under both public and private ownership. These public baths were fed with water from adjacent rivers or a nearby stream. The water prior to being flown into the hot bathing chambers were heated by log set on fire.
It was the Turks who popularized thermal baths in 1565 creating Hammams (specially designed bathing rooms) with different chambers for hot air flow well known as Turkish bath. Thermal bathing is deep rooted in countries like Budapest and Turkey due to the abundance of Thermal Springs arising from seismic faults. With lots of innovations and luxury brought in, Thermal Baths have taken a new dimension providing a unique bathing experience.
Principle: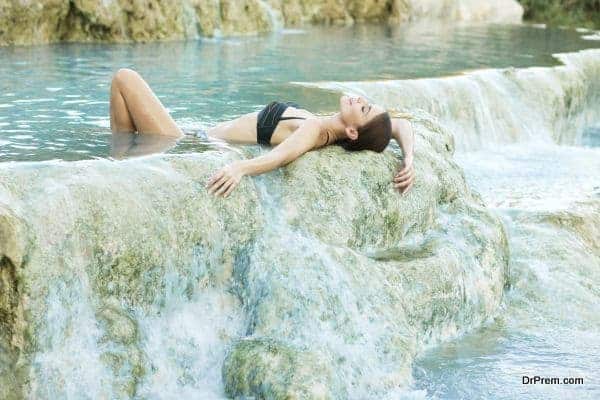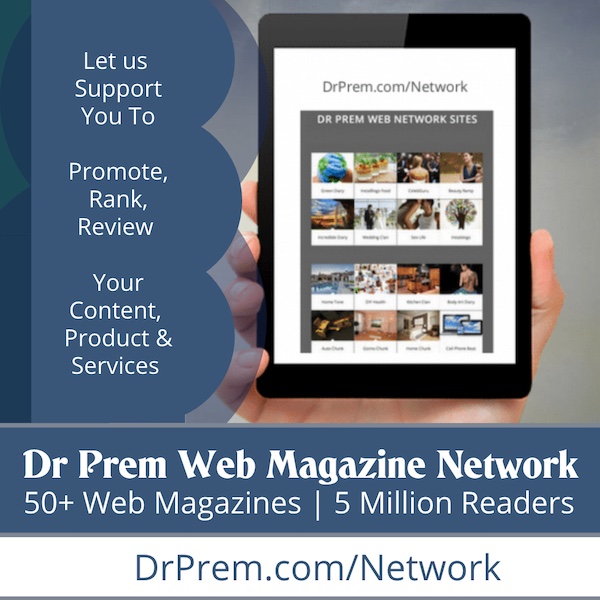 Thermal bath causes vasodilation of the blood flow in the limbs relaxing the entire body. In absence of water, the body cells loses their elasticity giving rise to aches in different organs , muscular cramps and severe physical disorders such as spondilytis, rheumatics, arthritis etc. The temperature of bathing water has a soothing effect. It regulates your body temperature and infuses energy along the vital channels of your body.
The principle of Thermal bath makes use of the properties of water among which the heated state of water is very important. When taken bath in heated water or when hot water is simply sprayed over the body, the intensity of blood flow along the blood vessels increases. Consequently, this results in transportation of food and oxygen by blood more vigorously to the organs of the body.
Methods: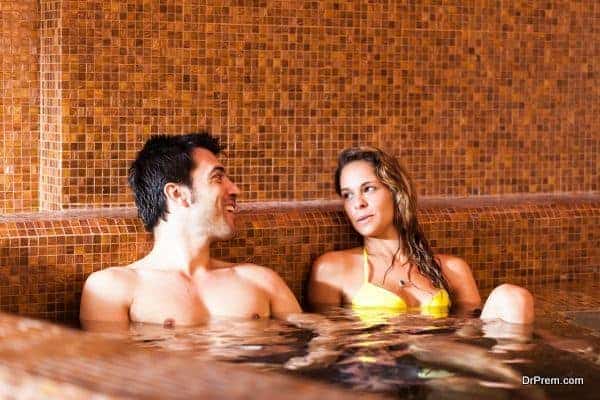 The methods of thermal bath would call for heating the body of water uniformly and the temperature should be optimal so that it should not be too high to give you blisters nor should it be too low. A temperature around 35 – 38 degree centigrade would be ideal. Take a thorough dip until your muscles relax and you are overwhelmed with a soothing effect.
Benefits: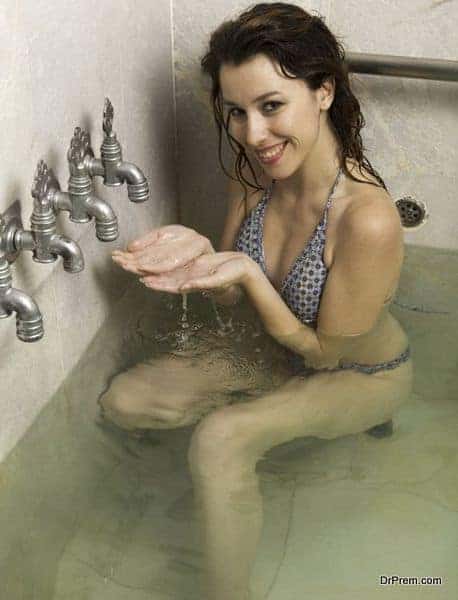 Thermal bath yields the following benefits:
Heals skin disorder.
Boosts blood circulation.
Eliminate toxins from body.
Improves immunity.
Relieves pain.
Relaxes muscles.
Induces sleep.
Thermal bathing: An important wellness activity fuelling Thermal Tourism:
Driven by the growing wellness craze, travelers are preferring bathing in natural hot springs making Thermal Tourism, an offshoot trend in wellness tourism. Destinations abundant with natural hot springs are fast coming as preferred wellness tourism destinations through aggressive marketing of their natural resource.
Coed Thermal Bathing is gaining popularity: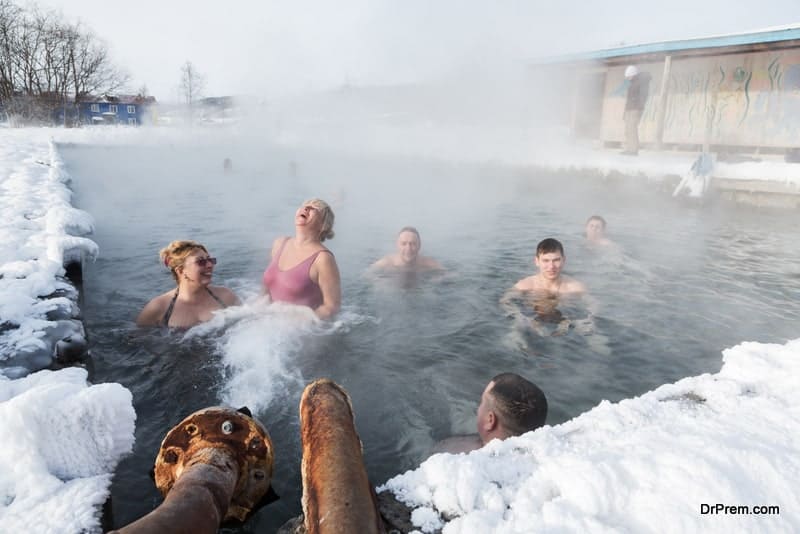 Coed Thermal Bathing is now gaining acceptance in the US where spas are now being developed in innovative ways creating exciting unisex spaces for socialization. Unisex wet thermal spas are already in vogue in many European countries and now the US is picking up the trend.
The younger generation is making the best of this Coed Thermal Bathing or Mixed Thermal Bathing. They tend to seek group and social wellness activities. They have recognized the benefits of social spa far outweigh the single sex thermal bathing.
Privacy issues are taken care of by providing some private areas in the locker rooms while the main spa complex is designed as open communal spaces. The visitors may have to maintain a dress code as specified by the Spa.