If we speak of the latest spa trends, it is largely influenced by modern stressful lifestyle and unpredictable global crisis. The spa industry growth curve is set to touch new highs as crisis ebbs off.
Spa trends would see more innovations in space utilization and menu designing to cater the growing needs of exclusivity and physical distancing. True, such adaptabilities could only make spas more resilient to future that has become highly unpredictable. Whatever be the shocks or challenges, the spa show will emerge exciting, interesting and above all rejuvenating.
The most significant trend – the wellness industry is growing steadily and would continue to grow in the coming years. With more and more individuals opting for healthier lifestyles, spas and wellness centers around the world have started seeing a larger influx of clients. Most of these spas and wellness centers have also started changing their marketing strategies by offering just more than simple spa services.
Shifting behaviours of Spa Goers and the Real Good News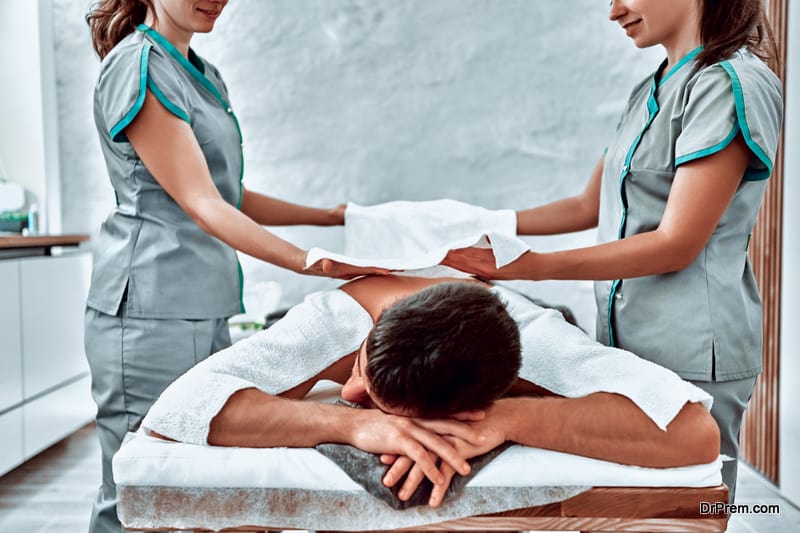 Cautious, apprehensive and picky would portray tomorrow's spa goers as aftershocks of global health crisis persist. But the real good news!  About 2/3rd of ISPA's June'20 survey respondents plan to spend at least the similar amount of money on spa services as before while 16% expect to spend more reports Spa Business Feb'21. Expect a Spa Boom!
Sooner a spa anticipates the behaviours of spa goers, quicker will be the benefits.
Health comes first. Healthy and safe environment is the first thing that every spa customer will look for be it outdoor or indoor spas.
Rising demand for bespoke outcome-ensured relaxing and rejuvenating experiences backed by science.
Multi-sensory experiences for mental wellness to find place in spa menus.
No more crammed and cocooned spa settings. Widely spread-out spas with ample free space favoring physical distancing would be much preferred option.
Group spa activities will regain its spot but with enough social distancing.
Customers will love to book programs in "Green Spas" supporting sustainability with innovative space design and use of recyclable materials.
Special membership programs to see increased bookings as people will love to avail year-round spa services within affordable range. Win-win situation for both the customers and providers.
Contactless booking experiences for enhanced convenience and safety.
Glimpse of latest spa trends likely to stay forever
Getting to the core of wellness
Not the cosmetic touch only. Customers will look for services that create more wellness value. Pampering beauty treatments will continue to be the top picks but if complemented by aromatherapy, sleep programs, music therapy, sound meditation, and the likes, the experience would be awesome.
Expect more touchless services as of now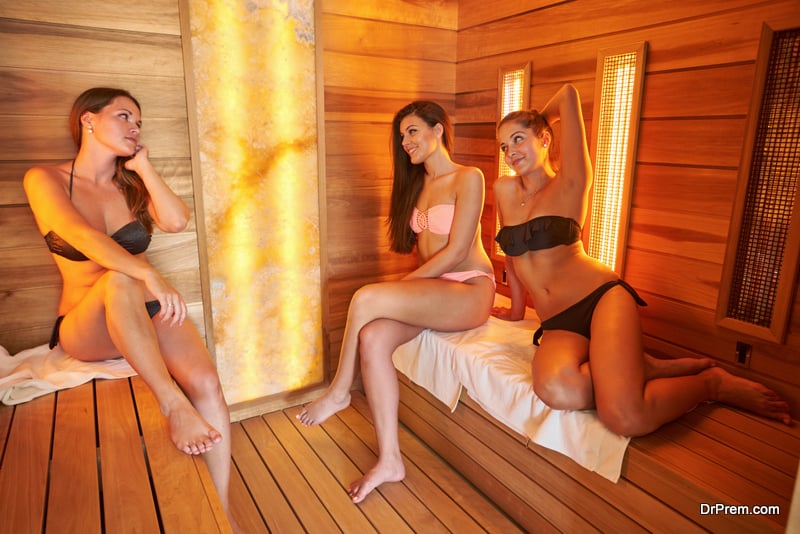 People will think twice before stepping into a spa for a relaxing massage or other high-contact services. Contactless treatments like compression therapy, salt therapy, cryotherapy, infrared saunas, hyperbaric chamber, IV drips, and floating tanks would find more takers in the spa menu.
Expect customized spa relaxation pods to aid in improved skin and beauty treatments all without any touch. Such pods can easily fit in a home, hotel or office space allowing users enjoy a spa experience anywhere. Spa providers are getting more creative in mixing tech and tradition for more immersive spa experiences using state-of-the-art ergonomically-designed cubicles, pods, and relaxing chambers fitted with hi-tech devices meant for a specific treatment.
Automated Hydromassage,the new normal of touchless spa
A whitepaper released by GWI has studied automated hydromassage needing minimal hands-on contact could be the effective alternative of high-contact traditional hydromassage. Hydromassage helps in addressing chronic low-back pain, sciatica and pinched muscle nerve. Automated hydromassage not only is effective and hygienic but can also be customized for personal needs enhancing the benefits of massage.
Guests normally lie comfortably on a cover made of natural rubber fitted on a hot water-filled tub. Nozzles placed below the cover do the gentle massaging all throughout the body. Guests can opt for selective zones in the body that needs treatment and adjust the speed, water pressure and duration according to his/her personal needs through a touch-screen.
With this single automated device, spas can innovate treatments and massage sessions. Automated hydrotherapy is already a big hit in European nations to treat various muscular pains.
This hard-to-imagine concept is the new reality in spa beauty therapies. Letting go of the feeling of 'touch' that is so soothing and relaxing during a facial is not easy. But Spa providers are keeping this in mind too. Apart from using PPEs and face-shields, they are offering bespoke touch-free facials using silicone gloves, LEDs and probes using radio frequency currents that can make up the feel of human touch and generate similar or better benefits. Special facial devices or brushes are now in use to apply serums and masks.
Virtual facials and peels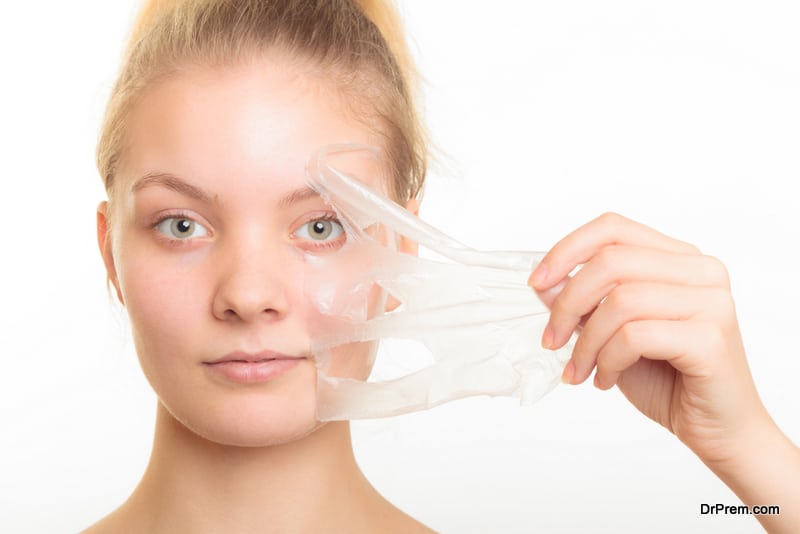 Touch-less spa services are extending beyond the spa walls as the demand for at-home chemical peels and facial kits picked up. Some providers are delivering customized facial kits which customers can apply through a pre-booked online zoom session. Therapists guide the application process step wise making it convenient for customers to follow.
Growing demand for touch-free skin devices for home use
Imagine a device that releases skin-care ingredients in the form of mist facilitating touch-free application. A 10-minute vibration session at home with a facial wand can recreate your salon experience without any hand contact. A pigment scanner device is helping in detecting over pigmentation over the skin surface and rectifying the flaws, another innovative touch-free detan procedure.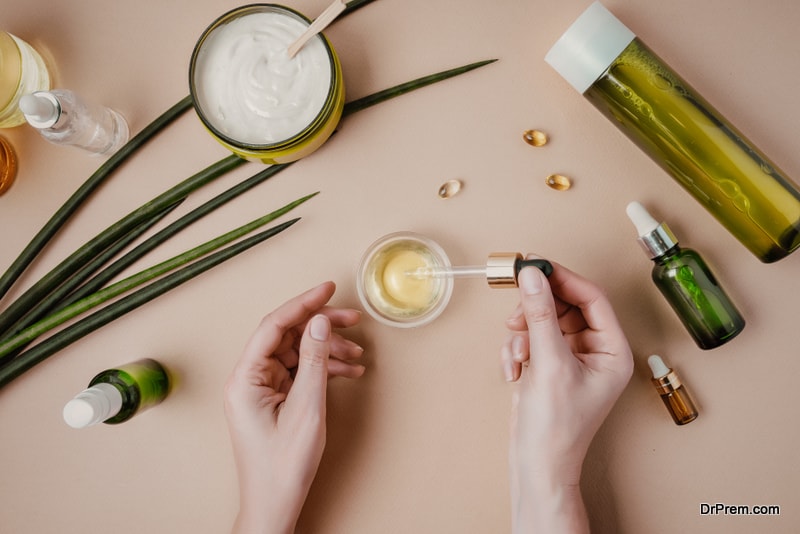 Touchless aromatherapy is also growing among contact-free spa service trends which can be done at home or in a spa. Spas are arranging single room in-person services where the customer can go through several steps of aromatherapy without being touched. The therapy procedure is designed in a manner to take customers through successive journeys of calming and destressing, rejuvenation, restoration and sound sleep. The guests will receive a kit along with guidelines with further enhanced services like meditation, mindfulness and breathwork. The therapist will provide the necessary guidance from a distance.
However, zero-touch treatments are not likely to go away forever as too-little touch or mechanical devices often fail to convey the wellness message that a simple touch can. We would see high-contact services to re-emerge slowly in the coming years.
The world is craving for the caring touch – Contagion-safety Accreditation Certificate to be tomorrow's norm
Spas cannot do away with their priceless "touch". But they need to build a strong feeling of trust and reliability and become the "Safest Havens of Touch" with enhanced safety protocols guaranteeing health safety of customers. Safety accreditation certificates and demos of highest standards of health and hygiene are sure ways to connect with customers wiping out all their fears and worries. 
Outdoor spas to find more takers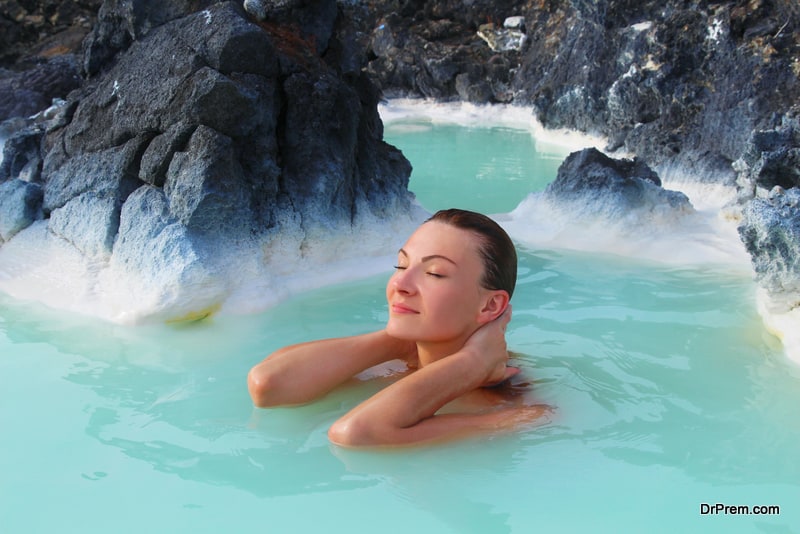 People are sick of prolonged lockdown and home isolation regimes. They are dying to get pampered outdoors amid nature. In comes the outdoor spa settings. Wellness resorts and resort hotels are realigning their indoor spas to outdoor settings. Lucky are the destinations enriched with natural mineral reserves, thermal springs or curative waters that create the best ambience for outdoor spas. People will love to connect with nature while availing of some of the pampering spa treatments. Roof top Spas, beach side spas and those amid serene valley and deep woods outdoor spas would thrive with mind-blowing designs and offerings for a superb pampering and wellbeing experience for guests.
Dating with self in at-home spas
As self-love continue to top the wellness trends, people will love dating with self with cool at-home spa setups. The beauty industry is rolling out interesting products to make the precious me-time more meaningful. Massage candles giving aromatherapy or beauty devices and rollers aiding in gentle massages with suitable body lotions and kits would be preferred more. Expect at-home spa kits with guided manuals not only to get the desired spa-treatment but also to create the perfect at-home spa ambience with some soothing colours, calming music or special masks to tone your mind and body.
Spiritual treatments facilitating self-healing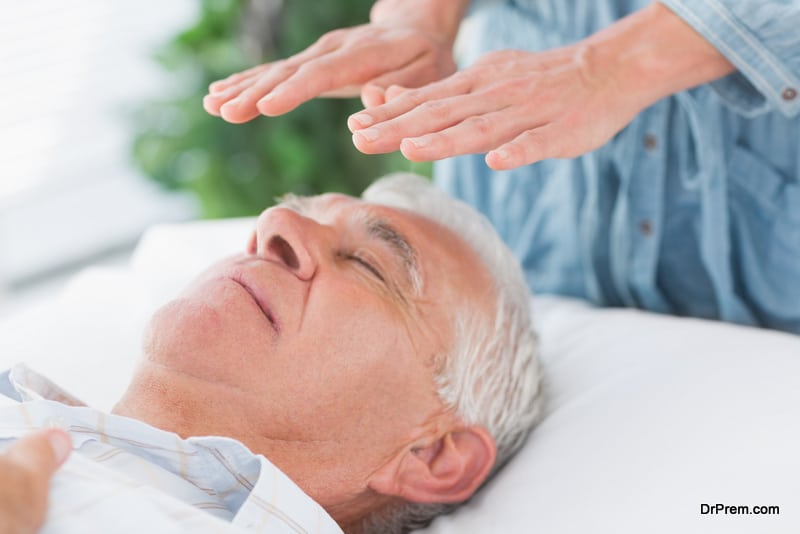 A desperate craving for hope, peace and care is brewing, and people are turning more to spiritual treatments easily accessible in day spas. Based on the market demand, spas need to keep provisions for energy healing, vibroacoustic healing, vibrational massage therapy, Reiki, etc. facilitating stronger connection with own self by tapping personal insights and higher purpose of life.
Integrated advanced medical treatments
Medical spas will integrate more of medical diagnostics and treatments with conventional therapies. Previously, medi-spas dealt mostly with cosmetic therapies but upgraded spas will include vitamin nutrition and oxygenation therapies to boost healing and rejuvenation. Spas will hire more medical specialists on full-time basis to look after the integrated wellness offerings and client experiences.
More Organic skin care products, creams, lotions and massage therapy oils
More and more individuals are opting for organic skin care and beauty products these days. Spas around the world have also started catering to this demand by stocking up on organic ingredients and products as well as offering plenty of organic treatments like facials, organic body wraps, footbaths, etc.
Parrafin or sulphite-based skin care/beauty products are being showed the door while greener products are being welcomed warmly. Customers are also becoming more inquisitive about the products used in spas, insisting on seeing the products to see if they are green and natural.
Enhanced focus on skin microbes
We hate bad bacteria on our skin but love the good ones. Therefore, antimicrobial skin care and skin microbiome would be the customers' prime focus. Maintaining a healthy skin microbiome is important for better skin health and defence against pathogenic attacks. Spa products and services facilitating these two causes will dominate spa treatments.
Face Yoga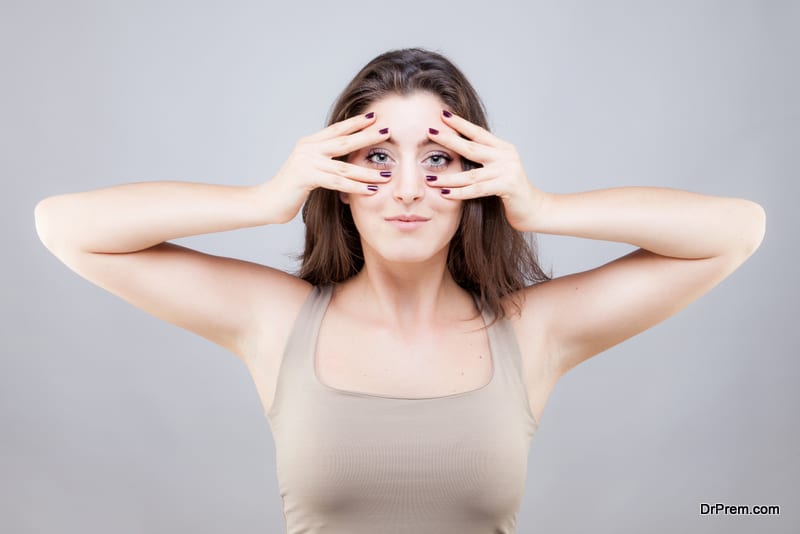 Face yoga helps in improving blood circulation making your skin glow. It doesn't need touch. It is free! With so much benefits and zero harm, how can it not be counted in latest spa trends? Whether it is through virtual Spa consultations or in-person sessions, there would be more takers for this spa trend.
Look out for high-performance ingredients
Minimalism to dominate skin care as people are focused more on high-performance ingredients rather than conventional masks and lotions. One-time investment with long-lasting returns without any damage is the objective. The look out will be for ingredients like Vitamin F, Niacinamide, Squalene, etc. that would take care of skin health at the core instead of enhancing superficial beauty.
Cannabis-infused beauty therapies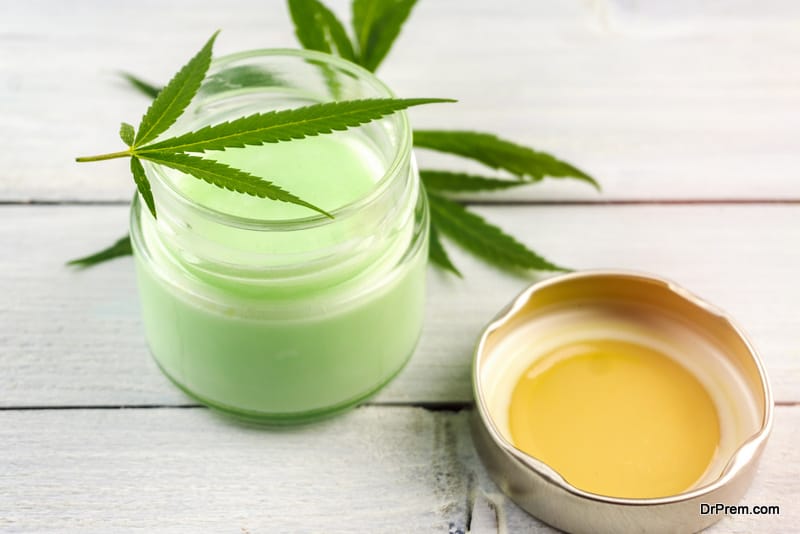 In one of the latest spa trends, expect a range of cannabis products in Spa massages in facials. With cannabis getting legalized in many countries, CBD oil-based lotions would be used more as pain-relief massage and skin treatments delivering a great feel of relaxation and well-being.
Natural herbs and health supplements for healing, weight loss and detox
Body cleanses are becoming increasingly popular services in spas with many customers opting for the treatment at least once every year. Spas have also started to provide more cleansing and detox options other than the standard treatments, including nutritional organic vitamins, holistic health supplements and natural healing herbs.
Spa and commercial fitness equipment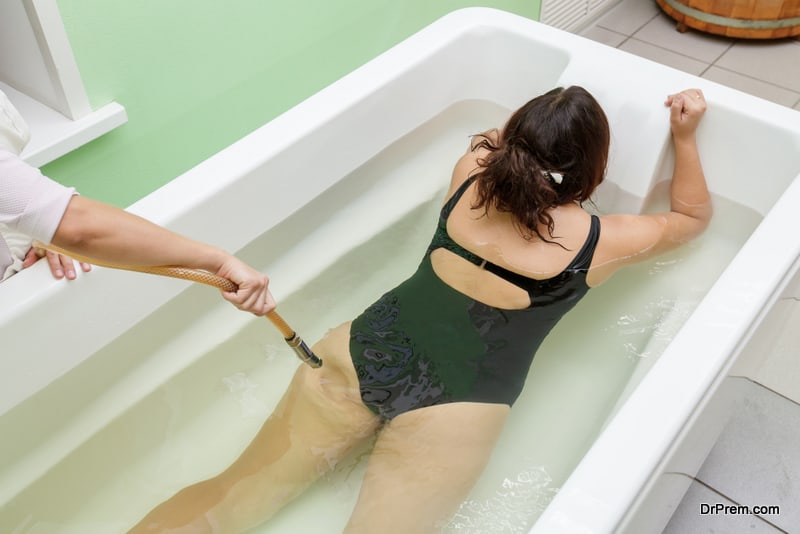 Spas and exercises go hand in hand. However, in addition to the standard exercise bikes, treadmills and weight training equipment, spas are starting to provide other fitness options like aquatic therapy equipment, vibration therapy machines, hydrokinetic showers, hydrotherapy tables, infrared mineral lights, skin scanners, biofeedback machines and low-level cold lasers etc. to promote natural healing and wellness.
Dry brushing, Gua Sha, Kansa to feature more in anti-aging treatments 
Gua Sha coins, Jade rollers, body combing, and metallic tool Kansa (an alloy of zinc, bronze and copper) to be used more for muscle toning and lymphatic drainage. Dry brushing has been proved to reduce cellulite effectively in many. Expect these treatments to be in regular spa menus.
Crystal Healing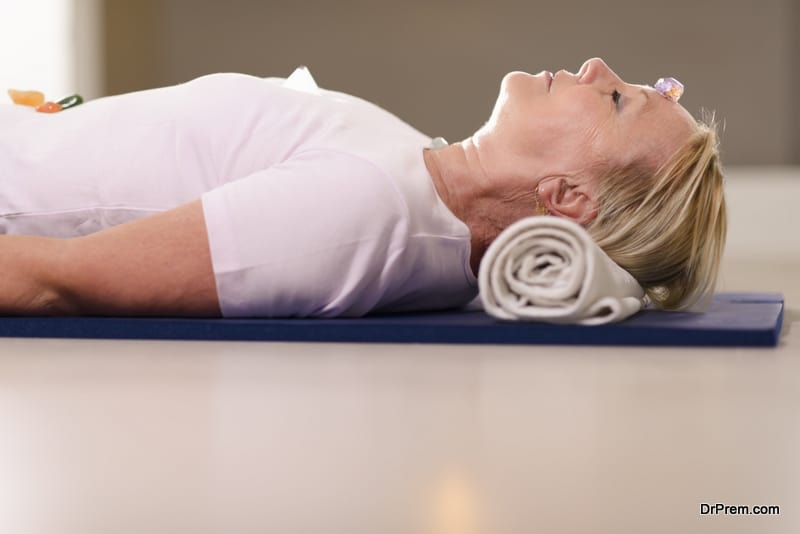 Healing with crystals and selected gemstones has been a part of holistic healing for quite some time. Crystals are known to help in balancing chakras facilitating health and wellbeing. While there is proven scientific evidence behind the efficacy of this age-old healing practice, neuroscientists give credit to indirect psychological influence or placebo effect that makes crystal healing popular. Gemstones, Himalayan Pink Salt, rose quartz are used to heal several conditions. But as it says, it is the belief and focus that drive in the power of healing. Spas are including crystal healing modalities with other wellness treatments for better outcomes.
Sleep massages
The global population is not sleeping well blame it on the growing stress-inducing factors in day to day lives. It is not only the popular wellness resorts but spas have included sleep massages in their latest menus making sleeping pills dispensable. Sleep-inducing oils, aromas and special hands-on techniques promote relaxation of nerves and muscles enabling the client to enjoy quality uninterrupted sleep time. You should not miss out on this latest spa trend.
Extreme therapies

Exposing the body to extreme hot and cold temperatures is a latest spa trend catching up fast. The treatment is said to relieve toxins from the body, facilitate blood circulation and tone muscles and skin. Treatment techniques and modalities are likely to vary but one can expect great results.
More online stores for Spa shopping 
With contact-less treatments to prevail for sometime and people seeking comfort in at-home spas, many leading spas will extend their retail sales through their own online stores. Aestheticians would be more engaged in virtual consultations suggesting tailor-made home-care routines and innovative solutions. In-person visits of Spa therapists adhering to safety protocols could be included if needed. They can easily close attractive deals and expand their client base with their exclusive products and services.
Ritual healing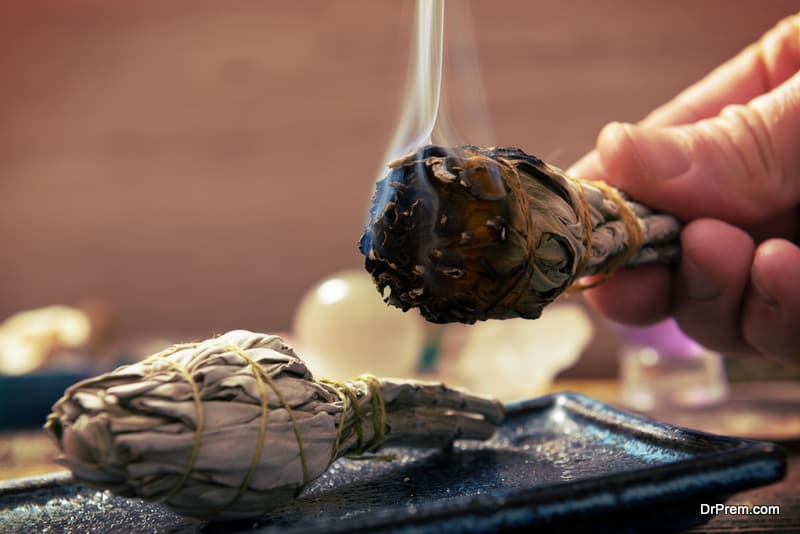 Spa treatments have been evolving as consumers pick up newer wellness trends. The objective is to deliver unique experiences beyond beauty and cosmetic therapies. Spas are embracing ritual healing for restoring mind-body harmony enabling clients purge negative thoughts from the mind and replenish it with positive thoughts to maintain physical and emotional health.
Customizable spa treatments
Customized spa treatments are becoming a rage these days with more customers opting for packages, services and treatments that suit their personal requirements. For instance, customers can choose their own custom workout routines, spa timings and even spa time blocks (everything from the time and products to the music, ambience and even room temperature).
Gone are the days when people used to go to a spa only to get relaxed and to spend some time alone. Changing trends in the ever-changing society have brought enormous change in the spa industry. Fields of spa have taken altogether different shapes and each one with attractions of its own. Changes in the mental state of the consumers have encouraged spa industry to change the ways they offer services to their consumers. Spa industry has grown bigger and better with time.
Skin care using creams, lotions, oils and green herbs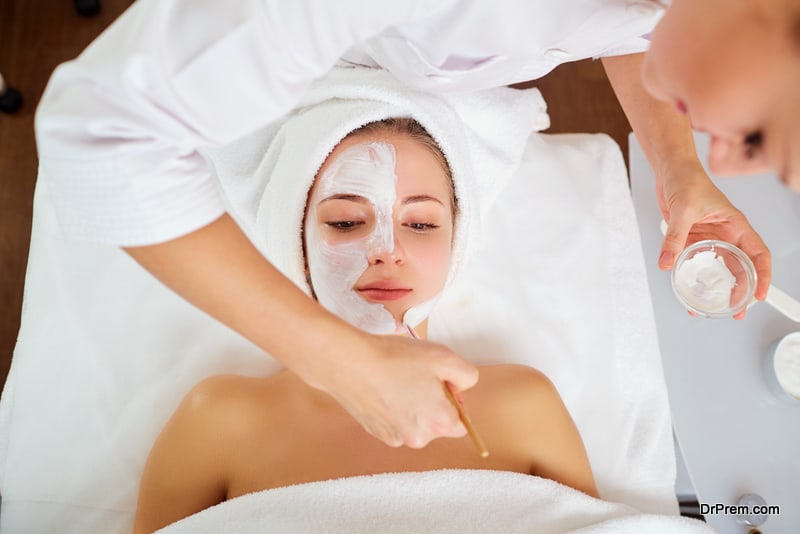 With a fast-growing media and fashion industry, people of all age groups are getting aware of the products that spa industries use and offer. Even if the consumers get the best in the market they need to know the details of it and acknowledge it. They are keeping themselves aware of all the beauty products and herbs used in their spa centre.
Vice president of Spa Development for Auberge Resorts has rightly remarked that consumers now days are smart enough to make enough enquiries of the products they are served. Just having it wrapped around a beauty product would not serve the purpose.
Looking good with feeling good within
With changing times, consumers demand value for their money. Simply looking good does not satisfy them, they want to feel good about themselves. Along with the changing mindsets of consumers, spa industry has changed its structure; you can find fitness equipment like tread mills, exercise bikes and weight loss machine in the spa centres.
Setting new milestones
Along with cleansing massages, natural organic vitamins, natural healing herbs and holistic health supplements are now in fashion.
Choose your own type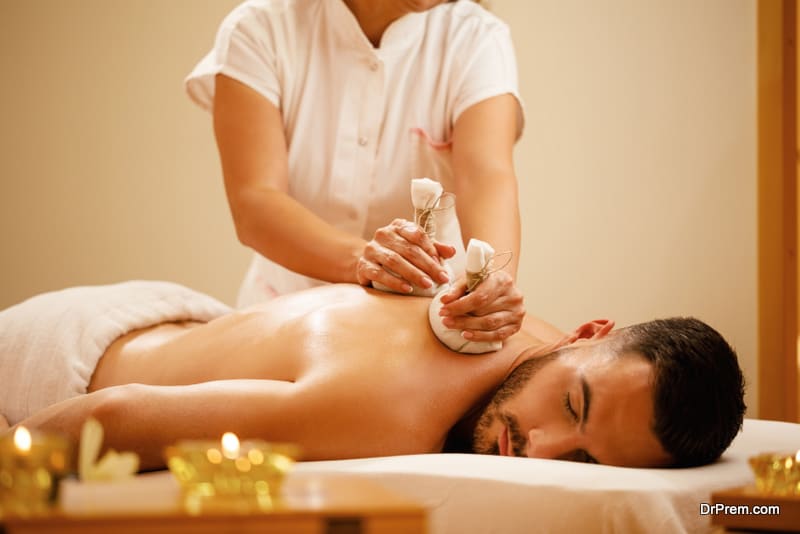 Right from the music to the kind of a room temperature, you just name it and they have it for you. May be this is the fact that is contributing in the development and ever-lasting spa industry. People like to be served according to their mood and taste. Time, place and the type, you can have it your way.
Feel at home
Originally, the trend was that people used to visit a spa once or twice a year, but now they are living with it. You can enjoy and relax in a spa, the way you do at your own house. Spas are expected to provide a relaxing atmosphere as good as home, if not better. The spa industry is no longer limited to relaxation and beauty; it has brought yoga, fitness, therapies, herbs medication and lifestyle together.
Change is the law of the nature and same stands true for the functioning of the spa industry. Consumers are getting a value of their money and industry has grown with time.
Vital tips to decide on the best spa treatment
It would be difficult to choose an appropriate spa treatment or program, considering the fact that there are literally hundreds of options to choose from. While many individuals tend to visit spas to just unwind and relax, others opt to visit spas for specific treatments. As such, one would need to have a basic knowledge of spas in order to choose the right spa treatment/program for their requirements.
Here we discuss some tips to select the spa treatments that would meet your requirements.
10 vital tips to decide on your Spa treatments:
Knowing what you want: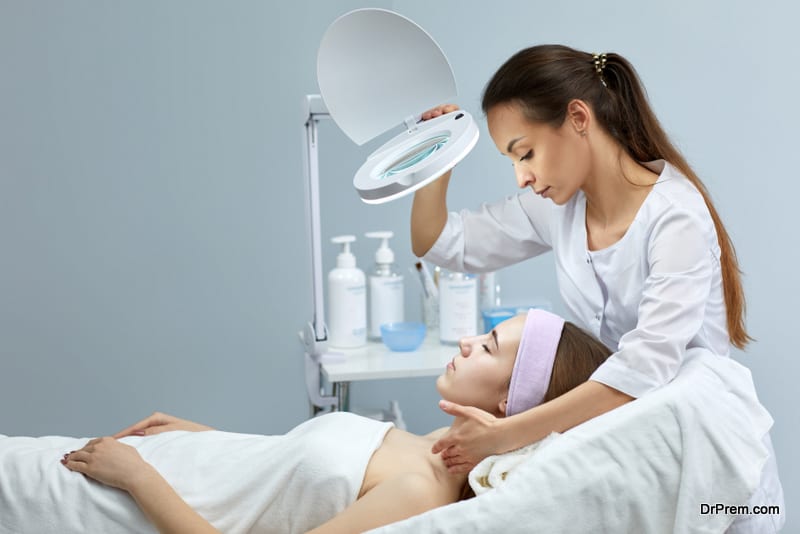 People seek many objectives that from spas, such as clearer skin.  As is apparent, goals are different and therefore they would require different types of services. Hence, ensure that you communicate what you want to your spa therapist for the best results.Make sure you have clear answers to the following questions:
Why should you go for spa? For healing or sheer relaxation?
Which one you prefer – day spa or medical spa? What would be the respective benefits?
How much time you can invest? 1 day, few days or few weeks?
Which spa would suit you best – local spa or in any vacation destination?
What is your budget?
Do enough research:
Every single spa differs in their treatment list and modalities. After assessing your needs, do a thorough research of treatments available. Even similar treatments are applied differently in different spas.
What you should check?
Websites and different spa programs and make sure to look into the products offered by different brands.
Treatment and sanitization protocols.
Customer reviews of a specific treatment that you are looking for
Communicate with your spa therapist: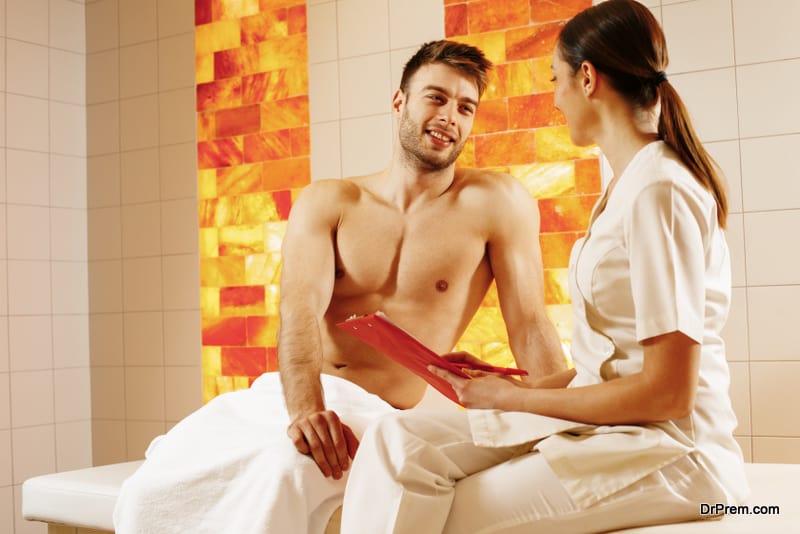 Be open in your conversation and interactions with the therapist.  Outline what discomforts you have during such treatment and enlist your problem areas so that she may focus on it.
You should know what you will get in a Spa Treatment: 
The popular spa treatments are-
Massage-  This is used with various oils for the desired effects and includes treatments such as Deep Tissue and Swedish Massage.
Facials-  Facials are general non-invasive by massage and gentle cleansers.  .
Hot Stone Therapy–  The spa menu is bound to have a Hot Stone Therapy as it has become quite popular across the globe
Body wraps-  A lot of Body Wraps make use of herbal ingredients such as paraffin, seaweed, mud and clay.
Acupressure/Acupuncture-  This ancient Chinese therapy are proven through time and can help in reducing disorders and ailments, not simply of the skin but otherwise also.
Salt Scrubs and Glows-  This is used for deep exfoliationif dead or dry skin cells by brushing salts that are high in mineral content on the body.
Ayurveda-  This five thousand old medicine philosophy revolves around herbs and natural remedies.  It is now a popular alternative treatment methodology and is also a spa favorite.
Colonics-  It is very effective in ridding the body from toxins.
Aromatherapy-  This spa therapy makes use of essential oils with each oil carrying a special property.
Reiki-  This is a Japanese method for providing stress relief and also heals on the principle of energy movement
Paraffin-  This liquid and smooth wax is mixed with essential oils and is used for spa treatments as it has the properties to retain moisture and conuct heat.
Shiatsu-  This is another hot favorite in spas and is a technique that uses palms and fingers, especially the thumbs  to find out the trouble areas in the client which includes muscle distress.
Check the reputation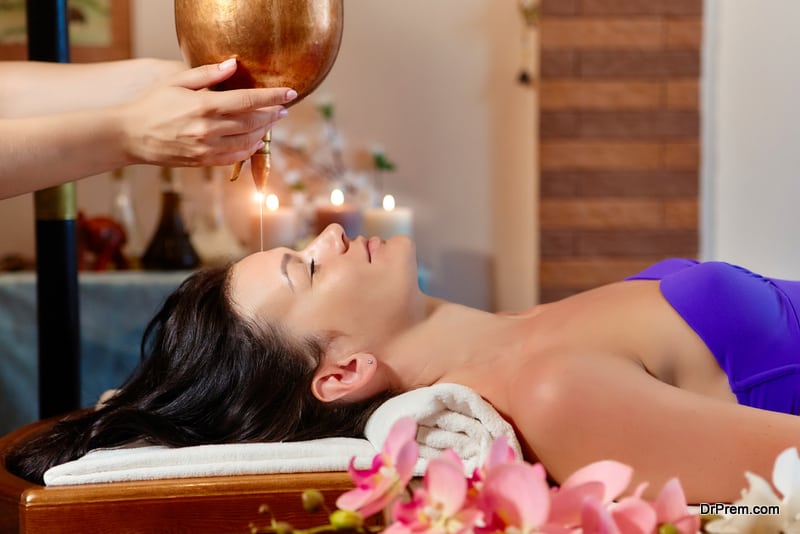 Before selecting treatments, check whether the Spa is authorised or licensed to conduct those.Are the therapists certified? Many spas have signature treatments that do make them stand out. Check whether they will suit you or not.
Select long-duration treatments
Long duration treatments give long lasting results. It takes time to set your body to a relaxing mode and get the treatments absorbed into your system. More you give time to a specific treatment(s), better are the benefits.
Ingredients matter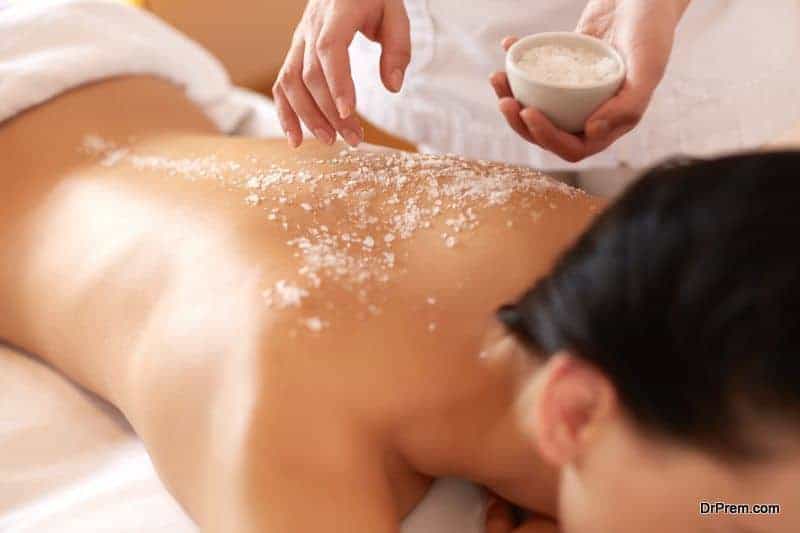 While opting for a facial, body scrub or wrap, check their ingredients. You may be allergic to some ingredients.  Ask about benefits of specific ingredients. For example, in salt scrub, what is constitution of the salt and how it benefits you? Similarly, ask for the constituents of a specific mud wrap if you have selected that. The therapist should explain the functionalities and purpose of choosing a particular treatment for you.
Check social-media reviews
Many spas are including Reiki, hot stone massage, reflexology and other alternative treatments in their spa menus. These programs come with great promises to entice customers. Check social-media reviews and postings about the experience and outcomes to ensure that it would benefit you as well.
Be realistic about outcomes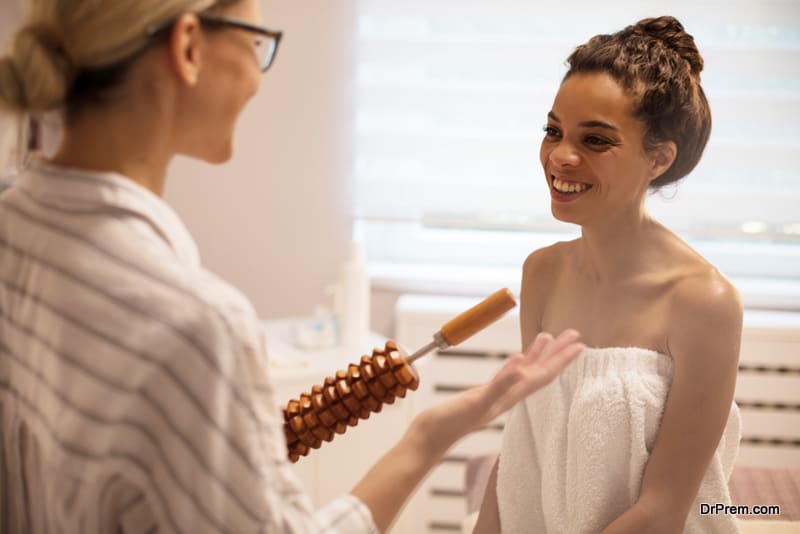 You will be visiting a spa to get relaxed and pampered. Knowing what would result from a specific spa treatment or program would help an individual ascertain as to whether it would suit his/her requirements. For instance, knowing whether a spa program offers relaxation or boosts energy levels would help tremendously in case an individual wants to opt for the latter. Hence, knowing the outcome of a spa program/treatment would help individuals in choosing the right one for their requirements.
Many treatments will rejuvenate you enhancing your vigour and image to some extent. But if you expect a dramatic reversal of biological clock, it would be too much to ask for! Even the most outrageous claims from spas should not derail you from being rationale. If they say, your cellulite is going to vanish totally in a week or get your body slimmed instantly, that would be too much to believe. Even if a registered physician pushes for such a product, never put too much importance to it. Spas make such claims to make money. After spending a considerable time in a spa, you should go back feeling relaxed and invigorated that will make you long for a revisit.
Manage Expectations
Although individuals can go for their own customized spa treatments/programs, the majority of programs would contain at least a few standard treatments like massages, body wraps, hot stone therapies, facials, salt scrubs, facial glows, acupuncture, acupressure, colonics, Ayurveda, aromatherapy, paraffin based treatments, reiki, Shiatsu etc. Understanding the basics of these treatments and procedures as well as their benefits for the body and mind would help individuals choose the right spa treatment with high-end expectations.
A few other notable tips to follow
In addition to the more important tips mentioned above, here are some general tips one would need to follow when choosing an appropriate spa treatment or program.
Gratuities: Treatment specialists at many spas usually expect a tip that equals at least 25% of the total spa bill. While it is not compulsory that one tip them, it is possible for an individual to run into the same person the next time he/she comes for treatment.
Appropriate Clothing: Try to wear loose clothes for spa programs/treatments. In addition easing the treatment, it would help the individual relax after the program/treatment.
Early Booking: Many high quality spas enjoy many dedicated customers, thereby remaining booked for the most part of the week as well as completely full on weekends. Therefore, it is wise to book a treatment/program slot well before a week or two in order to avail the same without any issues.
Punctuality: Individuals opting for spa treatment/programs would need to show up for their appointment earlier than planned. This would enable them to utilize the hot tubs or Jacuzzi to raise their body temperature as well as relax their muscles before the treatment actually starts.
Rehydration: Make sure you drink lots of water immediately after a specific spa treatment or program. Drinking water during this period would help hydrate the body as well as flush out harmful toxins from the body.
Spa treatments are evolving with the latest trends. It is important to know about the trends and how it can help in making the right selection of treatments.