Top 5 awesome destinations to delight your tastebuds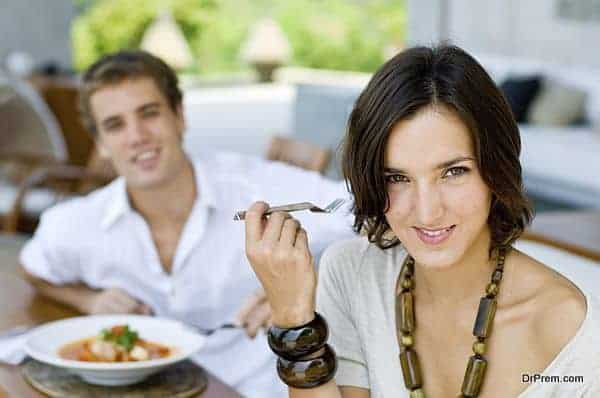 Good food and finest of drinks make our life merrier. Undisputedly, awesome cuisine served with style works wonders. A strong desire for mouthwatering gourmet delights is a primitive instinct in human causing salivation at the sight of tasty food and the tempting aroma that it gives off. In fact, authentic tasty food done with the right mix of spices would enhance your appetite manifold. Hunt for good food is in our blood, and consequently the news of a good dining joint in a town spreads like wildfire when the price becomes a secondary issue.
We would now like to explore destinations with great gourmet temptations:
Plaza Athenee, Paris:
If you would like to pamper yourself with the Parisian gourmet excellence, you must pay a visit to Plaza Athenee in Paris. Noted for a perfect combination of class, gorgeousness and French culinary magic this exclusive restaurant had become widely popular among gourmet buffs. It is not just you select your food, eat it and pay the bill, but it is much of an elaborate affair where you are just a novice and enjoy your choice of food under the guidance of an expert chef. The range of menu is stunning, and you are clearly baffled by the display and would be in a serious dilemma regarding which one to choose. However, the restaurant's classy palette of biscuits and cream is worth a try and so are the local celebrity dishes like Picardy Hare and Brittany turbot.

The Fat Duck, UK:
Image Source : Telegraph.Co.Uk

Here at Fat duck you are in for a grand treat and expose yourself to the exotic concept of molecular gastronomy. All credit goes to Heston Blumenthal's culinary magic that would be a wonderful treat to all your senses let alone the exquisite cuisine's ecstatic assault on your taste buds. For the reader's information, Blumenthal's 18-course lip-smacking gourmet has won countless awards. Try and concentrate on high profile dishes like scrambled eggs and bacon ice cream. The combo will last in your dining memory for the rest of your life.
Vue De Monde, Melbourne, Australia:
Although located in Melbourne, this eatery designed in paradise is hardly an Aussie affair but is out and out a French culinary venture worth an exploration by anyone having a strong penchant for decent food. This is an award-winning French cuisine restaurant conceived by the chef Shannon Bennett and has an impressive theatrical stage appearance with the spotlessly clean white linen on the table and pendant lighting creating a romantic atmosphere. Go for a dinner at the chefs table and watch and feel the aroma of pleasant surprises in store for you. Steaks, creams, cheese assortments and grills would leave a lasting impression on your mind.
Kaiseki cuisine in Kyoto, Japan:
Bringing in a novel concept in Japanese kitchen, Yoshihiro Murata is a respectable name in the Japanese culinary world. He is the modern architect of Kyoto's multi-course Kaiseki cuisine. Try for an exotic all Japanese gourmet adventure by booking a secluded tatami mat room at Kikunoi to taste delightful sashimi and lightly flavored broth rich in umami. You have the option of ordering tasteful beef, beans and seafood specialties as well. The food is carefully prepared to give a delicate flavor and is artistically served in a collection of lacquered crockery with exquisite design motifs.
Noma, Copenhagen, Denmark:
If you have a desire for modern Scandinavian gourmet, Noma in Copenhagen is the ideal restaurant. Exotic cuisine includes Quail's eggs cooked and served on a bed of straw or a langoustine perched on a stone. Noma does experiments with the local Nordic cuisine and fuses in a bit of innovation, and what you get is a creative touch on the original cuisine making it a feast on your palette. The restaurant is however a freshly scrubbed warehouse standing on Christianshavn waterfront.