Tips For Precaution, And Prevention When On Tribal Tourism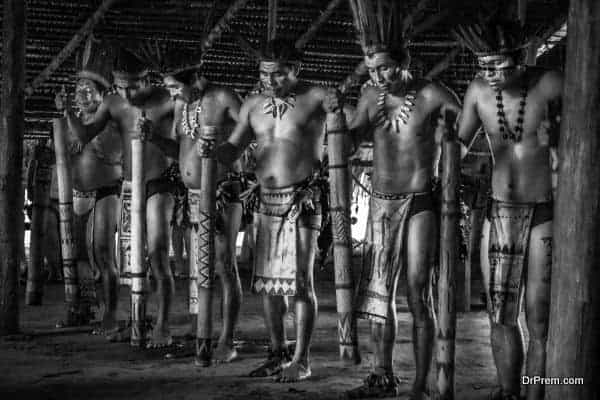 Your documents linked to tribal tourism are the most important evidence on the strength of which your trip will become possible. These documents need to be handledwith great care. Loss of documents would invite a series of serious troubles. You may face litigation as well. Your dream for a gratifying tribal tourism might shatter midway if you fail to produce these documents to competent authorities.
Your visa,passports, tribal area entry permits, airtickets, hotel booking vouchers, bank cards and other documents need to be carriedsecurely. You may wear an inner belt with a case for carrying these important papers. See that they remain close to you as much as possible.Take out extra photocopies of these documents and ensure that they are available at the time of need.
If you are booking your tribal tourism through a tour operator, make sure you are not taken for a ride by a fake entity. Enquire about the credentials of the operator. You can check from the internet the reliability of the organization from the quality of the website launched and the customer feedback.
Be careful about passport processing agencies as well. Many of these intermediaries thrive on deceitful ways. They may be after your money and waiting for an opportunity of beating you to the punch. They are fraudsters.
It would be wise to take vaccinations prior to visiting a tribal country. Take the opinion of a doctor who has a thorough knowledge about diseases common to tribal settlements. Malaria,sleeping sickness,yellow fever and bilharziascan be common medical threats for these regions. Necessary medicines must be carried as a precautionary measure.
There are many isolated zones inhabited by hostile local tribes that are strictly prohibitory for a tourist visit. Especially a visit to Jarawa islands in the Andamansis totally banned for tourists.The tourists should underno circumstances violate the restrictive legislation. They may be risking their life in doing so. A penal action by the local administration is certain, if not horrible death in the hands of the vicious tribes.
Never oppose the instructions of the tour guides. Being too bold and adventurous in a tribal country could be dangerous. Any warnings by your tour guide in this direction should be strictly followed. Tourists are advised against being over smart with respect to interaction with tribal women. However tempting it might be, keep a respectable distance with tribal girls even if you find them provocatively dressed. Your advances may add fuel to the flame already in existence. It may lead to a violent eruption.
Tribes have their own set of rules that governs their social conduct. Gestures of respect and those expressing hatred and scorn are not the same. The touristsare advised to get acquainted with these customs and behavioral patterns to avoid misunderstanding with the tribes. The tour guide is the best person who could enlighten a tourist in this area. Credentials and past record of the tour guide are essential criteria on the basis of which he should be recruited.
When you are in a tribal country, never lose grip on your calm and composure. Try to be sober in your attitude and expression. You may find the tribes in an outburst of glee. Euphoria rising to a crescendo might come up in a folk-dance sequence. That doesn't mean you should also act boisterously inspired by the charged atmosphere.
A common sight might be the tribes consuming home brewed liquor riding high on ecstasy. It should never be a source of encouragement for you to take out your own reserve and drain the bottle in an attempt to match your tribal counterpart. This would be too vulgar a display of manhood.
Display of money, jewelry and other expensive gadgets is advised against. Basically expected to be honest by nature, the urban vices may have contaminated a tribal settlement you have planned to visit. You never know how someone would behave when exposed to the wealth you may be displaying. Criminal instincts might get him in grip. Hence the word of caution!
Essential Components Of  Tribal Tourism
Best Practices In Tribal Tourism
Overview of tribal tourism with special guidance on its preparations and preventive measures
The Do's For Getting More Information On Tribal Tourism
Planning Your Tribal Tourism Trip Right
Travel And Tourism Arrangement In Tribal Tourism
Things You Can Do Post Tribal Tourism
Overview of tribal tourism with special guidance on its preparations and preventive measures
Getting Your Finances Right And Budgeting For Tribal Tourism