Temple Décor of Khajuraho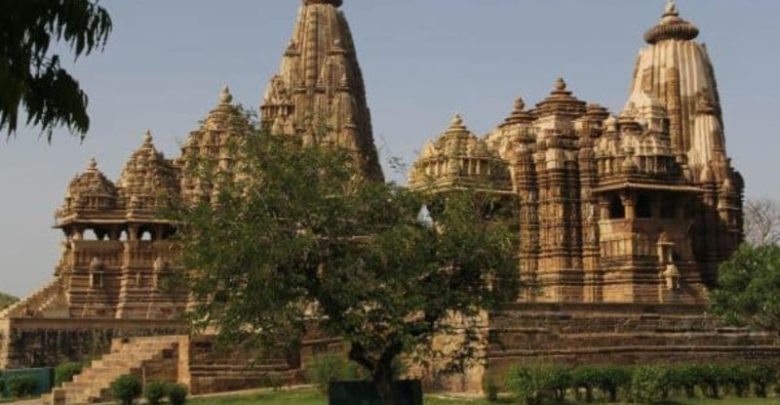 The Khajuraho temples are the brilliant remnants of sophisticated and delicately designed monuments having its roots in the school of Indo Aryan architecture. Its construction was rapid patronized by the Rajput rulers who reigned in between 9th and 12th centuries, the wonderfully carved temples look like a frozen melody.
A salient element of Khajuraho temple architecture is that in contrast to the contemporary schools of art the carvings are not placed within the claustrophobic confines of temple interior walls. Rather they stick out on the lofty patio of rock hard stonework. There is a constant strive to mount above the mundane events of existence. The essential components of a group of sculpture do not stand separate on isolated islands. A sense of collective actions binds the figurines in eternal unification.
Aesthetic beauty and a strong sacred ambiance are inherent in the wonderfully designed shrines and monuments. The figurines are lively having a refined touch. Well proportioned the statues have a splendid finishing touch. The statues are neither mammoth sized nor daunting rather are delicately chipped giving an impression of life throbbing within stone creations.
The tallest figurine reaches a height of around hundred feet. Eroticism is a pronounced subject in Khajuraho temple art. The concept is inspired by the Mithuna ritual of the tantric sect. The philosophy emphasizes on the attainment of self actualization through physical and spiritual contacts between individuals and groups as well. A full-fledged gratification through sensual union has a great spiritual significance as it is believed to be the glorious pathway for fusion of mortal soul with the divine, and the concept is outstandingly depicted in temple art adorned with rich decor and carvings.
The plan of shrine construction is founded on the fundamental concept of creating compartments or chambers of significant buildings. Essentially there exist three chief chambers known as the Garbhagriha, the Mandapa and the Ardhamandapa, which is actually the doorway into the interior laid in the style of a cross. A noteworthy feature of Khajuraho temple design is the granite and the sand stone blocks that seem to focus on an upward motion and the resultant heightened curvature increased by an array of distinct upright protuberances.
The collection of open veranda with suspended attics running parallel to the ground invites sunlight into the heart of the temples casting enigmatically brilliant silhouettes of subjects and structures sticking around. The concept and designs have touched a high degree of architectural excellence inviting tourists from all over the world.
Khajuraho: International Love and Art History
Erotic art in Khajuraho – What it reflects?
Khajuraho- A critical evaluation from socio cultural angle
Why should you visit Khajuraho?
Role of nature and environment on Khajuraho art
Life of people in ancient Khajuraho
Combining Wildlife, Cultural, and ecotourism in Khajuraho
Specific Khajuraho Temples with their essential features
Khajuraho Wild life safari – Special attraction
Khajuraho Dance Festival – The special event
Eroticism in Khajuraho – The Philosophy behind