What to see in Khajuraho?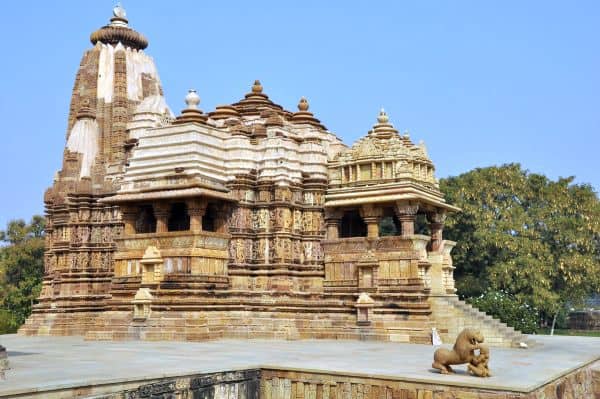 Khajuraho has a different kind of charm in store for a traveler. The place is neat and dry, and the summer temperatures around April and May quite high with a very low humidity level. This is famous for temples on which erotic art is engraved in an amazing manner depicting philosophies of love and sex of a different dimension. However, Khajuraho's attractions are not limited to the confined periphery of art and architecture. It has more to offer.
(a)Panna National Park:
Not very far from the sprawling mix of granite monuments, breathtaking sculpture and the vast neat expanse of well manicured greenery lies the famous Panna National Park, a dream destination for jungle safari enthusiasts. Home to leopards, langurs, deer and a variety of fauna, this park is an ornithologist's heaven too as the dawn breaks with a cacophony of birds' calls and the dusk is punctuated by their twitters as the sun sinks low on the horizon as it is time for retreat to the nest. Once diamond was mined of Panna mines located near the park. At present it runs dry.
(b)Pandava Falls:
Close to the Panna national park lies the Pandava falls, a thunderous mass of water falling through a height creating an impressive misty cloud around. As the myth goes, the five Pandava brothers of the epic Mahabharata spent some time here while on exile as they wandered across the country and approached the foot of this waterfall. An enchanting location indeed!
(c)Dulhadev Temple:
This is a fabulous shiva temple located at the banks of a creek known as Khudar. The temple is set amid a sprawling lawn and spotlessly clean. This temple forms the southern cluster of Shiva temples and a chief attraction with wonderfully ornate designs etched in the body.
(d) Chitragupta Temple:
This is a beautifully sculpted temple with touches of sublime beauty. Erotic images cut out of the rock speak for themselves. On a first glance, the artistry will stun you. On a closer look, you discover to your enchantment that what you are staring at is much more than just a rock cut marvel. The subtlety that lies within is highly philosophical and can be realized in actual life.
(e) The Archeological museum:
Located opposite the circuit house, the museum is plainly gorgeous and doesn't charge any extra as your temple visiting ticket includes dropping at the museum as well. The foyer is grand and guarded by amazing statues of the river goddess and Ardhanari(a half female) at the rafter.
(f) Khajuraho dance festival:
This is a gala of classical dance competition organized by Madhya Pradesh government.
It is a one week program held in early spring (February).Eminent dancers of all India fame participate with the magnificent temples in the background. It is worth watching!