Role of nature and environment on Khajuraho art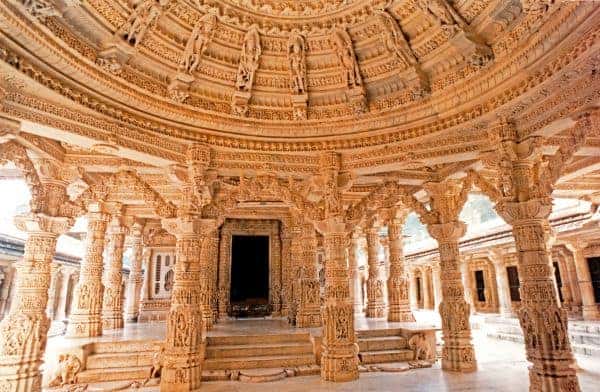 The life and culture of people in Bundelkhand area during the reign of Chandelas were significantly controlled by the surrounding environment. Quarries of stone, mounds of pebbles, covers of woods, reservoirs and natural sources of water affected their regular activities kept them occupied with steady employment and found expression in their contribution to art and architecture. The mines located in the neighborhood supplied raw materials like granite and sandstones and the sculptor's dreams were translated into reality.
The rocks and stones were painstakingly fashioned with imagination and flair put into harmony and awesome specimens of temples, reservoirs, sparkling sculptures and beautifully decorated gardens were crafted. The sandstones mines of Panna supplied the requisite grade of materials out of which the Khajuraho artists built temples and carved wonderful figurines of divine excellence. The work of the artists was generously funded by the Chandela rulers who were great patrons of art.
The expenses needed to support these magnificent creations were astronomical, and the diamonds mined in the vicinity of Panna supported the financial outflow. So the expertise was available among the people who had a burning penchant for creativity and visual arts. The encouragement existed from the rulers, and the financial backup was readily available.
Exploration of Khajuraho temples clearly indicates reflection of nature manifested in elaborate detail. Realistic depiction of local flora and fauna on the body of the temples and monuments suggests that the artists were keen observers of the local environment and the pace at which the different elemental constituents of Mother Nature interacted among themselves.
Motifs of temples included hunting scenes and how men reacted to the local environment were realistic and throbbing. Their vivid depiction of Mother Nature in all meticulous detail is a lucid suggestion of the minute observance combined with a little imagination and finesse.
There is a touch of enough elegance in every curves and lines as if the images frozen in rock would spring back to life any moment. The Khajuraho culture and celebration drew water heavily from the local resources, which were basically split into two parts. One pertains to water supply drawn out from boring the deep layers inside earth and the other comes from the regular sources from springs and creeks. Water played a vital role in observance of sacred rituals and beautification of the monuments.
The inspiration and creativity of the artists found its support from nature consisting of surrounding panoramic landscapes and greenery. These elemental aspects of nature are reflected wonderfully in temple ornamentation.
Khajuraho: International Love and Art History
Erotic art in Khajuraho – What it reflects?
Khajuraho- A critical evaluation from socio cultural angle
Why should you visit Khajuraho?
Life of people in ancient Khajuraho
Combining Wildlife, Cultural, and ecotourism in Khajuraho
Specific Khajuraho Temples with their essential features
Khajuraho Wild life safari – Special attraction
Khajuraho Dance Festival – The special event
Eroticism in Khajuraho – The Philosophy behind