Is Religious Tourism For You?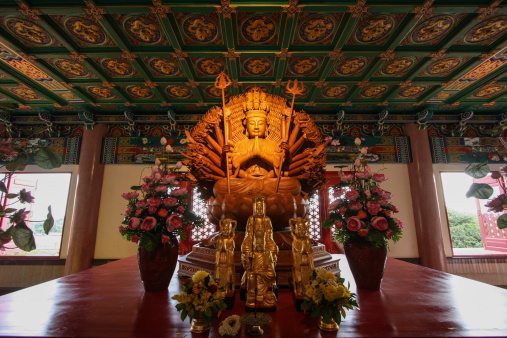 At the negative extremity you may not be religiously inclined, but still the destinations of religious fame may hold an extraordinary charm that you fail to resist the temptation. Just think about the Vatican, for example. What an awe inspiring piece of architecture waiting for you to throw you off your breath. No words no matter how enticing they are could replace the stunning enchantment gripping you head to foot as you stand under the sky confronted with the imposing piece of marvel amid the heartland of Christianity inspiring faith and reverence.
The holy sites of St Peters Basilica, the Sistine Chapel and the Vatican museum hold some of the world's most stunning paintings and sculptures. They keep the tourists taut and engrossed. The air is infectious ringing with a sacred tone. The chime of the cathedral bells, the communion and the masses are hard to overlook. It brings forth the faithful inside you. You literally feel an atmosphere of perpetual bliss. There is something wonderful and sublime in it placed much above material happiness.
Good food, the headiest of drinks, nice charming scenery, the strong appeal of an ultramodern city and historical sites decked with rich cultural heritage are cynosures powerful enough to draw tourist attention. But a spiritual expedition to a holy site is certainly a cut above the rest. It touches the highest level of your consciousness. It showers upon you loads of 'good feel' and blessings achieved through a sacred rendezvous with the creator himself. It is a solitary retreat, a sojourn into the realm of eternal peace. This amazing religious exposure significant if not more than your pleasure pursuits which are mere physical and short lived in character and essence.
It is immaterial whether you are an atheist or not. The simple fact of just being amid an environment charged with overwhelming religious overtones, prayers, chants, hymns, masses and arresting rituals instill in you a strong realization that a second world might exist, which is far more imposing and where justice is delivered with speed and precision and 'Karma' is reciprocated as fallout of your mortal deeds. The lure of this eternal truth is hard to overlook.
Religious tourism is an attempt to find the answers that had been baffling you all your life, and it is certainly a constructive attempt well worth a try. Religious tourism has a lot more to offer you besides warming up your highest strata of consciousness. Emphasis is not only put on the spiritual quest. The religious tour destinations are testimonies of ancient relics, splendidly designed places of worship, history of evolution of different religions, faith based on turmoil and strife.
Historical sites where legendary crusades have erupted where thousands of fanatics have laid their lives defending their religious dogmas. This would certainly fire your interest drawing you to those holy sites which finds a modern day witness in you. Growing around the religious site there are sources of secondary attractions as well.
Vendors hawk their merchandize ranging from beautiful pieces of replicas, souvenirs and art work. Wonderful carvings of Christ on crucifix plaster models of saints, pendants, armlets, framed paintings of Hindu deities, statues of Lord Buddha and other sacred objects of artistic value are put on sale. Incense stick packs and powdered sandalwood and wood pieces bring forth a sweet fragrance somehow having a sacred overtone of divinity. These are well worth a buy and later may be put on exhibit enhancing the aesthetic atmosphere of your private worship room back home. From the angle of infrastructural set ups, religious tourism has become a lot more customer friendly. You have the experienced travel agencies with smooth and efficient service. Smooth travel in airways put you right on your holy destination. The back flight puts you back in your home pondering over the wonderful trip you just had.
Comfortable accommodations ensuring a cozy stay and good dining arrangements await you making your trip smooth and wonderful. Transportation is round the clock accommodating the tourist needs during pilgrimage rush. The entire journey is satisfying with all these facilities waiting in the pipeline and with God himself on the other end, I don't see a reason why should you stop and hesitate to launch your religious tourism itinerary?