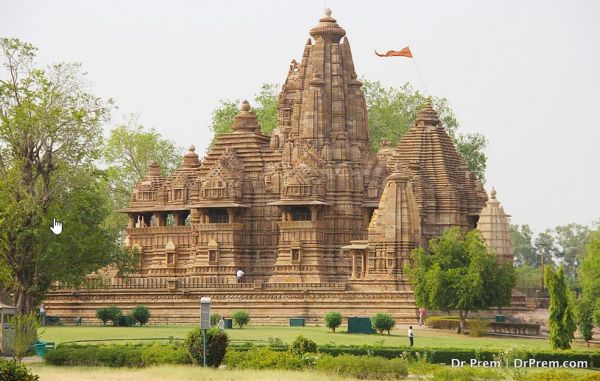 Although Khajuraho has stirred the curiosity of the international tourists, it doesn't have direct international flight connections with the world's major cities like New York, London, Tokyo and Sydney. One has to reach India's major cities like Delhi, Kolkata, Chennai and Mumbai to catch the next flight to Khajuraho. However, a network of connections within India through flights, rail routes and roads would put you smoothly into this spectacular destination of international repute.
(a)Access by flight:
This legendary spot of incredibly wonderful architectural splendor has its own domestic air terminal called the town airport Khajuraho area. Located within a distance of just 2 kilometers from the Khajuraho city to its south, the terminal assures a comfortable entry. Flights from Indian capital of New Delhi hit this city with ease as does the flights from the holy Indian city of Varanasi.
(b)Access by train:
Just within a reach of 5 kilometers of this tourist friendly site, Khajuraho has its own railhead. Mahoba junction is just away by 75 kilometers and has railway route links with all important railway stations scattered across the country. Private taxis and city buses ply from Mahoba directly to the site. The ride is smooth and hassle free. Here is an enlistment of a few trains from some of the Indian cities that will drop you to your desired destination dotted with temples and awe inspiring cluster of famous monuments with elaborate thought provoking and tasteful decor.
From the city of Delhi, you have the Uttar Pradesh state Sampark kranti express. From Varanasi, you can board the Bundelkhand express.
From Jhansi in Uttar Pradesh, you may board the Jhansi – Khajuraho express. From Udaipur in Rajasthan, you get into Udaipur city- Khajuraho express.
From Kanpur in Uttar Pradesh, you have the Kanpur-Khajuraho city traveler.
(c) Access by road:
Khajuraho has an excellent network of roads within the state border of Madhya Pradesh and beyond. The national highway 75 connects Khajuraho though a labyrinth of local avenues. Semi luxury and chic automobiles ply across at regular intervals to hit this famous tourist destination. Private taxis are available as well. There is a brilliant and easy mode of exploring in and around this breathtaking location to reach its famous temples. You can hire a motorcycle. If you are energetic enough, you can trust you feet and break into a promenade through fresh and unspoilt nature. Trendy rickshaws and tongas (horse driven carts) are regularly available to reach you to your desired spots.
Khajuraho: International Love and Art History
Erotic art in Khajuraho – What it reflects?
Khajuraho- A critical evaluation from socio cultural angle
Why should you visit Khajuraho?
Role of nature and environment on Khajuraho art
Life of people in ancient Khajuraho
Combining Wildlife, Cultural, and ecotourism in Khajuraho
Specific Khajuraho Temples with their essential features
Khajuraho Wild life safari – Special attraction
Khajuraho Dance Festival – The special event
Eroticism in Khajuraho – The Philosophy behind