Precaution and prevention tips for Romantic Tourism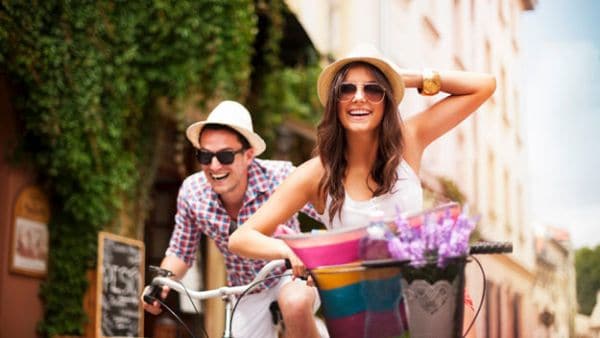 Romantic tourism without prevention and precautionary tips is like going snorkeling without the oxygen tank. There is a difference between going abroad with friends and going on a romantic trip. It is quite natural the blissful picture of you enjoying a vacation with your partner would invite jealous intruders with diabolic intents. It is normal that both of you smell threat from the gestures of your green eyed neighbor, but what you suspect might well be the tip of the iceberg as your suspect might have devised harmful schemes, which you may not even imagined. So it is prudent to follow precautionary measures that last bit of your trip doesn't taste bitter after riding high on a pleasant mood in the company of your partner.
The following guidelines may help:
(a)While booking your accommodation ensure that it isn't located in a desolate corner. It should not either be in places having a crime prone atmosphere with local wine shops and slums mushrooming around.
(b)Always keep your hotel and local tour operator's contact numbers handy in case you are in danger, you can send your distress calls. Having the contact number of the local police station is very important for the same reason.
(c) You should try to get a local map of your neighborhood from the tourism bureau and carry it while travelling. It roughly indicates your position at any point of time from your hotel and from the airport as well.
(d) Important documents like air tickets, hotel receipts, travel agent's receipts and passports should be handled with care, and carry extra copies of these documents as they may help in case you lose the original.
(e)If you are carrying expensive belongings such as jewelry, it is wise to secure them in a hotel safe while you both are out enjoying your trip.
(f)In case of expensive equipment like camera which you need to take out on trip handle it with extra alertness against theft. Take a stock of photo lenses and keep them enclosed in shock absorbing buffers against any chance of damage or scratch that might ensue from your movement.
(g)Be careful when operating ATM booths. You must be conversant with its use and never seek help from a stranger if ATM throws an issue. In case of lost ATM or credit cards, passports etc unhesitatingly report to the nearest police station without further delay.
(h)Avoid night time romantic stroll with your partner along the abandoned alleys and backstreets.
(i) It is always wise to lock your expensive possessions away in the boot of your car and avoid leaving them exposed on car seats.
(j)It is not at all safe to carry too much of liquid cash. Depend upon Bank debit and credit cards instead.  Be conversant with the local bank charges that would apply operating bank account abroad. This would certainly find a place in your tour budget.
(k) When selecting guides, verify his credentials, and it is always advisable to hire one through an agency of repute.
(l)It is important that you use packaged water for drinking purpose as contaminated drinking water may invite health disorders spoiling your trip.
(m)Your stock of medicine would help you combat common ailments in case you are down with one on your trip, and this is a vital precautionary step.
(n)In certain countries, vaccination is mandatory else visa is not issued. It is important to get a dose of required vaccine as a safety measure.
(o)In case of landmarks of strategic importance like military bases and other important installations, photography is strictly prohibited. Rules should be abided by to avoid prosecution.
(p)Travelling along with your lover on public bus or intercity trains may be less comfortable, but at times it may be safer than a cab ride.