Khajuraho Wild life safari – Special attraction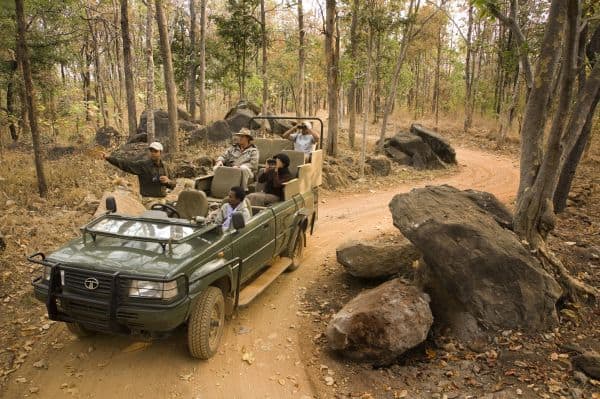 If temple architecture and erotic art of Khajuraho sits well inside you for long, you can always look for a change in its vicinity. Not far from the exquisite temple town there are a couple of wild life escapades that are truly a treat for a wild life buff.
From 25 kilometers of this famous temple town,Panna National Park and Tiger Sanctuary have achieved enough prominence and fame. Almost on a similar popularity meter, the Ken Gharyal sanctuary has caught tourists' attention for being the best Gharyal breeding centre with focused dedication and resourcefulness. There are a couple of other wild life reserves located close to the city of Mahoba at a distance of 31 kilometers from Khajuraho and two other reserves in Kulpahar of which Vijaysagar sanctuary and Vijaysagar Pakhshi Vihar have collected fame in terms of annual tourist visits.
Ghariyals a distant cousin of the monstrous crocodile are smaller in size and with weaker jaw bite pressure. However, they are efficient predators with surprising maneuverability and supple body movements. Fish is their favorite diet. Due to their weak jaw muscles gharyals are usually not considered a threat to the visitors. But maintain a safe distance from these aquatic carnivores with a pronounced and elongated snout and a slender jaw lined with rows of serrated razor sharp teeth.
The sanctuary located on the confluence of Ken and Khudar rivers offers an exotic panoramic view. Other varied collections of diverse fauna that make the forest alive and appealing are the cheetah, wild boars, nilgais, chinkara, peacocks and countless varieties of birds. There is yet another wild life sanctuary called the Gomarda sanctuary. A home to sambars, sloth bears, wild boars, barking deer, jackals and dholes, a species of Indian wild dogs this forest cover has all the thrills to offer that would turn an adventure tourist on with a gush of enough adrenaline pumped around to give him his money's worth of pleasant kick. The right time to visit these sanctuaries is from October through March.
Khajuraho being the nearest airport to land and Harpalpur and Satna being the nearest railway stations, these sanctuaries are easily accessible. Jungle resorts are available and are cozy. Panna wild life sanctuary sets an ideal jungle adventure packed with thrill for wild life fanatics. Besides tiger, the yellow and striped monarch of the wild, this awesome sanctuary is also a home to sambars, chitals, chinkaras, sloth bears and countless bird species.
Khajuraho: International Love and Art History
Erotic art in Khajuraho – What it reflects?
Khajuraho- A critical evaluation from socio cultural angle
Why should you visit Khajuraho?
Role of nature and environment on Khajuraho art
Life of people in ancient Khajuraho
Combining Wildlife, Cultural, and ecotourism in Khajuraho
Specific Khajuraho Temples with their essential features
Khajuraho Dance Festival – The special event
Eroticism in Khajuraho – The Philosophy behind