Khajuraho Dance Festival – The special event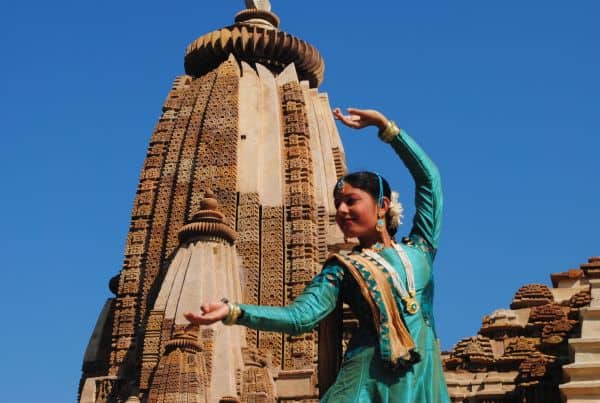 Khajuraho dance extravaganza is an annual earth shaking event, which is too graceful and brilliant to be true! Arranged every year on a massive scale by the Kala Parishad, a cultural body functioning in Madhya Pradesh, it is a famous gala stretching a week span which features classical dances.
The dance competition is held against dramatically impressive setting keeping the gorgeously illuminated Khajuraho temples in the background. The festival is organized in the opening week of February when the sweet fragrance of spring and Mother Nature explodes into a full bloom of myriad colors and a cacophony of calls set up by the birds twittering from the bush or perched high up on a temple structure.
This cultural festival brings forth the wealth of various Indian classical dance expressions belonging to traditional schools like Kathak, Kathakali, Odissi, Manipuri, Kuchipudi and Bharatnatyam with a brilliant display by some of the legendary performers in the field. Of late, there has been an inclusion of modern Indian dance as well. It is truly a share of fortune to be able to see dancers from worldwide fame performing in front of your eyes under an enchanting clear starlit spring sky overhead and enigmatically decorated temples set in splendid fluorescence!
The stage is set up right before the Chitragupta temple erected in a show of reverence to Surya, the Sun god and the Vishwanatha temple dedicated to Lord Shiva falling under the western group of temples. Needless to say, the Khajuraho dance festival is performed in open air auditorium and there lies the beauty of it!
There are daily tickets as well as the seasonal tickets covering the entire week through the bonanza. Quite obviously the expensive tickets are the ones offering the front row advantage to the spectators. Prices of tickets fall as the distance between the dancers and the public increases. Usually the price of the tickets range between 100 INR for daily tickets to 1000 INR for the seasonal ones. Photography gears are charged extra. The weeklong festival is indeed a treat to your eyes and rich nourishment for your artistic senses. Dance enthusiasts from all corners of the globe gather here, and waves of applauses and shouts of appreciation ring in the air.
The temples and the surrounding milieu brilliantly set the classical dance legends into graceful articulation. With the sun settling low on the horizon and the dappled shadows of the gathering crowd and the stone structures pulled longer the audience is held gob smacked as they watch their favorite dancers perform with a magic spell conjured up by their elegant body movement. It is the right atmosphere for you to realize the fusion of worldly element with the divine in a wonderful synchronization.
Khajuraho: International Love and Art History
Erotic art in Khajuraho – What it reflects?
Khajuraho- A critical evaluation from socio cultural angle
Why should you visit Khajuraho?
Role of nature and environment on Khajuraho art
Life of people in ancient Khajuraho
Combining Wildlife, Cultural, and ecotourism in Khajuraho
Specific Khajuraho Temples with their essential features
Khajuraho Wild life safari – Special attraction
Eroticism in Khajuraho – The Philosophy behind